Anon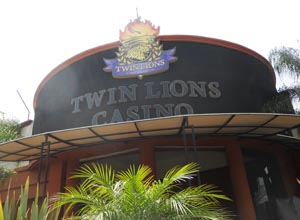 Business took me to Guadalajara, and I was looking forward to a couple of extra days for sightseeing, shopping and good Mexican food. I hadn't been there for years, but I remembered the colonial city center, the variety of restaurants, and the chance to pick up presents for friends and family at really attractive prices. I also wanted to check out two new golf courses.
My wife was able to come with me. Guadalajara produces 70% of all the jewelry crafted in Mexico, and Barbara planned some time at the Centro Joyero with its back-to-back jewelry stores. She was also looking forward to shopping for shoes, which are manufactured there in every style you can imagine. Now, shopping for shoes isn't a guy's favorite pastime, but I was in for a surprise. We headed for Galeria del Calzado, a modern mall specializing in footwear and accessories. Just across the street, I spied a beautiful new casino. Did I mention I love to place a few bets every now and again. However, being from Wisconsin in the United States, my betting was limited to online poker rooms, or the occasional Atlantic City vacation.
Needless to say, I could not wait to get into the casino and blow through some of my hard-earned money. So, as you can guess, we spent a better portion of our first night in Guadalajara at the casino. Since it was our first visit, we were given a welcome gift of a game card with 100 complimentary points. They were not redeemable, but they sure got us in the mood to play.
My wife loved it, too. In addition to gaming, there was live entertainmentand a sumptuous buffet plus a la carte dining. Waiters strolled through the casino with trays of complimentary canapes, and were at our beck and call with drinks. This was better than I'd expected.
It turns out that gaming is flourishing in the Guadalajara metropolitan area. From sports bars to glitzy Las Vegas style casinos, there were more opportunities than we had time for. Most are concentrated in the Zapopan neighborhood, and we thoroughly enjoyed the different ambience of each. Some feature buffets, others are quite informal, but all have well-stocked bars. In Mexico, the legal adult age is 18, although most of the casino crowd ran from young professionals all the way to distinguished older men and women.
The games are many — all kinds of slot machines, card games, bingo, poker and roulette are some of the options for enjoying the excitement of gambling. The gaming technology is state of the art. The shows were great. So was the food. After a day of meetings for me, sightseeing and shopping for my wife, this was a fine way to unwind. And this mile-high tropical city has a better climate than Vegas. I decided to leave golf for another day.
All too soon, Barbara and I had to get back to our hectic, everyday lives. However, I can say without question that we will be heading to Guadalajara again the next chance we get.
Published or Updated on: June 30, 2012