Sweat dripped down into a little pool at my stomach, which had been enjoying too many chilaquile breakfasts. The stifling heat and humidity of Zihuatanejo had stupefied my friend Kim and I into submission until we glimpsed a chalkboard scrawled with the words "Snorkeling Trip Today" in the Hotel Paraiso's lobby.
We had gawped at the crocodiles in the fetid creek next-door, overpaid for sarongs at the "Artisans Market" down the beach, and drank our weight in piña coladas, having succumbed to the charms of our waiter Elias. A little exercise certainly seemed in order. We paid 25$ US each to Yohana in the lobby, and were directed to meet Pepe the dive director at 11:00.
The sun was almost directly overhead, and verging on SPF 50 requirements when a short, stocky man met us on the beach with snorkel gear. We had another passenger for the trip, Daniel, a French Canadian with a sideways smile and a bad haircut. I had great hopes for some good Spanish conversational practice with Pepe, but he was sullen and slurred his words together to the extent that I was asking, "Como?" with every other sentence. We splashed our way through the turquoise Pacific surf into an antiquated wooden dinghy, which reeked of fish remnants, and roared off in a blue-tinged haze.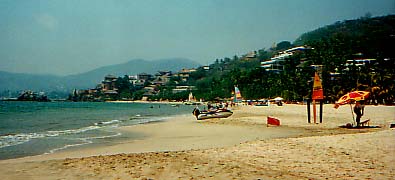 After several futile attempts at chatting with Pepe, I turned attention to the ride. We journeyed south towards Manzanillo Beach, said to be the best snorkeling area in Zihuatanejo. The waters of the sandy Playa la Ropa, where most of the big hotels are located, are much too cloudy to see any fish save the occasional alarming sting ray ghosting along the bottom. Passing a stark white lighthouse which seemed rather incongruously plunked onto the southern point of Bahia Zihuatanejo, we were told that the hearty hike required to get there is rewarded with a fabulous sunset. It sounded way too taxing despite our desire to work off the tortilla casserole we'd been stuffing down daily at breakfast.
Our journey to Manzillo Beach took about half an hour. The sandy beach was nestled between two sets of rocky headlands. Pepe chucked a rusting anchor overboard – the pocked ocean bottom in this area is unfortunately a testament to the scores of dive boats anchoring – and donned a dive suit. This prompted nervous inquires about jellyfish (called malaguas, or bad waters – from the rain and fresh water overflows that lead to their proliferation), which Pepe laughed at. He said there were no jellyfish now; he only wore a suit because the water was "too cold" for him. Whew. We squeezed into snorkel fins and masks, and dove overboard.
My very first sensation was a curious prickling one, as if a million tiny needles were dancing on my skin. I promptly decided I was having an allergic reaction to the salt water and determined to ignore it. A large white blob drifted by. Then another. It didn't take long to discover our folly in listening to Pepe. I thought longingly of my dive suit lounging back in the hotel room. There was nothing to be done but to grimly kick forward. The jellys weren't anything close to man-of-wars, and they seemed to be congregating near the boat, so I took off for the rocks and was visually rewarded with the riot of color and movement that comprises reef life.
Nothing in nature is more perfect than tropical fish. Every tiny detail is exact, and their diversity breaks all artist taboos of color and shape juxtaposition. I couldn't identify them by name, but bestowed upon them my personal nomenclature: cute little yellow ones, cute little electric blue ones, bigger black ones with yellow, bigger blue ones with yellow. Pepe dove down into the rocks and prodded a moray eel. Bright blobs of anemones shuddered at my touch. The undersea garden rewarded us with its exhibition of hundreds of different creatures, some mobile, some stationary.
We bobbed about the waves for an hour and a half. Then regretfully Kim and I dragged away from the reef back through Jellyfish Row, and ungracefully heaved ourselves into the boat. Daniel, who had spent all of about 10 minutes below, had obviously found the whole process too demanding, and was arduously tanning on the side bench. We munched on the overpriced, uninspired box lunch we had bought from the hotel's kitchen, and noticed that our little paradise had become a bit crowded. While we were swimming below, a large catamaran had moored nearby and deployed an outsized, unruly contingent of tourists onto the reef. It was time for us to head back.
Our discomfort from the jellyfish stings seemed to amuse Pepe, much to my chagrin. He kept saying something that sounded like "ooreena", while making hand gestures and laughing. I dredged up a memory of a Hawiian trip from some 12 years ago, wherein the guide had told us that the only remedies for jellyfish stings were vinegar and urine. Aha. We turned redder than our sunburns. The boat surged forward and we swamped some hapless swimmers on our way out of the bay.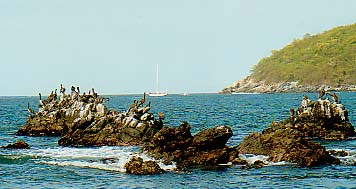 Playa la Ropa shimmered in the afternoon sun. Elias was waiting for us on the beach, white teeth glistening and drink menu in hand. Obviously fearing that we had grown weak with hunger on our sojourn he stood ready to ply us with drinks and appetizers. We thanked Pepe, who gave a curt nod and strode off. Having no vinegar, we decided to forego the folk remedies for the jellyfish stings. It was back to the beach chairs for us, facing a tough afternoon of sizzling Zihuatanejo sun and soothing piña coladas.
WHEN TO GO:
Ocean breezes in Zihuatanejo keep the temperature at about 78 degrees Farenheit (25 C) year round. Temperatures in the 80s are common, but the mercury rarely rises above 90 (32 C). The months of June-September tend to be quite rainy. Bring a light sweater for outdoor evenings.
HOW TO GET THERE:
AeroMexico, Alaska Airlines, Continental, and Mexicana service Zihuatanejo/Ixtapa. Flight time from Los Angeles is approximately 4 hours, or 2.5 hours from Houston. Estrella de Oro bus line provides service from Mexico City and Acapulco – contact your travel agent for information or try www.estrelladeoro.com.mx (site is in Spanish only).
WHERE TO STAY:
Hotels in this area run the gamut from the luxurious La Casa Que Canta, which has private pool suites starting at $485/night, down the scale to the Hotel Paraiso, a beach bargain at $80/night for all rooms during the high season (mid-December through the end of April). Low season prices are usually 20-50% less. www.zihua.net and www.zihua-ixtapa.com are good starting points for information on accommodations, transportation, and activities.
SNORKELING TRIPS:
Playa Manzanillo has a nice reef area with lots of fish, and waters are usually calm enough for children. Most hotels offer their own scuba and snorkeling trips, but these are usually open to non-guests as well. It's easy to hook up with a tour by finding a tour on the tourist circuit in downtown Zihuatanejo. Most are about $25/person, without lunch. Shop around for the best price if you have the time.
OTHER ACTIVITIES:
Zihuatanejo's main beaches, Playa la Ropa, Playa Principal, and Playa las Gatas boast a range of sun-n-fun activities, including parasailing, banana boat rides, boogie boarding, deep-sea fishing, and sunset cruises. Seafood restaurants can be found along the beaches, and in downtown Zihuatanejo, approximately 1.5 miles from the major hotels of Playa la Ropa. A seafood dinner will probably cost less than $20/two, with drinks. The Artisans Market, right on Playa la Ropa has overpriced sarongs, silver, pottery, and blankets, for shoppers reluctant to leave the beach area. For more reasonable prices, head over to El Centro. Be sure to check out the handicraft shops at La Marina, next to the basketball court on the seafront, which offer handmade hammocks, woolen rugs, tablecloths, and embroidered cotton clothing.
Published or Updated on: January 1, 2001