Elvia Silva Bartolo believes her big ceramic pots have a pretty good chance of winning a prize at the 46th annual Tianguis y Concurso de Artesania de Domingo de Ramos on April 9 in Uruapan, Michoacán.
Bartolo lives in the village of Zipiajo where she and other artisans practice an ancient Purepecha craft in which they make ceramic pots without the use of molds or ovens. Bartolo has been busy the past few weeks pressing large sections of clay together with her stony hands, pounding out shapes to create her masterpieces in preparation for the biggest crafts fair and competition in Michoacán.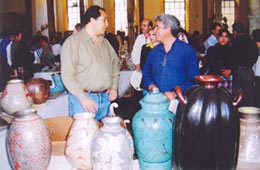 She and hundreds of other artisans, including 35 from Zipiajo, will present their wares in the competition at the old San Pedro Textile Factory. It is set in the tropical surroundings of Uruapan, famous for its fine coffee and avocados. Many of the artisans will also present their work at the crafts fair, or tianguis in the city plaza.
Each year, visitors to the Uruapan fair and competition, organized by the Casa de las Artesanías in Morelia, walk through aisles of woven textiles in radiant bands of turquoise blue, pumpkin yellow and green umber; beaded, glazed pineapple pottery in dazzling colors of sapphire blue and sea green from San Jose de Gracia; colorful clay figurines from Ocumichu; guitars from Paracho, and so much more.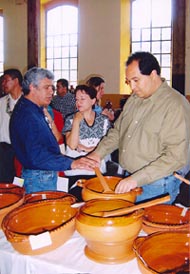 "This event is even bigger than the annual Day of the Dead Arts and Crafts Market held in late October and early November in Pátzcuaro," says Trinidad Martínez García, director of commercial development at the Casa de las Artesanías in Morelia. "The Casa, a state agency, organizes the events in Pátzcuaro and Uruapan to provide incentives to artisans to continue their craft. Through these and other events organized by the Casa, crafts people develop a sense of pride for their work while, at the same time, improving their economic lives. The Casa provides workshops to help artisans improve their craft; the agency also loans money so they can purchase their materials."
Nicomedes Juan Reyes, from Cachan de Santa Cruz on the Pacific Coast, is one of about 25 artisans from his town who will participate in the event. He has been cutting and sanding wooden trays and other objects made of parota wood.
"I leave it natural," he says. "I don't paint it. I let it dry and later I return to sand it. This whole process takes a week, but it takes a little longer when you bring figures that have to be put together."
The event is also very important to Bartolo.
"For us," she says, it's nice. "It's a good plaza and we are all interested in participating in the competition because it's marvelous. I have worked in pottery since I was eight years old and I'm following generations of children."
Artisans participating in the competition and crafts fair will come from workshops throughout Michoacán, which has more than 100,000 artisans from more than 200 communities. In Huancito, workers have been preparing for the show and contest by using molds to form their bright copper-colored clay pots. They use red soil and ant excrement to make the red and black paint, sweeping the sides of their pieces with broad strokes and then meticulously bringing them to life with intricate black floral or geometric designs. Their hands whip around them like quick breezes, burnishing them to a sheen.
Artisans in Santa Clara de Cobre have spent laborious hours in recent weeks pounding out copper pots and other pieces, placing them in wood fires and removing them glowing hot with long tongs to begin shaping them. The loud ping-ping-pinging of artisans hammering out shapes of huge pitchers and bowls fills the town with excited energy, while others tap delicate patterns to create works of art. Residents of this town near Lake Pátzcuaro have practiced this craft since pre-Columbian times, and Jorge Ramírez is proud to carry on this tradition.
"I could do a lot of things, but few people devote themselves to this, which is an art. The point is not to make many pieces, but to make a few really good ones," Ramírez says. The fair is extremely important to him and other artisans in this diverse state.
Reyes confides that he and others like him have no other place to sell their crafts. "The only place where we sell a lot of our things – ceramics, textiles, woven plant fibers, wooden trays – is during the competition and tianguis in Uruapan. Everything sells there. It's the best market we have."
This event is also a good time for artisans to make contacts with possible future buyers. They stand at tables covered with their wares while people from all over the world stop to look, chat or buy, or exchange information so they can do business later. Martínez says it's important for visitors to get to know the artisans. "These are pieces that often leave the country and people are interested in knowing who made these marvelous objects," she explains.
Another way for visitors to get to know artisans even better is the artisan parade, which takes place the day of the competition. Crowds of people in native dress from throughout the state gather at the Parque Nacional Eduardo Ruiz, and then they slowly meander down a broad thoroughfare through town. Showing local pride with signs saying, San Felipe De Los Herreros, Zipiajo, and Cocucho women in strawberry red, light lavender and jungle green dance joyfully, with great innocence and honesty, holding straw baskets on their heads with no visible effort. Others draped in dresses with carnival colors and flowers dancing across the fabric move slowly by while tropical riffs explode from trumpets.
The parade ends at the plaza where artisans display their crafts for another week; Juan Mauricio Martínez Tavera, of Capula, has spent many long hours preparing for the competition and the crafts fair. "I am making a pot and decorative plates," he says. "The pot took 15 days and the plates a week."
Maribel Ramos Horta has spent months making skirts, rebozos and other textiles for the event. "I love to participate," says Horta, of Tocuaro. "I actually like to compete with more people. If my piece wins, for me I feel proud having won against so many people. My dedication to this craft comes from generation after passed generation. My mother taught me this activity."
Tavera enjoys participating in the event for several reasons. "It's good not only for the prizes, but also because people get to know our craftsmanship," he explains. "The crafts fair and competition is a good way to educate more people about the state's craftsmanship."
The Ministry of Tourism provides information on activities in the state during the two-week Easter holiday season beginning on Palm Sunday and ending April 23. Dialed from locations within Mexico, the phone is 01 800 450-2300.
In the photographs, Michoacán governor Lázaro Cárdenas Batel chats with artisans.
More on Uruapan and Environs:
Thanks to Peggy Stein and Doug Wheeler who authored the the DVD "Domingo de Ramos: Parte de Michoacan," produced by the Casa de las Artesanias in Morelia, which Trinidad Martinez Garcia kindly provided. Thanks also to Minerva Nava who assisted with some of the interviews.
Published or Updated on: March 1, 2006