The remarkable road to San Marcos, Jalisco
During twenty-four years of reconnoitering the highways and byways of western Mexico, I have never come across a road as rewarding as the 53-kilometer stretch from Tala to San Marcos in the state of Jalisco.
This road is marked as Jalisco Highway 4 on many maps, but beware: you might also find it labeled highway 604 or 27. Whatever its proper designation, it is packed with so many fascinating natural, cultural, archeological and historical sites that, if you stopped to visit each one of them, it would easily take you 40 hours to cover those 53 kilometers. No wonder the road is presently being converted into a four-lane highway.
When I sat down and tried to list all the above-mentioned sites, I easily came up with a dozen good places I've bumped into over the years. Sure that I must have missed a few attractions, I pulled out our Lonely Planet Mexico (2004 edition) and checked their map of the area west of Guadalajara. To my surprise, venerable Highway 4 was not even shown — in fact, the book doesn't even mention the celebrated archeological ruins of Teuchitlán nor the Piedras Bola (Great Stone Balls) of Ahualulco which were featured in National Geographic Magazine 'way back in 1969.
Hopefully this overview of the area's attractions will convince the world that the stretch between Tala and San Marcos deserves a place in any Mexican guidebook and offers something of interest to everyone. A brief description of each site is given below with links (wherever possible) to more detailed writings.
Green hills and fairy footstools
Tala is a small town located half an hour's drive from Guadalajara. You can reach it by driving west on highway 15 (to Nogales) and then driving 18 kilometers southwest on Highway 70, towards Ameca (see Jalisco map).
Just south of Tala there are rolling green hills filled with strangely sculpted rocks including hundreds which look just like small tree trunks. These curious formations have been called The Fairy Footstools and they are the perfect site for aimless strolling followed by a picnic.
Just north of Tala, alongside Highway 70, you can't miss el ingenio, the government-owned sugar refinery whose chimneys fill the air with black smoke, day and night. Besides sugar and smoke, the refinery also produces a stream of pollutants that pour right into nearby La Vega Dam. These contaminants have killed off most of the unique, livebearing, goodeid fishes such as Ameca splendens, which used to live in the lake and which fish hobbyists around the world are fighting to save.
The Royal Road to San Marcos
Two kilometers southwest of the Tala refinery, you come to the start of Highway 4, which first heads north and then veers west. Here's where to set your trip odometer to zero.
The Teuchitlán-La Vega walkway and bike trail
Turn right onto Highway 4 and drive for 12.5 kilometers, at which point you will cross the Teuchitlán River. Right next to it is the Hotel Teuchitlán where you can park if you'd like to visit the charming andador, built alongside the river for pedestrians and cyclists. This walkway and bike trail parallels the river for two kilometers north and two kilometers south of the highway. If you head upstream you can soak up the extraordinary beauty of the river and perhaps spot one of the few places where the endemic Ameca splendens fish are still prospering. Look for the distinctive vertical yellow stripe on the males' tails. The southern half of the walkway begins just beyond the seafood restaurants (which specialize in frogs legs). This is a great place for bird watching, featuring cormorants, seagulls and a great variety of egrets.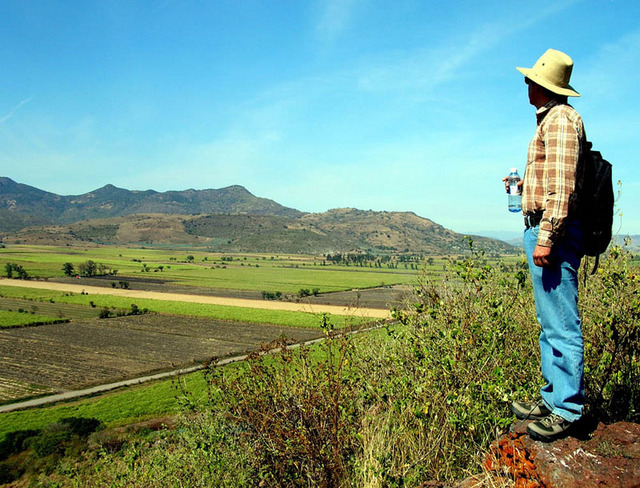 The circular pyramids of Teuchitlán
Turn right just beyond the Pemex station, at 12.7 kilometers, to enter Teuchitlán. Thanks to some 40 years of hard work on the part of archeologist Phil Weigand and his Art Historian wife Acelia, we can now peek into the lives and works of the amazing civilization that ruled western Mexico two millennia ago. The Teuchitlán museum in the town houses replicas of 2000 year-old clay models showing everyday folk enjoying life around the unique Guachimontones or circular pyramids which were the trademark of their civilization. To see the restored pyramids themselves, head north out of town a kilometer and a half and soak up the area's good vibrations. Don't miss the ball court. In its day, it was the biggest one in Mesoamerica.
El Pedernal obsidian mines
Just beyond the Teuchitlán Pemex station you'll find the town's cemetery (at 13.3 km). If you turn right here and drive 4 kilometers northwest, you'll be standing at the south end of El Pedernal, one of the largest obsidian deposits in the world, covering four square kilometers. Here archeologists have identified 217 open-pit mines from which 40,000 cubic meters of exceptionally high-quality obsidian were extracted over the centuries. Most of it is black, but you can also find veins of red, brown, green and grey.
Charming haciendas
At 15.8 kilometers, there's a turnoff on the left to Hacienda Labor de Rivera. A large part of the grounds are covered with ruins which, in turn, are covered with weeds. The present owners have actually brought in archeologists to help figure out the history of this place. Part of the hacienda has been restored and is now a venue for fiestas and weddings. It should soon be open to the public as a restaurant and hotel.
18.9 kilometers A sign announces Hacienda El Carmen, located 3.6 km to the south. This magnificent hacienda, built in 1722, has been painstakingly restored and now boasts all the features of a truly elegant hotel, gourmet restaurant and spa without losing any of its charm. For information on staying there check the Hacienda's website. Be sure to call in advance if you only want to eat at the restaurant or use the spa.
Hissing geyser and spooky vapors
Seven kilometers southeast of El Carmen, you'll find a hissing and spitting natural geyser at Los Hervores. There's also a steaming hot stream leading to a rustic balneario that is normally deserted on weekdays. Camping is permitted alongside the hot river and the sun rising through the forest vapors will make you think you've woken up in the middle of the Blair Witch Project. To reach this site from El Carmen, you need a high-clearance vehicle.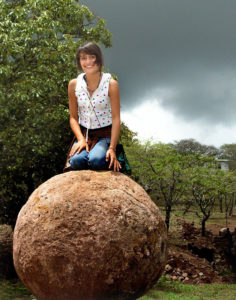 The great stone balls
At 27.2 kilometers, just two minutes past the town of Ahualulco, you'll see a left turn to Ameca. Follow this road 13 kilometers and you'll be at the trailhead to Las Piedras Bola or Great Stone Balls. Here you'll find at least 70 natural "megaspherulites" up to 10.5 meters in circumference. These appear to be the biggest manifestations on our planet of a rare pyroclastic-flow crystallization phenomenon. By the way, if you continue along the picturesque highway from Ahualulco to Ameca, you'll come to several stunning lookout points.
World's biggest obsidian workshop
39.9 kilometers You should be at a Pemex station on the edge of Etzatlán. On your right you'll see a road heading for Magdalena. Six kilometers to the northeast, you can visit what is said to be the largest obsidian workshop in the world. Today this is a hill near San Juanito Escobedo — locally known as Las Cuevas — but in bygone days this hill was actually an island in the middle of now-drained Lake Magdalena. The island was known as Itztlitlán, The Place of Obsidian and for a full 2,000 years it was the place where the finest obsidian of western Mexico was worked into high-quality artifacts by skillful craftsmen. Here you'll also find the ruins of the very first Christian chapel built in western Mexico.
Amparo Mine ghost town
If you turn left instead of right at 39.8 kilometers, a drive skirting the east side of Etzatlán brings you to a dirt road leading 12 kilometers south to the old Amparo mining camp. Here you'll find the ruins — some quite magnificent — of a mining town built around the most successful silver mines in Jalisco. Although it was located pretty much in the middle of nowhere, rumor has it that a bustling community of some 6,000 souls lived there in1916, enjoying such luxuries as two supermarkets, a cinema, a dance hall and their own classical music orchestra. This community, it was said, consisted of Americans, British, Mexicans and lots of Germans.
The forgotten palace
46.8 kilometers Here's the turnoff to the enormous Palace or Tecpan of Ocomo, located on the edge of the quiet little pueblo of Oconahua. It's hard to believe that this was the center of government of all western Mexico between the decline of Teuchitlán and the arrival of the Conquistadores. The ruins of the Palace encompass some 50,000 cubic meters and archeologists are now hard at work excavating the once splendid building. Visitors to Oconahua have a golden opportunity to watch the archeologists at work and even ask them questions.
San Marcos: pottery and tragedy
52.4 kilometers On your left you can see the roof of the abandoned San Marcos train station, only 495 meters south of the highway. From 1908 to 1910, thousands of Yaqui Indians were sold into slavery inside this building and transported by rail and boat to Yucatán where they were worked to death on the henequen (sisal) plantations. A beautiful grove of eucalyptus trees stands beside the station.
53.3 kilometers Turn right and drive into San Marcos, a little town which has been around since long before the arrival of the Spaniards. The town is famous for producing fine pottery from the local clay, especially flower pots, water and atole jars, plates and cups. Remember those cute mugs you saw in Tlaquepaque? Well, it is quite possible they were made right here in San Marcos, where you can pick them up for a far lower price at the shop (and home) of Jesús Bernal, at Calle Trinidad Garcia 5, Tel (386) 757-0349.
Here, as you approach the border of the state of Nayarit, your sojourn along Jalisco Highway 4 comes to an end.
Do you think you could find another 50-kilometer stretch of highway anywhere else, offering as many attractions as the Royal Road from Tala to San Marcos?
Published or Updated on: October 18, 2009