Saltillo, Mexico: color, culture and colonial charm
The Cathedral of Santiago in Saltillo faces the Plaza de Armas where young couples relax on iron benches surrounded by manicured gardens and children chasing pigeons. Streams of water rise from a fountain into gentle arcs in the sunlight, and a young man sells paintings of feathered Indians, the Virgin Mary, and Mexican villages with deep red terracotta roofs and flowered gardens.
There's plenty to paint in Saltillo, the capital of the Mexican state of Coahuila in northern Mexico. Just five hours by bus from McAllen, Texas, visitors soon find themselves in a delightful colonial city rich in history, museums and eco-tourism. The city – founded in 1577 – was once called "the entryway to the land within," because people often stopped here for supplies before heading further north. People still refer to Saltillo as the "air-conditioned city" for its perpetually cool and comfortable climate; visitors will enjoy visiting the world-famous Sarape de Saltillo, Museum of the Desert, Mercado Juarez and Museum of the Birds. Restaurants serve great food for a variety of budgets, and hotels offer a good range of accommodations depending on how much you want to spend.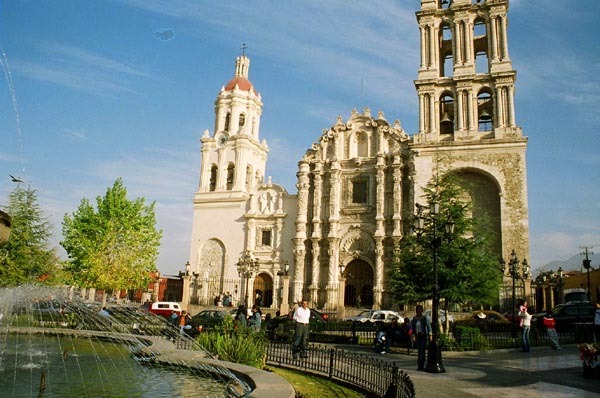 These accommodations provide good balance to the city's colonial and architectural legacy. The Cathedral of Santiago, which faces the Governor's Palace on the other side of the Plaza de Armas, is one of the city's major attractions. Construction on the cathedral began in 1745 and was completed in 1800; its neoclassical belfry was added in 1893. The facade features garlanded Solomonic Baroque columns that reach upward in a spiral and are believed to resemble those at Solomon's Jerusalem Temple, hence the name.
Squared estipites formed of several sections of stacked columns also adorn the cathedral. The estipite was introduced into Mexico by Jeronimo de Balbas from Andalusia in southern Spain. Balbas also worked on the retablo, a gold-covered altarpiece, at the Metropolitan Cathedral in Mexico City in the 1700s. He brought the ultra-Baroque style of architecture known as Churrigueresque to Mexico, and one of its notable features is the estipite which has been used throughout the country.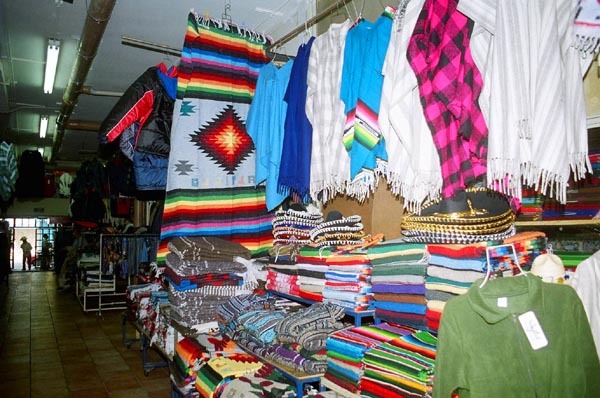 If you want to know more about the cathedral, Salvador Medina will be happy to give you a tour. He's available on weekdays from 3:30 p.m. to 7:30 p.m. You can also take a tour with him on Saturdays from 9:30 a.m. to noon and from 2 p.m. to 5 p.m. Sunday tours take place between 9:30 a.m. and 3 p.m. Just wait in front of the cathedral and he'll soon greet you and share his knowledge; all he asks in return is a donation for his charity "Heart to Heart," which provides food and other necessities to children and poor families.
His tour takes you up a winding staircase to the top of the bell tower where you find yourself surrounded by ancient bells. The tower provides a breathtaking view of the city, and you get a close-up view of the dome. Images of Quetzalcoatl, the Aztec rain god, surround the middle of the dome; the god is represented by a serpent that seems to leap out of the dome, its mouth open in a vicious, eternal stare, teeth bared, feathers festooning its head.
From the cathedral, head south on Calle Hidalgo to El Sarape de Saltillo, which maintains the city's centuries-old sarape tradition. The tradition began in the late 1500s when Tlaxcaltecan Indians moved here and began making the now-famous textiles. The factory and store is open Monday to Sat. from 9 a.m. to 1 p.m. and from 3 p.m. to 7 p.m. The shop is closed on Sundays.
Inside, sarapes with bands and geometric shapes of cherry red, jungle green and yellow sit folded in stacks throughout the store next to colorful napkins and tablecloths. Embroidered cotton dresses and wall hangings with bands of red fading into orange and then yellow cover the walls. In room after room you will find shelves of glazed pottery covered by colorful geometric shapes, floral designs and images of white calla lilies, green cactus and red-shirted farmers. Shelves crawl with beaded lizards, turtles and snakes next to glazed ceramic balls and black glazed pottery suns, pierced pots, plates and pitchers. In the back, weavers work the ancient looms to create their famous sarapes the way they have been made for centuries.
Ana Maria Mendoza Oyarzabal, manager, said her family has owned the shop for about 90 years. Her grandmother purchased the factory and store many years ago because she didn't want it to close. She knew nothing about sarapes, but she learned quickly.
Mendoza Oyarzabal said an 82-year-old weaver retired recently after making sarapes his whole life; he helped train her two young weavers to carry on the craft. Their training took two years.
"They have all the designs in their minds," Mendoza Oyarzabal said not long ago. "There are only a few patterns, about 20, all different. When they learn, they mix the colors. They have their own patterns; they change their colors and design. It depends on the person making the sarape."
Leaving the sarape factory, head further south on Hidalgo to the Museum of the Birds. Founded in 1993 in the former Colegio de San Juan, the museum houses more than 1,000 examples of more than 700 species of birds, making it one of the largest collections in the world.
The Museum of the Birds is open Tuesday through Friday from 10 a.m. to 6 p.m., and Saturdays and Sundays from 11 a.m. to 6 p.m. Adults pay ten pesos, children age 14 and under pay five pesos.
It's a small price to pay to see the excellent work people have put into the museum. As you enter each area, electronic sensors turn on lights to reveal exhibits of birds mounted to show them in their natural habitat. A royal eagle, suspended in flight, spreads its great wings at the moment of landing on a dead branch on a stony outcropping, shiny black talons gripping a moss-covered roost. Stuffed birds in flight – roseate spoonbills, a great blue heron, a ferruginous hawk – fill another case.
Romeo Tinajero, an engineer at the museum, said the world-famous facility put a new albatross on display in late 2005 and has recently begun installing touch screens like those at the Museum of the Desert. Two have been put in place so far; Tinajero, who recently graduated from the University of Nuevo Leon with a master's degree in forestry science, has just finished entering the information into a computer for another touch screen scheduled for installation in 2006.
There are already plenty of signs (in Spanish) around the museum to explain various facts about the birds such as feeding, nesting and evolution. Each bird has a number, and a sign next to the display gives the English, Spanish and scientific names of each species shown. After walking through the museum, you can take a moment to relax beneath the tall trees of the inner patio where injured birds are tethered to roosts. Some of them, Tinajero said, will soon be released, while others may never completely heal from their injuries.
All this walking and sightseeing can work up an appetite. Head back down Hidalgo Street to the cathedral, cross the Plaza de Armas to Calle Ocampo and continue to Calle Padre Flores, a pleasant pedestrian walkway with an Internet café and a restaurant called El Restaurante Cazadores, which serves sirloin, hamburgers, enchiladas and seafood. Dulceria El Sarape at the corner of Ocampo and Padre Flores is a great place to get pan de pulque, a sticky, locally-made sweet bread.
Turn right on Padre Flores and continue walking to Plaza Manuel Acuña where Tacos El Pastor does a brisk business. The energetic noise of the street pours in through the breezy windows, creating a festive atmosphere as hungry customers eat tasty tacos with grilled onions. An order of four tacos with corn tortillas costs 22 pesos (about $2), 26 pesos if they are made with flour tortillas. Musicians and clowns routinely enter the café, entertaining guests for small tips.
Outside, the Plaza Manuel Acuña is a delightful place where people can relax in the surroundings of crepe myrtle, palms, bright red roses and street lamps. Men play guitars or shine shoes, children fidget and engage in innocent laughter while passersby stop at a newsstand to look at copies of El Diario, Cosmopolitan and other newspapers and magazines. Often you'll find people selling toys and balloons on a stick or baskets full of Halls cough drops, peanuts and cigarettes.
On the north side of Plaza Manuel Acuña stands the Mercado Juarez, where you can shop for just about anything. Saddles, denim jeans and jackets, sombreros trimmed with gold, glazed pottery of fish and turtles in bright shades of magenta and sea green, leather sandals and carved chess sets are just a few of the many items found here. You can buy small colorful tapestries for  a few dollars. Embroidered dresses sell for about $20, and you can get a pair of crocodile boots for about $79. Go up a ramp and you'll find butchers preparing fresh cuts of chicken, beef and octopus; the third floor has more shops selling bird cages, piñatas, molcajetes, straw baskets and bronze Buddha figurines, plus vendors serving barbacoa, mole de pollo, pozole and menudo.
Saltillo doesn't have much night life, but it has a lovely colonial charm within a short distance of the Texas border. A visit here can quickly nourish the appetite for anyone wanting a taste of Mexico beyond the border towns. It's a fine destination for a leisurely weekend of history and culture, a welcome escape from the hectic routines of daily life to a place where the people are friendly, the food is delicious, and the weather is always cool.
Hacienda Del Pastor on the Plaza Manuel Acuña, just a few doors down from Tacos El Pastor, is open everyday from 7 a.m. to 10 p.m. The restaurant offers a varied fare including machacado con huevo, rotisserie chicken, seafood tacos and "burritos gigantes," all at very reasonable prices.
Gitano's on Juarez Street offers an interesting dining experience. To get there from the cathedral, head west on Juarez past the Governor's Palace. You'll see the sign at the corner of Allende Street. Go upstairs to the second floor restaurant and you find yourself surrounded by gilded furniture, paintings of women in fancy hats, and pictures of dignified gentlemen like Benito Juarez. You can choose from such intriguing dishes as the taco Gypsy king, or more familiar ones such as T-bone steak for $13 or quesadillas for $3. El Cisne on Calle Victoria west of the Governor's Palace also offers great food and drinks at budget prices, including roast beef, enchiladas, quesadillas, machacado con huevo, paninis and gourmet coffees.
Published or Updated on: July 1, 2006