Photo Gallery: Tijuana hotels and dining (Photos © Robert Mohr 2006)
People in Latin countries are usually out visiting in the evenings, having fun and listening to street musicians and eating at any of the well-lit taco stands on the corners.
Tijuana: part II: A good meal to round out my day… and a place to lay my head at night
Dining Out
I like a sense of adventure, of being surprised by a menu, delighted by having chosen something new and delicious, of discovering a treasure in a foreign land. Of course, there's always a point in my travels when I'm sick of enduring the occasional plate of tasteless beans and insipid rice. And that's what "favorites" are for – you can forget a lot of disappointment as you face a favorite taco de pollo or pescado a la plancha. I keep the business cards of all my favorites in a little book, so I can direct the cab driver or ask directions if I'm walking.
Take, for example, tacos at midnight. Believe me, this is what's missing from your hometown: people out in the streets late at night, having fun. In the warm summer evenings, whole families will drag their furniture out into the street, hook up some lamps to extension cords, and serve dinner with their silverware, dinner plates and tablecloths – no paper plate picnics, this is dining al fresco. If you walk around at night, you'll find people out at most hours of the night – at any rate, you'll see another side of the town you're visiting. People in Latin countries are usually out visiting in the evenings, having fun and listening to street musicians and eating at any of the well-lit taco stands on the corners. For many years, because of what my parents told me about street vendors in Mexico when I was a child, I didn't eat at these stands, fearful of dysentery. Boy, was I cheating myself. I have eaten at these stands for years now, and am glad to find good tacos in the middle of the night. A reminder: be careful walking around at night.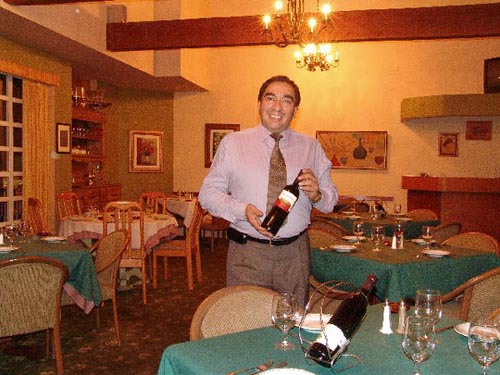 My favorite dining spot in Tijuana is D'Tony Restaurante Argentino. Owner Tony Randisi is there most evenings, overseeing an excellent staff (his able assistant Eduardo Lozcano will be just as helpful). D'Tony's steaks, chicken and seafood are all of the very finest quality and prepared with a cosmopolitan flair. The prices are extremely reasonable for the meals served, and the continental atmosphere of this 'white linen' restaurant is one of quiet confidence. Drinks too are moderately priced, and I never come away feeling less than delighted. Diego, Fortino and Francisco will take exceptional care of you. Tony also owns La Boca Argentinian Steak House in San Diego. D'Tony is located in Centro Commercial La Joya at 7th and Madero in Zona Centro, right behind la frontera jai alai.
At the other end of the scale is a small torta joint called Tortas El Pulpo, where you'll find one of the best turkey sandwiches in Tijuana. Assembled in the window facing the busy street, this great torta is served on a French roll and comes with all the trimmings. Serving breakfast, lunch and dinner, this is one of my favorite stops. Turkey meat ( pavo) is becoming more common on Mexican menus, and this happy little place is a good spot to start enjoying it – the torta de pavo is about three bucks. Tortas El Pulpo is located at Avenida Constitucion between 7th and 8th, just a half-block from the Comandancia de Policia at 8th.
While we're talking about holes-in-the-wall, we should note that Tacos El Paisano is a great place to get some real authentic tacos. Part of a block-long string of open-front stores off Agua Caliente, Tacos El Paisano serves a limited menu of tacos de res, each a small tortilla with a mound of grilled chopped beef cover with raw onions and cilantro, then doused with a wet guacamole and handed over the counter on a piece of paper. They have an antique Coke machine behind the counter, from which you can buy a bottle of soda. On the counter are several pots of salsa, from almost-unleaded to hi-test, some pickled jalapeños, a bowl of sliced limes and a couple of large salt-shakers. The tacos are a buck each, and to get to the counter you'll have to elbow out of the way more than a few guys working on their fifth or eighth taco. There is one place that actually has a driveway (though not drive-in service – unless you're related to the cook). My friends tell me that every taco shop on this block serves the same menu, but I like the look of Tacos El Paisano. You may find it different – but you're bound to find something you like. Tacos El Paisano, on Guillermo Prieto just west of Ibarra, which forms a triangular block with Boulevard Agua Caliente three blocks north of the corrida.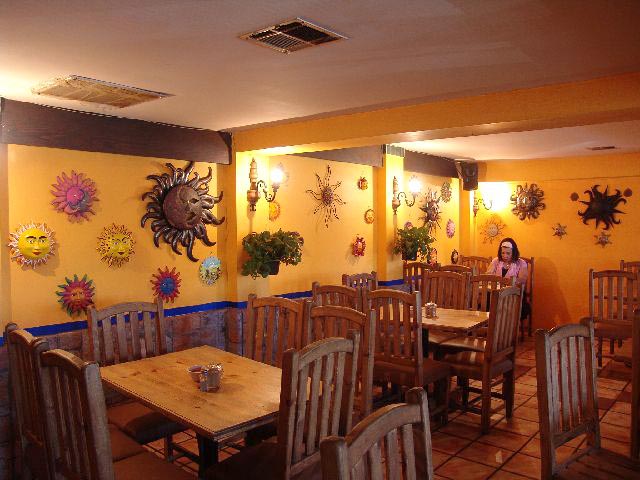 While we're talking about open-front taquerias, there is a great spot for mariscos (seafood) on 5th, just west of Constitucion – Mariscos Billares (8029 5ta Emiliano Zapata). They have wonderful ceviche tostadas at a very low price. As with the other small stands, they have the regular condiments and garnishes, including radishes and peppers. My friends know that, on the way someplace, I am always willing to stop for a snack, just to eat something for some extra energy. All day long, I am trying tacos and tostadas at a variety of nameless and named places along the way (even on the way to dinner, I'll sometimes stop to enjoy a taco). To find Mariscos Billares, look for the El Fenix store at the corner of 5th and Constitucion, then head west a half block and cross the street to the open-front shop.
Another good open-front taqueria is Mi Pueblito, located across from Los Ponchos on Negrete in Zona Centro. The food is good solid ranchera-style comida, and the homemade orange-colored salsa is very nice without burning the throat.
And if you find yourself hungry while shopping in the Mercado de Artesanias, head for the northeast corner, just under the ramps up to the walking-bridge-over-the-border. The place is called – I kid you not – Beer Tacos, and it has discount beer and great chicken tacos. Like most open-air taquerias, the prices are cheap and the food is good.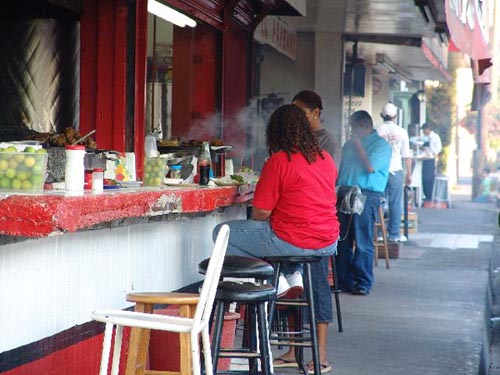 At dinnertime, however, you should have a real sit-down meal – it's the civilised thing to do. And La Costa is one of the premier places in Tijuana for a great meal. La Costa opened in 1967 under the masterful eye of Señor Adrian Aramburo, who was once a singing star of the Mexican nightclub scene. Starting his singing career in 1952, Sr. Adrian shared the stage with Pedro Infante and Jorge Negrete. Like many performers, he found that he would rather entertain a large room of diners than a great hall of listeners, so he started La Costa – and the rest, as they say, is Tijuana history. Here, served by a staff under the courtly manner of Manager Antonio Sanchez, you'll find great antojitos to get you started, wonderful mariscos and meat dishes to delight you, and scrumptious desserts – and the service is impeccable. La Costa is on Calle 7 # 8131, across from bus entrance of the Mexicoach station, between Revolucion and Constitucion.
A lunch favorite is Mariscos Solo, a great little place with indoor and outdoor seating. Here you'll find the freshest clam, shrimp and octopus cocteles, and at good prices. They have a fixed menu – you can order any of their cocteles in one of three sizes: vaso chico, vaso mediano or vaso grande. The cocktails are served in paper cups, bathed in a tangy red sauce full of chiles, chopped onion and cilantro. There's a bag of hard chips on every table. You can order the almeja en concha, (in the shell) or any of the cocteles solo – I prefer pulpo solo (only octopus), but that's personal taste. My pals go for the almeja. Formerly "Mariscos Socio," Mariscos Solo is located at Quintana Roo and Calle 11, Zona Centro, Colonia Marron.
Another favorite of mine is the Nutri-Fibra Panaderia around the corner from Mariscos Solo – a real health-food shop right in the middle of Zona Centro. This bakery offers all kinds of healthy items, almost all of which are made with whole-wheat or rolled-oat flour. The prices are not much more than other panaderias, and the food is exceptional. Nutri-Fibra is located at Calle 11 # 9383, Zona Centro, Colonia Marron.
El Marinero is another great sit-down restaurant for mariscos y antojitos mexicanos with "popular prices" and a "family ambience." There, manager Maria Huerta Montaño oversees a proficient staff. While there isn't much atmosphere, still the food is great – and you won't be paying for costly decorations. They serve great steaks and other international dishes, and have a full bar. El Marinero is at Calle 3 #1934 (Carrillo Puerto), between Revolucion and Constitucion in Zona Centro.
For vegetarian dining, you can't beat Vallarta Restaurante Vegetariano, in Zona Agua Caliente. An unassuming place of great charm, this restaurant has a great menu that caters to vegetarians, but serves eggs and chicken as well. I wouldn't hold my breath for vegan fare, but if you want a healthy and delicious vegetarian meal, this is the place to look. Yummy smoothies and aguas frescas too. Vallarta is located at Boulevard Agua Caliente #1252, at the corner of Rio Yaqui, Colonia Revolucion.
Where to sleep
Now that we've enjoyed some good meals, we'll move on to a place to sleep. As in any town, you'll find that there are many kinds of accommodations available, depending on what you prefer.
Where you'll want to stay depends on how you like to travel. If you want upscale luxury, you'll want the Grand Hotel de Tijuana, the Hotel Camino Real, or the Residence Inn by Marriott. In any of these hotels, you'll find rooms identical to the top hotels in the U.S. or Europe. You can find information about them online with a quick search.
If you want a midrange American-style hotel, then look to La Villa de Zaragoza, right behind the jai alai fronton in the heart of the tourist district. At Avenida Madero # 1120 (between 7th & 8th) in Zona Centro, the Zaragoza offers covered parking with a uniformed guard on duty 24 hours to watch over your car and you. The carpeted rooms offer air conditioning, phones for international and local use, TV with remote and good showers with soap (no shampoo). Outside is an ice machine and a small garden with benches, and you might get your choice of smoking or non-smoking rooms. You'll also find a café that serves decent food, especially the caldo de pollo, which is idiosyncratic and delicious. Though I prefer to seek adventure when I am eating in a foreign country, I have heartily enjoyed the enchiladas here after arriving late, too tired to walk out and eat in a restaurant. Zaragoza will set you back $36 per night for one person and $54 for two, so I generally stay there only when traveling with a friend. You can see pictures of the hotel or book reservations at https://www.hotellavilla.biz.
If, on the other hand, you are an economy traveler, you can find many "rustic" places in the $20 – 30 range. When I'm alone, I travel more simply – and more cheaply – by going to the Hotel Ocampo, where the rooms are $19 to 20 a night for a single person. I can get a better rate by negotiating for 3 – 7 days, paid in advance (usually $2 – 3 per night discounted). The rooms are clean and sparsely furnished, and for your twenty bucks, you'll get a bed with clean sheets and blankets, two towels, a TV (no remote), a fan, a phone (to the desk only) and a couple of miniature bars of soap. You won't find shampoo or lotion, but you can carry your own. Outside is a rooftop seating area and a soda machine. Hotel Ocampo is located at Avenida Ocampo # 1125, between 5th & 6th in Zona Centro.
Another hotel for low-budget travelers is Hotel Suiza, on Avenida Niños Heroes between 5th & 6th in Zona Centro – on the west side of Revolucion. This is a very low-cost establishment, with no TV or phone, but the rooms are clean and the place is safe. You'll find a room for $18 to $20 a night.
Other mid-range sleeping spots are the Hotel El Rey on Calle 4 #8235 in Zona Centro, where a single will cost you $25 and a double goes for $35; Hotel Paraiso ("family ambience by the day, the week, the month") at Avenida Negrete # 1765 between Calle 9 & Calle 10, offering singles at $35 and doubles at $50; and Hotel America at Calle 4 # 8432 in Zona Centro, where you'll find single rooms around $45 and doubles at $63.
For more information, you can find these sites online:
Tijuana Tourism Board
Tourist Assistance Department [Spanish-only site]
Published or Updated on: January 1, 2006