Photo Gallery: Chapala's Feria Maestros del Arte: guardians of the folk art tradition
In today's world, where massive factories churn out goods at breakneck speed, it is hard for many people to imagine that there are still devoted artisans tucked away in remote villages of Mexico who dedicate days, weeks and even months to creating one exquisitely crafted piece. These artisans, toiling away in their secluded studios, are more than just producers of decorative objects. They are guardians of age-old folk traditions that have been passed down from generation to generation — traditions that are now in danger of being lost forever, as Mexican artisans struggle to survive in a changed economic landscape.
"The world has become a 'throw-away,' plastic and reproduction-type economy," says gallery owner Marianne Carlson, an American expatriate who lives and works in the Mexican city of Chapala. As Carlson explains, local craftspeople are losing business to China, where replicas of Mexican folk art are manufactured and then exported back to the very country where the authentic pieces originated.
Indeed, China's exports of ceramic products to Mexico increased a dramatic 237% from 2003 to 2006, from nearly $16.2 million USD to more than $54.4 million USD, according to China Customs statistics released by the Mexican Bank for Foreign Trade (Bancomext).
"Unscrupulous dealers send original pieces of art and have them duplicated in China," Carlson says. "From afar they look the same, but they are not hand painted," she notes. "Instead, decals are made and fired onto the ceramic."
Carlson is incredulous that someone would actually prefer to buy a mass-produced replica from China than spend the extra money for a one-of-a-kind piece painstakingly created by a Mexican artisan. As she explains, an authentic Mexican handicraft is created by "an artist whose family may have done the same work for generations and who has lovingly formed, molded and put his soul into his work."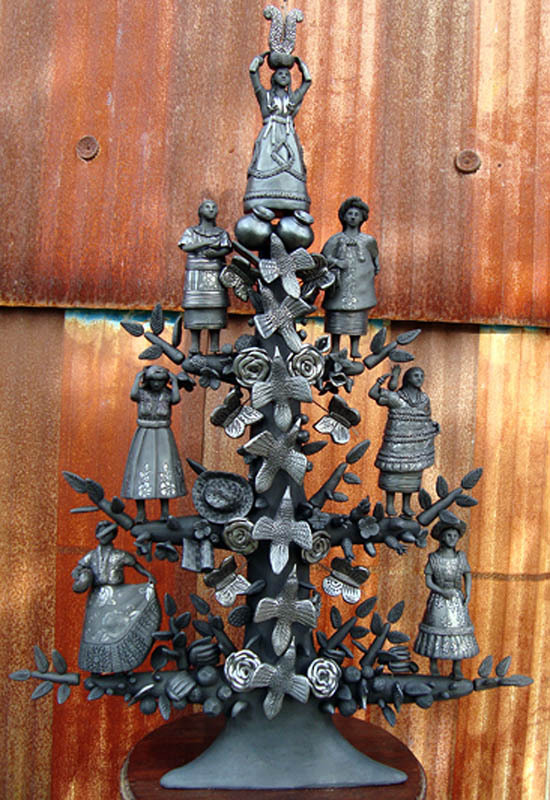 The gallery owner's concern for the future of Mexican folk art is a major impetus behind the three-day festival, known as the Feria Maestros del Arte, which she has organized in Chapala every year since 2002. Carlson conceived of the idea while on a buying trip for her gallery, in which she and a friend visited 17 artisan villages in Jalisco and its neighboring state of Michoacán. During the excursion, Carlson began to realize that the craftspeople she encountered would most likely benefit from exposure to a wider audience, since many of them had only participated in folk art fairs held in their villages or nearby small towns.
Thus, the idea to hold a fair in Chapala started to take shape and Carlson began broaching the subject with various artisans to gauge their interest. One exchange in particular was so memorable that it inspires Carlson to this day. As she and her friend were sipping lemonade with an artisan on his patio, the craftsman expressed his amazement that two Americans, and women at that, were so concerned with protecting Mexican folk art that they had decided to organize a show for artisans like him. As Carlson recounts, the craftsman said, "Here I sit with two American women, not men, who tell me this. I can hardly believe it and think it so wonderful that you love our art as you do."
Carlson's love of Mexican folk art blossomed even further after she orchestrated that first fair back in 2002. She originally intended it as a "for profit" event that would supplement her regular income, but was so captivated by the 13 artisans who took part that the monetary aspect faded right into the background.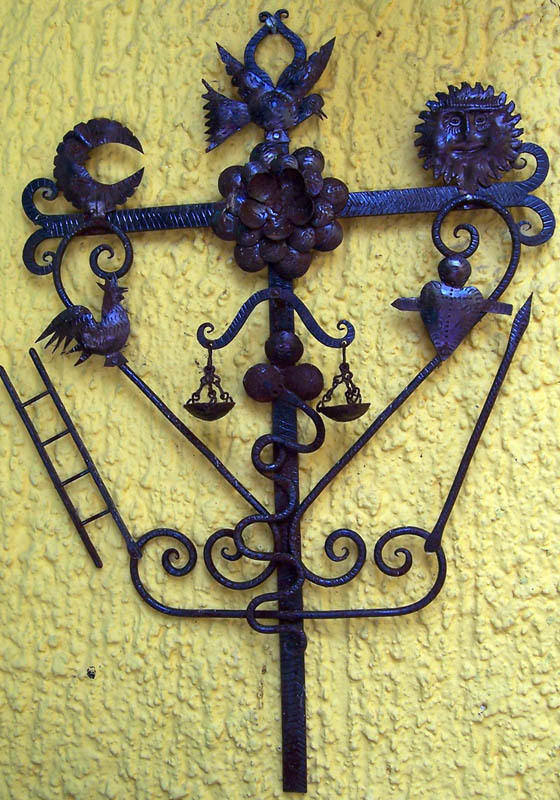 "After working with these wonderful people that first year, it suddenly didn't matter anymore that I make money," Carlson writes on her website. "I simply wanted the opportunity to meet more artists and be exposed to the incredible folk art that would later become so important in shaping my new life south of the border."
Carlson's enthusiasm has been contagious, as evidenced by the significant growth of the Feria Maestros del Arte over the past six years. The number of exhibiting artisans has more than quadrupled, with 60 slated to attend the 7th annual fair that will be held from November 7th to 9th at the Club de Yates de Chapala (Chapala Yacht Club). This year's participants hail from various states throughout the country, including Oaxaca, Chiapas, Yucatán, Puebla, Querétaro, Hidalgo, Estado de México, Michoacán, Guanajuato, and of course, Jalisco. At press time, Carlson was even organizing to bring several representatives from the Tarahumara tribe in Chihuahua to the festival.
And as the list of exhibiting craftspeople has grown, so has the number of volunteers who collaborate to organize and operate the Feria Maestros del Arte. Including Carlson, there are 12 coordinators who handle everything from scouting for new participants and raising funds well before the show takes place to dismantling everything when it ends, not to mention all the necessary operations that occur when the fair is in full swing. This team is indispensable to her, as are the many volunteers who open their homes to host the arriving artisans.
The three-day festival is free for the participating artisans, which means that there are no booth fees or percentages taken out of their sales. "Our reward comes from a job well done and the handshakes and hugs we get as artists depart Chapala," says Carlson, who secured official non-profit status for the Feria Maestros del Arte last year.
"One of the most endearing parts of inviting lesser known artists is that some of them cannot read or write and some of them have never been out of the town they were born in," Carlson recounts. "When they get to the Feria, they're wide-eyed and I love watching them as they start to relax and enjoy the hospitality we try to provide them. By the end of the Feria, they are old friends and many stay in contact with me throughout the year."
Indeed, Carlson has been deluged by gifts over the years by artisans who are eager to reciprocate and some have even hosted her during her scouting trips through Mexico. On one expedition this past March, she and three companions stayed at the home of craftsman Julio Laja Chichicastla in the state of Puebla. Their gracious host picked them up in a small town, after which they traveled over steep mountain roads that brought them deeper into the countryside.
"We started off and drove up and up and up and then drove down and down and down, and then went up and up and up again, and I was thinking my fellow travelers were probably going to kill me for we were truly in the boondocks," Carlson recounts. "However, the further we went, the more beautiful the countryside became."
When they finally arrived at their destination of San Pablito, even Carlson's companions who had initially felt apprehensive about taking the artisan up on his offer of hospitality were totally in awe of their surroundings. The visitors spent the night at the craftsman's home, where they watched a demonstration of the amate (handmade paper) art form and dined on a tantalizing dish made with the traditional Mexican sauce known as mole. "I will never forget my time with them in this paradise set on the side of a mountain," Carlson says.
San Pablito is just one of the many hidden gems that Carlson has visited while trying to track down new craftspeople to take part in the annual fair. She has spent countless hours and logged untold miles traversing Mexico in search of these sometimes elusive artisans. And her list grows ever longer, as she continually hunts down leads on fresh work to feature in the festival.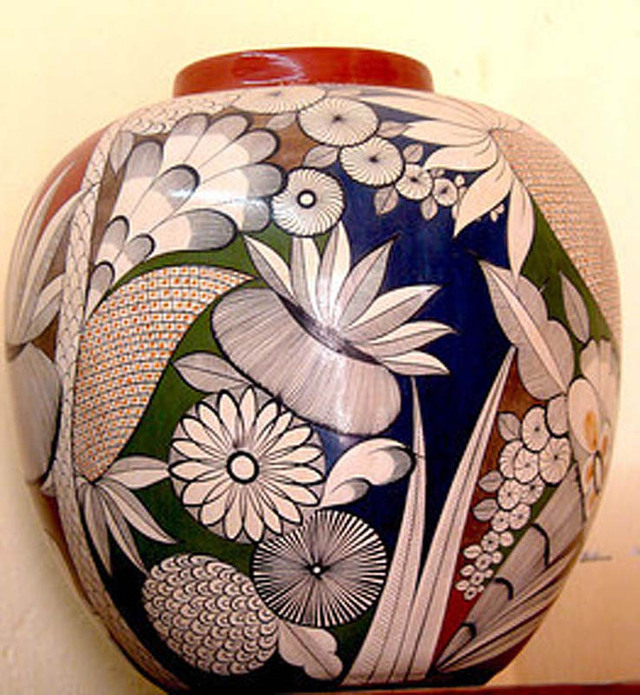 This year, the Feria Maestros del Arte will showcase a dazzling array of handicrafts, such as pottery crafted in the barro bruñido and petatillo styles, distinctive cocuchas (clay pots) and pineapple punchbowls from Michoacán, and one-of-a-kind, pre-Hispanic reproductions authorized by Mexico's Instituto Nacional de Antropología e Historia (National Institute of Anthropology and History). Other striking examples of Mexican folk art to be found at the fair will include sparkling rainbow obsidian sculptures; gleaming alpaca cutlery and jewelry; fantastical hand-carved alebrijes from Oaxaca; intricately woven chuspata (reed) furniture and dolls; dramatic iron roof crosses from Chiapas; whimsical skeleton sculptures known as Catrinas, gorgeously embroidered textiles from Oaxaca and Chiapas; and miniature musical instruments inlaid with abalone.
With such a unique representation of Mexican handicrafts on display at the fair, many a curious visitor has been transformed into a lifelong collector right before Carlson's very eyes. "As people come to the Feria believing that it might be an interesting experience to see all this art and enjoy the music, I often watch them stop by a booth and remark on how lovely or well-made something is," she says. "When they buy that piece, I know a new folk art collector has been born."
Carlson has also incorporated new cultural components into the fair's lineup this year, including regional music and dance performances, tequila tastings, and expert discourses by folk art authorities Marta Turok, Susana Valadez and Marc Navarro. Turok will discuss several subjects, including a case study of Mixtec textiles from Oaxaca, the symbolic analysis of the ceremonial huipil from Magdalenas, Chiapas, and the changing face of Mexican folk art over the past three decades. Valadez will speak about the Huichol Center for Cultural Survival and Traditional Arts, while Navarro will deliver a lecture on Mexican silver jewelry during the "Spratling era."
Folk art demonstrations will also be held, such as one in which Mata Ortiz pottery will be created with the traditional firing technique that involves a dung and wood fire.
"Many times I have watched an artist work and tears well up in my eyes," Carlson notes. "The thought that his or her art could disappear forever — to be seen by future generations only in books — is incomprehensible."
It is this passion to protect Mexican folk art that motivates Carlson and the other volunteers as they diligently prepare for the Feria Maestros del Arte year after year.
"Art is a country's history and before Mexicans could read or write, they were telling stories through their art," Carlson says. "If this art disappears, so does history."
For more information about the Feria Maestros del Arte, visit the website.
Published or Updated on: October 1, 2008