Acapulco easily can boast of some dynamic, talented and interesting women residents. Among these is Dolores Olmedo Patiño, a foremost patron of the arts of Mexico and a tremendous promoter of the culture of her beloved native land.
Dolores Olmedo Patiño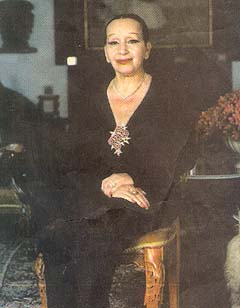 Diego Rivera, Mexico´s most celebrated artist and muralist, first met Dolores Olmedo when she was only 11, and immediately asked her mother's permission to do drawings of the beautiful little girl – result, 25 priceless lithographs. Over the years, Olmedo posed several times for Rivera and became a great admirer of his work. She started her collection in 1955, buying from galleries, private collectors and from the maestro. That year she also commissioned Rivera to put her on canvas, full length in typical Mexican attire, which is one of her favorite portraits.
Dolores Olmedo has the largest collection of Rivera's masterpieces – a total of 144, more than 100 of which enhance the Dolores Olmedo Patiño Museum in Xochimilco in Mexico City. Other works are exhibited in the Anahuacali Museum he built to house his collection of pre-Columbian artifacts, and the Frida Kahlo Museum in Coyoacan (Mexico City), the house he shared with his wife – famed artist, Frida Kahlo. The collection of Dolores Olmedo covers the deficits of these two institutions, and in addition she has established a foundation in her own name (her four children named trustees), which will inherit her huge collections, not only of Rivera but also works by Frida Kahlo and pre-Columbian sculptures
Painting non-stop, Rivera was Olmedo´s houseguest in her Acapulco residence for the last two years of his life; and due to their devotion to each other, named her, upon his death as, "custodian of his art work, gifts to the people of Mexico."
On the huge wall which graces the front of Olmedo's Acapulco residence. Located on Inalambrica Road, a lovely hilly area near Hotel Casablanca with a breathtaking view of the Pacific Ocean, you can see Rivera's vivid "Mural de la Serpiente Emplumada" (The Feathered Serpent). Made of mosaic tiles, it incorporates a frog, which perhaps the maestro meant as a joke on himself as he often made fun of his looks, referring to himself as La Rana (the frog). He designed this mosaic in tribute to their life-long friendship.
Olmedo´s mother once told her to "share all that you have with other people," advice she certainly honored. It was announced recently that Olmedo wanted the people of Acapulco to know how much she loves them and that she will always vacation at her Acapulco home.
At this time, it was also announced that in March 2001, a Dolores Olmedo-Diego Rivera Museum is slated to open on her Acapulco estate. Dolores Olmedo has dedicated 400 meters for this new museum, which will contain photos of all the works she has, painted by Rivera, including Acapulco's glorious sunsets and La Quebrada, where the internationally famous high dive takes place. Both of these were painted from a studio covering 200 meters that Dolores Olmedo had built for the maestro on her Acapulco property. Several works are also being sent to Acapulco, to be photographed for display. These include paintings of the nurses and doctors who cared for him while he was in the Soviet Union, plus paintings of her children. This museum promises to rank among the greatest in Mexico with its photographic display of masterpieces, some of which most probably have not been exhibited before. The people of Acapulco are proud – art lovers are ecstatic!
This distinguished lady, who amassed her fortune in bricks and buildings, has not enjoyed the best of health recently, but possessing a natural cheerful nature and with a chuckle she has said, "not even the devil wants me." All pray that Dolores Olmedo, a treasure of Mexico, will enjoy many more healthy years.
Susanna Palazuelos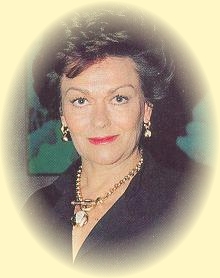 Acapulco´s Susanna Palazuelos is a dynamo – personality and business wise – who has made catering an important and integral part of her life and the social life of Acapulco. For the past 20 years, Susie has enjoyed an unchallenged corner in the catering market.
Susie's interest in cooking started as a child while watching her mother, who often referred to handed-down family recipes. She showed her ingenuity and imagination even then, often offering suggestions to enhance the flavor of a certain dish. It was a foregone conclusion that here was a future chef of note.
Perhaps it's in the genes as Susie's great, great paternal grandfather, Narciso Bassols, in 1895 authored one of Mexico's first cookbooks, still widely recognized for its authenticity. Susie treasures her ancestor's work, appreciating the insight it gives to that period of time, plus its record of the culinary roots of her family.
After graduating from the prestigious Hotel Management and Tourism Institute, Centro International de Glion, in Switzerland and a stint at working in hotels, Susie started her own business in something close to her heart – cooking! She was off and running with success right at her heels, first locally, then nationally and finally internationally. She not only caters private parties and grand weddings, but huge conventions as well. Her list of prestige clients is formidable, and includes such prestigious groups as the yearly Tourist Tianguis, which attracts some 2,500 wholesale travel agents.
This convention and several government groups — plus large national and international groups of bankers, doctors, business institutions, pageants (the Miss Universe pageant on two occasions) — convene in Acapulco's magnificent Convention Center. Susie's cuisine adds to the success of these occasions. Three Mexican presidents have expressed their praise to Susie for her contribution and for the impression she personally left on important visitors. In short, Susie became Mexico's premier caterer.
The Convention Center is located on Acapulco's main boulevard, Costera Miguel Aleman, and is a tourist attraction in itself. It is artistically landscaped with a panorama of green grass, beautiful flowers¸ and six impressive water spouts (which are especially dramatic when lit up at night). Boutiques, a theatre, a nightclub, a restaurant add interest. Across the street, diversified water activities and the engaging dolphins of the Centro Internacional Convivencia Infantil (CICI) delight children.
Queen Elizabeth Dines at Fort of San Diego
Surely one of the highlights of Susie's career was catering a dinner in honor of Queen Elizabeth II, hosted by former President, Lic. Miguel de la Madrid Huerta, at Acapulco's historic Fort of San Diego in 1983.
The fort was built in 1615-1616 as a fortress against pirates, so prevalent in those days. After the Dutch destroyed it, it was rebuilt and christened the Fort of San Diego, only to be destroyed again by an earthquake in 1776. The present fort, a massive, five-pointed maze of moats, walls, battlements, treasures, was completed in 1783 and refurbished in 2000. It's a must-see for tourists and a perfect setting for the dinner in honor of Queen Elizabeth II, who, accompanied by the president, was driven in an open limousine through Acapulco's main boulevard to the delight of residents and tourists alike.
Because of Susie's vast catering experience during the past 20 years, she is often referred to as "Mexico's Culinary Ambassadress." She has been featured in national and international publications and appeared on many television talk shows and is a member of the Circulo Mexicano de Arte Culinario, a group of distinguished lady chefs dedicated to enhancing, preserving and promoting the regional dishes of Mexico. In addition to receiving 40 diplomas and 5 medals honoring her work, she received the National "Guerrero" Award in Tourism (Acapulco's leading industry).
Susie's magnificently illustrated "Mexico The Beautiful Cookbook," now in its eighth printing, is available in English, Spanish, German, French, Portuguese and Dutch.
Most importantly, with all her success, Susie never allows herself to forget that each dish for every occasion must be true – that there's no cutting corners.
If you want more information on Acapulco, try to find the book, "Mike Oliver's Acapulco," released by iUniverse but now out of print.
Published or Updated on: January 1, 2001