Part Three: Restoration, time to make decisions
Photo Gallery: Mi Pullman: remodeling a Mexican Art Nouveau townhouse III
To
Part One: Agreement to purchase
Part Two: Buying the house
Now that the house was legally mine, I had to make some important decisions about how I would go about restoring the property.
Alberto and I spent two exhausting weekends cleaning the house with the help of some hardworking guys who took the rubbish away, cleaned the floors of dust and dirt, and removed the dead cat from the first floor landing together with numerous dead swallows. But still there was a terrible smell of something rotting! We looked and looked and could not find anything. It was only a couple of weeks later, when I was cleaning under the old bathtub in a tight cubbyhole downstairs, that I touched what I thought was a matted, smelly old rug — it turned out to be a very old dead cat! I had to dig it out with a shovel, and it really turned my stomach as I put the remains into a black rubbish bag. After that, a lot of pine disinfectant was poured onto the area to get rid of the smell.
Because many of the windows and the balcony door had missing pieces of glass, the bats and swallows had had a field day splattering every area of wall space with droppings. Additionally, the swallows had built their mud nests in light fittings and high corners. They urgently needed to be deterred, so we bought rolls of thick polythene and tape in order to make everything secure until they could be either repaired or replaced. It didn't look very pretty, but it did the job.
During the long, drawn-out process of purchasing the house I had become aware that it wasn't any ordinary house.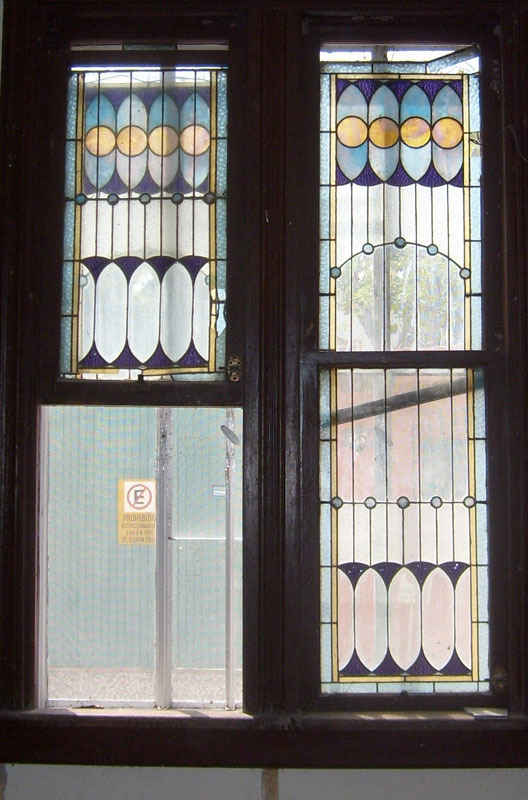 Built in 1906 by the architect Guillermo de Alba, Mi Pullman was a famous landmark in Chapala, and played a part in the history of the town. De Alba, was born in Mexico City in 1874, but grew up in Guadalajara. He studied architecture in Chicago, and went on to build many villas and hotels in both Guadalajara and Chapala. With his great passion for trains, he built this house for himself and named it Mi Pullman. He owned the house until 1926 when he finally left the area to return to Mexico City.
De Alba loved Chapala and was responsible for some of the most beautiful buildings in the town. Walk around and his legacy remains to this day and, although the usage of the buildings has changed, their style and elegance remain. The most famous building is probably the Old Railway Station, but look also for the Villas Tlaocan, Josefina, Adriana and Niza and the hotels Arazapalo and Palmera. The charm of Chapala owes a great debt to de Alba for the richness of its architecture. It was, therefore, very important to me that the restoration work was of the highest standard befitting such a distinguished man and such an elegant house.
Once the euphoria of getting the house had begun to fade, and reality set in, I felt a lot of pressure. I had to decide how I was going to tackle the restoration. I had very strong views on what I wanted to achieve but I had never undertaken such a large project, and one with such an important history. I had to keep the integrity of the house. I had to get it right. Not only for myself, but for all the people who love the house, who photograph it and who own some part of its history, and especially for the de Alba family. It was a great responsibility, and I wondered how on earth I was going to achieve it.
My vision was to restore the house so that it was difficult to tell where the original left off and the new began, gently merging the old with the new, and blending modern technology with the grace of the Mexican art nouveau period. It was important for me to keep as many of the original features as possible — oak wood parquet flooring, stained glass windows, original toilets, tiles, cast iron bath tub and lots of interesting brass hooks and hinges. Structurally, the house was very sound and stood on solid foundations, so I had no worries there. Obviously certain things had to be modernised, like the electric wiring and plumbing.
I lay awake at night thinking about the project, and a thousand worries grew in my head. What to do first? How do I select an architect and contractor? How much was it going to cost? What was and wasn't possible? Design of kitchen and new bathroom, water and plumbing — the list went on and on until I thought I was going mad!
During this time, Alberto was also adding to my confusion by insisting that all I needed to get the job done was a good electrician, albañil (mason) and plumber. His mantra became "Why waste money on an architect?" It was obvious that my vision was so very different to his, and I knew that there was no room for compromise — I had to honor the essence of the house. This led to many heated discussions, until finally we decided that the only way to find peace was to separate.
It was a sad day for both of us. He had been a driving force behind the project, and then all of a sudden I found myself on my own. However, once he had left my thinking became clearer, and I knew exactly what I had to do. I would contact my friend Ricardo Zambrano Limon who was a respected architect and contractor in the Lakeside area. He had worked on my house in Ajijic when I had first arrived in Mexico and I had enormous respect for him.
I had seen very little of Ricardo in the last couple of years so when I called him to tell him about Mi Pullman, he jumped at the chance to have a look, and we arranged to meet for a tour of the house. After several hours walking round my "ruin," I finally asked him if he would like to take on the project. "Yes," he replied with enthusiasm.
Later he told me that it had always been his dream to restore a historical property like Mi Pullman. He immediately gave me two pieces of sound advice. First, get a termite treatment done, and secondly work from the top of the house down.
With Ricardo agreeing to oversee the restoration project, I felt an enormous sense of joy. He understood my passion, and together we would slowly bring the house back to life. He would take care of the structural and technical aspects, and the house, I knew, would be in honorable and capable hands. We planned to make a start in mid-October, which meant that we had three months to get a work schedule drawn up, and to agree prices for phase one.
We decided to divide the work into phases and finish one phase before starting the next, in order to keep track of money being spent, and concentrate our energies on one thing at a time. I was excited about working with Ricardo and I looked forward to October.
To be continued….
Published or Updated on: July 2, 2010