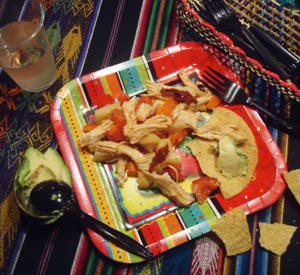 Look on any Mexican calendar for the month of May, and you will see a lineup of holidays, including federal and civic observations, as well as religious and non-religious festivities. Nearly all of these are celebrated with parties, parades, performances, festive meals, or a combination of these.
A holiday in Mexico rarely passes without food and drink, and some of my best sensory memories are of the fiestas during this month, from the aroma of meat grilling at the construction site next door on the Day of the Holy Cross to the delicious pastel de tres leches that my students brought every year on Teacher's Day. Here is a compilation of May celebrations, and some suggestions for food to help join in the holiday spirit. All recipes are from MexConnect's collection.
May 1: Día de los Trabajadores (Workers Day)
This is what is known as a feriado, which means a federally mandated day off with pay. Schools, banks and government offices close, and there are labor union marches, speeches and, sometimes, political demonstrations. But for most people, it means a day off, and many spend it in the public parks and plazas, enjoying an alfresco meal brought from home, along with ice cream or paletas from the many vendors of nieves who seem to appear before, during and after any public function.
Pack up some tortas and side salads, and head for the park, along with friends and family. These salads can go for several hours without refrigeration, since they are dressed with vinaigrettes rather than mayo. And skip the mayo on your tortas when it's hot outside; instead, follow the Mexican custom of spreading rolls with refried beans. A Mexican salpicón — a meat or chicken salad, incorporating vegetables and dressed with a chipotle vinaigrette — is an ideal meal-in-one that can be made ahead and carried in one container to the park, plaza, or patio.
May 3: Día de la Santa Cruz (Day of the Holy Cross)
On this day, crosses all over the country, along roadsides, in cemeteries and churchyards, are decorated with crepe paper streamers and flowers. Dating back to colonial times, this commemoration of the cross became a special day for construction workers as they finished building churches by placing the crosses on top. Today, after early morning mass in their honor, workers decorate the highest point of their construction sites with crosses adorned with ribbons, banners and flowers. The patron of the project usually pays for the festive meal that is prepared and served right at the site.
At noon, the celebratory sounds and aromas begin: meat cooking on the grill, tequila toasts that become progressively more raucous, and mariachi music that fills the neighborhood. The salsa known as "bricklayers' sauce," because it was easy to prepare at work sites, is great with grilled steaks and warm tortillas.
May 5: Batalla de Puebla (Battle of Puebla)
Known north of the border as Cinco de Mayo, this commemoration of the Mexican victory over French soldiers in 1862 is celebrated more in Puebla than in the rest of the country. Not a national holiday, it is an official holiday in the State of Puebla, where a reenactment of the battle takes place. There is a huge parade along the Cinco de Mayo Boulevard in the city of Puebla, followed by family and neighborhood celebratory meals.
Although in the U.S. this holiday is an opportunity for Mexican restaurants and bars to promote food and drink, in Puebla the traditional meal to serve on this day is, of course, the iconic mole poblano. Serve mole poblano with red rice and warm tortillas for a classic Puebla feast.
May 10: Día de la Madre (Mother's Day)
Motherhood is venerated in Mexico, and Mother's Day, although not a federal holiday, has an important place on the Mexican calendar. Church bells ring for morning mass and the sound of Las Mañanitas echoes through town to begin a day of honoring mothers. Many churches give out tamales and atole to all mothers after morning mass, and school children usually present performances for their mothers, often featuring Mexican regional folk dances.
If your mother is not lucky enough to live near a Mexican church that will treat her to tamales, make a Mexican style breakfast or brunch for her. Start with fresh fruit and the cinnamon laced coffee known as café de olla. Chilaquiles make a good brunch, and champurrado, or chocolate atole, is a wonderful treat.
May 15: Día del Maestro (Teacher's Day)
Celebrated in Mexico since 1917, Teacher's Day is set aside to honor all educators. Some say that this date was first celebrated to pay tribute to a teacher whose patron saint (San Isidro) has his feast day on the same date.
Whether or not this is true, the day is usually observed in schools with classroom parties featuring food brought in by the students. The younger children bring food made by their mothers, and these are some of the most delicious homemade treats a teacher (or anyone) could want. My university students in Puebla always chipped in to bring an enormous pastel de tres leches, Mexico's famous three milk cake. Colored sprinkles on the cake add to the festive spirit.
May 23: Día del Estudiante (Students Day)
While not a day off from school, which is probably what most students would prefer, this holiday in Mexico celebrates the concept of education without political influence.
In 1929, the students at the National University in Mexico City went on strike for autonomy, in a move to rid the school from politicians who were using it as a pawn to further their own ends. On May 23, one of the students lost his life in a struggle with police, and President Emilio Portes Gil declared the date National Student Day. Not a state holiday, this day honors all students throughout the country. And all students like a treat after class, so bake a batch of the crumbly Mexican sugar cookies called polvorones to enjoy with milk, chocolate, tea or coffee.
Published or Updated on: May 1, 2014