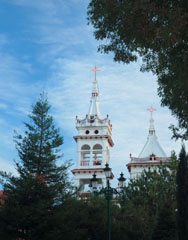 An old gringo and his still-lovely bride returned to Mazamitla the other day after several years in other exciting places.
The intriguing mountain town, one of Mexico's pueblos mágicos, seemed much as we remembered but the approach was startling — cabañas everywhere with workers rushing to complete more. Never would I have expected to find a Best Western!
We did what I suppose are the traditional things — search for a parking place and mostly window-shop around the plaza. We invested 43 pesos in three pecan pralines and studied the other offerings — fruit preserves, caramel candy in oblong wooden boxes, cheeses, woolen wraps, plastic shoes made in China, tiny log cabins, birdhouses and religious themes painted on little pieces of wood.
Wood is among the local products. Mazamitla is in the pine woods, more than 7000 feet up, clean air, cooler temperatures, a beautiful setting. Well, at least picturesque. No, it isn't exactly an alpine village but it has a hint of Norway.
There is an arcade along one side of the plaza with classy wooden balconies and second-floor shops and apartments. On the ground level, near the middle, is the police station. Two officers, wearing coats as if cold, were guarding the door — or just standing there.
We did a lot of looking and eventually landed on an ancient park bench to watch the world wander past. The green benches are not made of wood.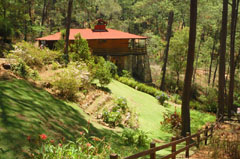 Surprisingly, there weren't many late-morning wanderers. The place was almost deserted. Two tourists strolled past. I believe they were speaking French. They paused to take pictures of the church.
San Cristobal Parish Church is an architectural wonder, blessed, for some reason, with an exterior that stirs thoughts of a Chinese pagoda. As usual, it appears freshly painted, white trimmed in red. There were flowers at the entrance. History says the clock in the tower has trouble keeping time.
Church bells tolled the announcement of mass. We counted the faithful as they gathered — 16. One dear old lady with two walking sticks made it down the steep steps but may have missed the benediction.
Interest in Mazamitla goes back to our first reading of Western Mexico, A Traveller's Treasury, by Tony Burton. We never forgot his recommendation for lunch, La Troje restaurant, across from the Pemex station at the edge of old town.
We were obviously ahead of the Mexican crowd or this was a very slow day. There were more servers than diners. One couple had an outside table. Two federal policemen were at a front corner inside, backs to the wall so they could see the street and parking lot and anybody who entered before they were seen.
I view federal policemen as friends. I acknowledged their presence with a nod. They were looking. The greeting was returned.
La Troje is good at what it does. Of course we ordered trifajitas, Tony's original suggestion. The mix of shrimp, beef, chicken and grilled vegetables is bountiful, nicely presented and tasty. It has escalated in value to 125 pesos.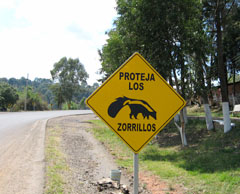 The old man and his wife of 58 years talked about old times, good food, empty tables, travel posters on the walls, where they were going and what they were going to do tomorrow — and the policemen. Their jobs are tough in this time of conflict with drug cartels and hitmen. Police have rules. Killers don't.
The old gringo, known for several other things than generosity, picked off their waiter and paid their lunch bill. The youth was told to tell the officers thank you for courage and what they do under duress.
They seemed surprised. Both said gracias as they exited.
In years past, when we brought binoculars and cameras and guests for a different glimpse of Mexico, we made a lightweight study of Mazamitla.
Two motorists on side streets could create a traffic jam. There were very nice homes on the outskirts. There are more and better now.
Farther out are farms and dairy cows. We didn't count.
We could talk knowingly of El Salto, the waterfall of 30 meters or more, and explain some of what you can see from Tiger Hill.
Back then, we thought a steady flow of weekenders came out from Guadalajara, two hours more or less. Judging by the building boom, they now must come by the thousands.
I once tried to describe the rustic charm. I wrote that the buildings were really old and many of the people had been there a while. There were weathered faces and not much hustle and bustle. Young people were somewhere else.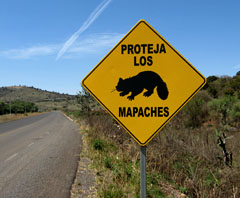 I remember thinking that Mazamitla was a movie set that's 100 percent real life.
Obviously, some times are more lively than others. March 27-30 is the annual remembrance of the founding of Mazamitla. The town celebrates the Feast of San Cristobal, patron saint, in mid-July. There is a patriotic party in mid-September. Floral festivals take up October weekends.
Getting there? It is possible by bus but better by car. We were pleasantly surprised by the 48 kilometers of improved road up and into the Sierra del Tigre mountains from Tuxcueca on Highway 15.
We made a list of yellow signs. In addition to dangerous curves and cattle crossings, there were requests to protect the wildlife — everything from deer to skunks and snakes and coyotes and even rabbits and squirrels.
Alas, buffalo, camel and kangaroos received no government support.
We didn't pay much attention to yellow signs on the way down. We were trying to remember where to get spectacular glimpses of Lake Chapala.
What a place! What a country!
Published or Updated on: March 15, 2012