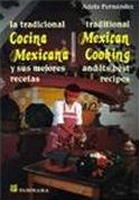 I read cookbooks the way some people devour novels, not with the casual perusal of, say, a newspaper or a magazine, but with the curl-up-and-dig-in enjoyment of die hard mystery or romance fans. Many, though not all, of the cookbooks I've read in the last 25 years or so are Mexican, and my favorites are those with recipes that tell the story of a region, an era, or a family. One that tells all three is La Tradicional Cocina Mexicana y sus Mejores Recetas by Adela Fernandez.
Author, playwright, director and folklorist, Fernandez grew up in the beautiful, colonial Mexico City neighborhood of Coyoacán, daughter of the iconic film director Emilio Fernandez, known as "El Indio," one of whose many movies, Maria Candelaria, won a Cannes Film Festival prize in 1946, putting Mexican cinema on the map. This was during the Golden Age of Mexican films, at a time when the arts, as well as the economy, flourished.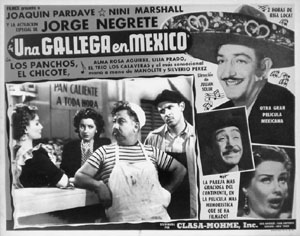 According to his daughter's memories of growing up in a home filled with the era's artists, intellectuals and politicians, El Indio put as much artistic creativity into meals as he devoted to making movies. Whether for a fiesta for 500 or an intimate dinner for two, tables were adorned with flowers, fruit, embroidered clothes, and different types of dinnerware, as suited the occasion. And, like a microcosm of the city itself, people from all parts of Mexico worked in the kitchen, where meal preparation began at four in the morning, with the grinding of corn for tortillas and the toasting of coffee on a clay comal.
My favorite description is of the kitchen itself, and anyone who has seen firsthand the various utensils and serving dishes used in the Mexican kitchen can imagine the room as Fernandez depicts it: designed in the style of colonial Puebla, with hand painted tiles, brick floors, and clay cazuelas, stone mutates and molcajetes for grinding, wooden molinillos for beating chocolate to a froth, copper pots, talavera dinnerware, hand blown bubble glass pitchers and gourds. Huge baskets and jars filled the pantry with chiles, herbs and spices, cheeses, honey, chocolate, oil and vinegar, thick cones of dark brown sugar, links of chorizo and longaniza, braided ropes of garlic, and dried hibiscus and tamarind pods for making aguas.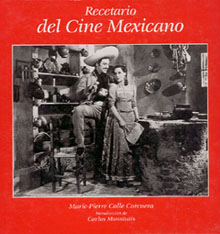 All of this is by way of an introduction to what is primarily a cookbook, a collection of traditional recipes from different regions of Mexico. A few years after getting this book, I came upon another that I just had to have, a collection called Recetario del Cine Mexicano.
This charming book is a gathering of recipes for food that was served in movie scenes of Mexico's cinematic Golden Age, along with black and white stills from the films themselves. Here is Sara García, the classic Mexican movie grandma and the image on La Abuelita brand chocolate, alongside a recipe for, you guessed it, Mexican hot chocolate. A recipe for mole poblano accompanies a photo of Maria Felix as a Puebla beauty in Enamorada, leaning over a cazuela and tasting this dish with a large wooden spoon. There's Jorge Negrete chomping on a chicken bone, with a recipe for cuachala, and the comedian Tin Tan cooking pollo a la plancha on a clothes iron, which is funnier if you know that this grilled chicken dish literally translates to chicken cooked on an iron.
These and other photos and recipes, plus introductions by the late Mexican journalist and cinephile Carlos Monsiváis and author Marie-Pierre Colle Corcuera, make this book a treasure, one which I'm happy to have bought several years ago, because judging from the prices on Amazon, it has become something of a collector's item. Happily, Adela Fernandez' book is widely available and is published in a bilingual edition, although I hang on to my old, dog eared, salsa-stained Spanish version.
The following are some classic recipes adapted from these appealing books. Why not choose one to prepare with friends, and rent one of the Golden Age classics to watch with coffee and dessert. Any of these would also be good for an Oscar night dinner, after which you can settle in, watch the show, and share a trivia question with friends: Who posed for the Oscar statuette? None other than Emilio Fernandez, El Indio himself!
Published or Updated on: February 25, 2012