The inter-census population count in Mexico in 2005 found that more than one million people in Oaxaca spoke at least one indigenous Indian language. Close behind came the state of Chiapas with about 950,000 indigenous language speakers. A previous Did You Know column looked at how the Mam people of Chiapas have reinvented themselves in recent times. This month's column takes a look at the colorful cultural diversity of Oaxaca.
Most of Mexico's indigenous population lives in small, isolated rural localities with under 500 inhabitants. These communities are very disadvantaged compared with other Mexican communities. About one-third of the nation's 2442 municipalities are indigenous. However, almost half of all the municipalities defined by the National Statistics Institute (INEGI) as "highly marginalized" are indigenous, as are a whopping 82% of the "very highly marginalized" municipalities.
The incidence of extreme poverty is much higher in indigenous municipalities than in non-indigenous municipalities. For example, in 2002, the rate was 4.5 times higher. Indigenous villages are among the nation's poorest rural communities. Indigenous language speakers trail behind other Mexicans in virtually every socioeconomic indicator. About 33% are illiterate, compared to the national rate of only 9.5%. Most leave school prematurely to help their families earn a living.
Mexico's major indigenous groups (Interactive map)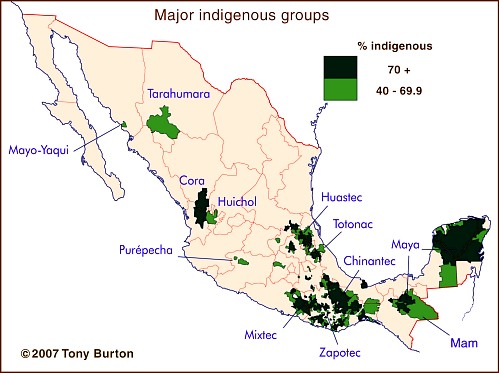 Indigenous females get a year's less schooling than indigenous males. They suffer from poor nutrition and their fertility rate is 40% higher than the national average, but 5% of indigenous infants die before reaching their first birthday. About 85% of indigenous household are below the Mexican poverty line and over half live in "extreme poverty". Over one third of houses lack electricity and over half lack piped water. There is no question. Indigenous peoples have a far lower standard of living than other Mexicans.
Despite their extreme poverty, indigenous communities have managed to remain remarkably stable while collectively pursuing their relatively well organized survival strategies. Their belief systems and rich knowledge of nature remain largely intact. Over 90% of indigenous peoples own their homes and farm plots.
The distribution of the major indigenous groups is shown on the interactive map. (Clicking on the name of each group will take you to an article or index page about that group).
In Oaxaca, according to the National Commission for the Development of Indigenous Peoples, more than 1.5 million people live in a home where at least one of the residents either speaks an indigenous language or considers themselves indigenous (even if they do not speak an indigenous language). This is 50% more people than are found in the same category in Chiapas.
Not only does Oaxaca have more indigenous people, it also has a much greater linguistic and cultural diversity than Chiapas or any other state in Mexico.
Oaxaca's one million indigenous speakers represent 35% of the state's total population. The largest indigenous linguistic groups in the state include about 350,000 Zapotec, 230,000 Mixtec, 165,000 Mazatec, 100,000 Chinantec, 100,000 Mixe, and 40,000 Chatino. For some further perspectives on the different indigenous peoples of Oaxaca, see The Indigenous People of Oaxaca, John P. Schmal's excellent essay on this site.
Indigenous groups in Oaxaca (Interactive map)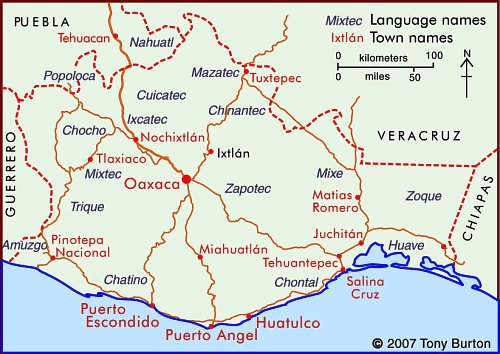 Almost 90% of Zapotec speakers also speak Spanish, which considerably enhances their education and employment opportunities. On the other hand, 23% of Mixtecs do not speak Spanish, and hence face a tougher challenge in the workplace. Tens of thousands of Mixtecs have migrated away from Oaxaca looking for work. Mixtec speakers tend to migrate to Mixtec-speaking neighborhoods; there are about 16,000 Mixtecs in Mexico City, 14,000 in Baja California, 13,000 in Sinaloa, and perhaps 50,000 in the USA. A sizeable number of these migrants are essentially monolingual, with very limited Spanish.
The map shows the regions where the main indigenous groups in Oaxaca reside. One of the reasons for Oaxaca having retained such an extraordinary diversity of Indian groups is the state's very rugged terrain, which has isolated numerous indigenous groups, cutting them off from mainstream Mexican society. This diversity of cultures helps to make Oaxaca one of Mexico's most interesting states. The cultures find expression today not only in language, but also in modes of dress, handicrafts, music and dance. The state of Oaxaca celebrates its ethnic diversity in its annual extravaganza, the Guelaguetza festival, normally held in July.
Weekly market cycles in Oaxaca
(Interactive map)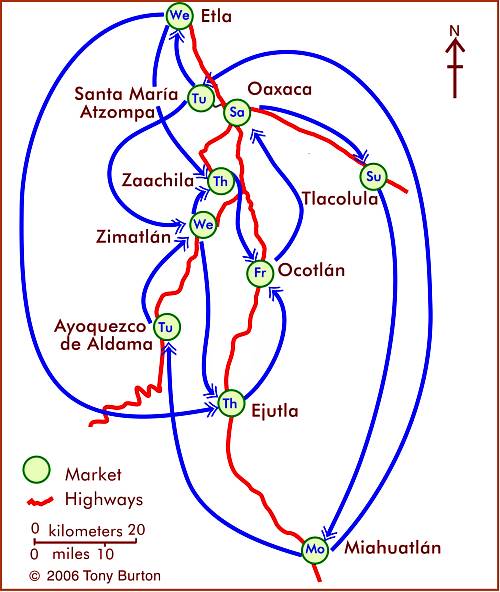 If you are unable to get to the festival, another fascinating way of experiencing first-hand some of the amazing cultural diversity of Oaxaca is by visiting the local markets. And, as this final interactive map shows, it is perfectly possible to visit a different market every day of the week!
Acknowledgements / Sources:
INEGI Conteo Nacional de Población 2005.
Comisión Nacional para el Desarrollo de los Pueblos Indígenas, 2006.
John P. Schmal. The Indigenous People of Oaxaca. Mexico Connect.
With grateful thanks to Dr. Richard Rhoda for having suggested the source for some of the statistics used in this article.
Published or Updated on: September 24, 2007