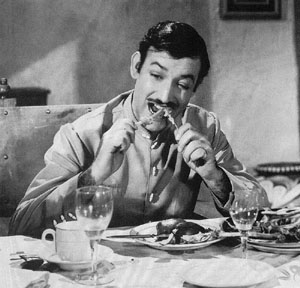 Jalisco often seems to symbolize nearly all things Mexican, especially in the country's Golden Age movies, which abounded with charros, huge sombreros, and lots of mariachi music. The singer and actor Jorge Negrete seems to devour the food with as much passion as he performs the title song in 1949's Cuando Quiere un Mexicano. From Tuxpan, Jalisco, this Jalisco-style chicken stew is traditionally eaten in a clay bowl called a plato cuachalero, but it can be served in any kind of soup bowl. (Adapted from Recetario del Cine Mexicano, Saber Ver, 1996.)
Ingredients
1 stewing chicken (hen) cut into serving pieces, plus 1 whole breast
1 large onion, quartered
4 sprigs fresh oregano
salt to taste
water to cover
8 guajillo chiles, seeded and deveined, lightly toasted and soaked in hot water until soft
2 garlic cloves, roughly chopped
seeds from the chiles, lightly toasted
3 tablespoons of lard (you can use corn oil if you must)
¾ pound tomates de milpa, small tomatillos
¼ kilo roma tomatoes, roasted on a comal or griddle
¼ pound fresh corn masa or masa harina prepared according to package directions
Place the chicken, onion and oregano in a large pot with water to cover and salt to taste. When the breast meat is tender, remove it, let it cool, shred it and set it aside. When the dark meat is cooked through, remove it, let it cool, and shred it. Strain the broth and puree the dark meat with half the broth.
Puree the softened chiles with the garlic, the chile seeds, and enough broth to easily move the blender blades. Heat the lard or corn oil in a large cazuela or pot and sauté this mixture. Puree the tomatillos and roasted tomato and add to the sautéed mixture, without straining.
Add the remaining broth, the pureed dark meat and broth mixture, and salt to taste. Dilute the masa in a bit of broth, stir it into the cuachala and cook, stirring, another 5 minutes or until thickened. Taste and add more salt if desired. Add the shredded breast meat just before serving. Serve with warm tortillas. This stew should be quite thick, and in Tuxpan is traditionally eaten without a spoon, scooping the stew with tortillas. Serves 8.
Link to source article
Cinematic cuisine: Mexican recipes from a Golden Age
Published or Updated on: February 24, 2012