(Serves 8)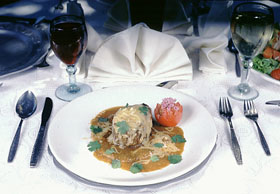 Ingredients:
3/4 cup of vegetable oil
2 – 165 grs.cans of chile chipotle
1 chile ancho
1 onion quartered
4 cloves of garlic
salt to your taste
25 freshly husked tomatillos
1/2 cup cilantro
8 – 200 grm.servings of cleaned tenderloin
8 corn tortillas
Preparation:
Heat oil in a frying pan. Fry chiles anchos briefly. Remove and drain. Add onion and garlic. Fry until golden. Add tomatillos, chipotle and 3 cups of water. Bring to a boil and cook 15 minutes. Remove from heat and pour mixture into a blender. Add cilantro and blend. Heat 3 tablespoons of oil in a pan. Add blended sauce and cook over a low heat for 30 minutes. Salt to taste.
Grill or pan fry 8 filets (tenderloin of beef). Season with salt and pepper. To serve, place 1 heated tortilla on each plate. Place 1 cooked filet on top of tortilla, cover with the chipotle sauce and place on top a slice of Oaxaca or Manchego style cheese. Slip under broiler until cheese begins to bubble and top with finely chopped cilantro. Ready to serve.
Buen Provecho
Menu by The Nueva Posada's former Executive Chef – Lorraine Russo
Published or Updated on: January 1, 2006