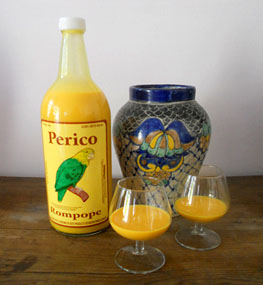 Rompope, or "Mexican eggnog," is one version of the many combinations of egg, milk, sugar and spirits that are traditionally used to toast the winter holidays in Europe and the Americas. English eggnog, a descendent of the milk and sherry combination called posset, German biersuppe made with beer, Puerto Rican coquito made with coconut milk, Peruvian biblia con pisco made with pisco brandy, and American eggnog made with either rum or bourbon are all close cousins of Mexico's rompope.
Spain, where ponche de huevo or rompón is prepared for the holidays, was the original source of the recipes for egg punch that found their way to the Spanish colonies. There are versions of rompope in nearly all Latin American countries, where local spirits are incorporated into the drink. But it was in Mexico, where the colonial nuns created so many culinary delicacies, that rompope became a national signature drink. And it is Mexican rompope that is popular and widely available in several countries.
Rich, sweet and spicy, Mexican rompope is typical of the baroque recipes that came out of the colonial convents, particularly those of Puebla, home of mole poblano, chiles en nogada, and a variety of typical Mexican sweets. The original Mexican rompope was elaborated in Puebla's Convento de Santa Clara in the early 1600s.
The convent had been founded in 1607 by the nuns of the order of Santa Clara, called the claristas, affiliated with the Franciscan friars. The prominent role of the Church in New Spain, the culinary skills of the nuns, and the fact that many were the daughters of wealthy Spanish families and had been exposed to fine food and service, all dictated that the nuns be appointed as the hostesses for political and religious dignitaries visiting Puebla. The Santa Clara convent was particularly famous for its sweets. Each nun had her specific job in the kitchen, and the clarista in charge of making rompope was a Sister Eduviges, who was largely responsible for the spread of its popularity.
Although the nuns made large quantities of rompope for guests, they had not been permitted to drink it until Eduviges appealed to the Mother Superior. Once permission was granted, they became accustomed to the tasty drink (one glass each being the prescribed limit) and soon were preparing it daily. Since they were making it so frequently, reasoned Eduviges, it would not be difficult to commercialize it and make money for the congregation. Soon the convent was taking orders from poblano households, and the beverage's fame spread to other parts of Mexico.
The Convento de Santa Clara no longer functions as a cloister, though its church still stands and Puebla's nuns still make and sell rompope. They are often present at religious celebrations in the city and village fiestas in the outlying areas selling rompope, cookies and candy. Even rompope made outside of Puebla is often referred to as rompope de Santa Clara.
Today, rompope is made all over the country and, although the commercial brands are popular, many Mexicans prefer to make it at home, especially around the holiday season. There are variations on the flavorings added to the drink, which can include almond, cinnamon, pine nuts, vanilla and even chocolate. The alcohol used also varies from region to region, although rum and the cane alcohol called aguardiente are the most common.
In addition to the holidays, Mexicans drink rompope on other festive occasions, and children are often permitted to have a small serving on a birthday or saint's day. It is most often sipped as a liqueur or served over ice. Besides being offered as a beverage, rompope is incorporated into several desserts, including a version of tres leches (three milk) cake and rompope mousse. It is a popular topping for fresh fruit, especially mangos and strawberries, and there are even rompope flavored gelatin powders.
Commercial rompope is available in stores north of the border, especially during the holiday season, and can also be ordered on the Internet. Widely distributed brands include Santa Clara, Coronado and Santa Ines. Samswines.com, internetwines.com and quantobasta.com all sell rompope online.
Making rompope is not difficult and, even if you buy commercial brands, making at least one batch of the homemade drink is fun and easy. Mexicans often use dry cornhusks to seal the bottles, but any good seal such as a cork or screw top is fine. Be sure to use sterilized bottles and store the rompope in the refrigerator, where it will last for about three months, although it will probably be consumed before that. Unlike some American eggnog recipes, all of the rompope recipes given here call for cooking the eggs, since raw eggs can pose a health risk.
Try pouring rompope over fresh berries or ice cream, or add it to coffee to make a Mexican version of "Irish cream" coffee. Substitute rompope for half of the milk in your favorite flan recipe. Homemade rompope can be made without alcohol, although the commercial ones always contain it. The following recipes will bring some Mexican "holiday cheer" to your table.
Published or Updated on: December 1, 2006