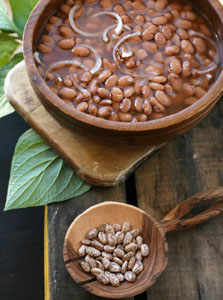 Growing up, the three food staples were tortillas, salsa, and frijoles. A pot of freshly made frijoles de la olla is my absolute favorite way to eat beans. I love how pure and fresh they taste fresh from the olla, or pot. As soon as they were ready to eat I would fill a large bowl, add some fresh salsa and scoop them up with a homemade tortilla. My mom always said, "If there are frijoles in the house, then you have something to eat." They can be eaten fresh, refried, or mixed in with chorizo. One pot of beans can evolve into so many other dishes, for example: refried beans, chili beans, over a tostada, and so many others. The sky is the limit but don't forget, the secret is starting off with that fresh pot of frijoles de la olla.
Makes: 6 servings
Ingredients
2 cups dried pinto beans
¼ onion (optional)
Salt to taste
Water

Measure out the beans. Spread the beans over your counter so you can look for beans that are broken, discolored, or shriveled and remove them. There will also be small stones or pebbles that should be sorted out during this phase. Discard all of the undesirable pieces.
Place beans in a colander. Rinse the beans thoroughly with cool water for about 3 minutes.
This step is not necessary, but your beans will be lighter in color and "mas bonitos" as my mom says:
Soak your beans for 4 to 6 hours before cooking. Ensure that your beans are covered with a lid. I never soak them and they still come out bonitos. I think they come out bonitos when the beans are fresh. I prefer to be a rebel and skip this step.
Pour the drained beans into a large pot. Add enough water to reach 3 inches over the beans. Bring to a boil over medium-high heat. Cover and simmer until the beans are tender, about 3 to 4 hours, adding more hot water as the beans absorb liquid. Every pot is different and so check your beans after 2 hours. Most take 3 to 4 hours but I have a pot I love to cook my beans in because it only takes 2 hours.
Add salt and onions (onions are optional) about one hour before complete. Refrigerate beans when cooled. The beans can be frozen in small bowls for later use.
Beans can be refrigerated for (5) days.
Link to source article
A Mexican menu for Cinco de Mayo
Published or Updated on: May 4, 2011