Mexico is a country where soup is an integral part of the comida — the main meal of the day — and many people feel that this meal is not complete without it. I've written about it before (Soup of the day: La sopa del día), and this website has an extensive repertoire of soup recipes, but there isn't much in the way of cold soup, which I recently wanted to include in a full course Mexican meal.
Here in Central Mexico, where the weather is cool for most of the year, hot soup seems appropriate, but there are warm times, too. That's when cold soup makes a wonderfully refreshing first course or light supper. There is also something elegant about cold soup, perhaps because one of the first ones that come to mind is vichyssoise, the French favorite brought to Mexico with the ill-fated Maximilian and Carlotta, whose meals at Chapultepec Castle were nothing if not elegant.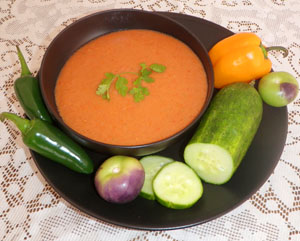 The Spanish gazpacho was also perfect for Mexican menus, and underwent several revisions in its home country thanks to the New World natives, tomatoes. One wonders how different Mediterranean cooking would be today without the introduction of tomatoes. It was Alice B. Toklas, in discussing the variations on gazpachos, who observed that "recipes, through conquests and occupations, have traveled far." Certainly the conquest of Mesoamerica was a perfect example of this, and Mexico has put its own spin on gazpacho with the addition of characteristic ingredients like tomatillo and cilantro.
Another tasty Mexican adaptation of a European dish is a cold goat cheese soup, gaining in popularity as goat cheese has become more common in supermarkets than it has been in local mercados. Using a base of chicken broth, with the surprising addition of a tart green apple, this is a sophisticated soup, put together in short order using that Mexican kitchen stalwart, la licuadora — the blender. An immersion blender is also handy for preparing these soups.
Then there is the walnut cream soup that I first had many years ago at the Hacienda de los Morales in Mexico City, and which has remained on the menu, always available served hot or cold, according to the diner's preference. I've made it both ways, depending upon the mood and season.
There are, of course, several variations on cold avocado soup, a Mexican classic open to many interpretations, including the version from Tabasco, with the addition of fresh green chiles, and Western Mexico's avocado soup flavored with tequila. I recently came across one from the Costa Maya that uses ginger root and cilantro leaves and seeds, giving it a Southeast Asian taste, not surprising, considering that Mexico and Southeast Asia have so many culinary ingredients in common.
Another coastal Mexican cold soup is a shrimp soup reminiscent of gazpacho, but with a base of shrimp stock rather than tomatoes. This is a good lunch dish, an appetizer, or a satisfying late supper in hot weather.
Countless Mexican soups, cold as well as hot, call for a base of chicken stock or broth. With cold soups, it is especially important to make the stock ahead of time and chill it to bring all the fat to the top, and thoroughly remove it.
Several of these soups get a bright, fresh flavor from a squeeze of lemon or lime. Always use fresh citrus, since the squeeze bottle lemon and lime juices give food an "off' taste.
It is also important to serve cold soups just that way — cold — rather than tepid. They should be chilled in the refrigerator for at least 30 minutes before serving. Following is a selection of cold soups, from shrimp to vegetables and even fruit.
Published or Updated on: May 28, 2010