Ismael put his hands on the top of his broom stick and hung his arms there a moment and warned me about local mechanics: "Aquí ¡El qué tiene un alambre y unas pinzas es un mecánico!" ("Here, he who has a piece of wire and a pair of pliers is a mechanic!"). Ismael is right. Auto travel in Mexico is somewhere between a crash course in "Improvised Auto Repair 101" and "Hitchhiking Strategies and Backwoods Survival 405." During over a decade of travel in Mexico, I've learned a few basic impromptu travel skills that have saved field trips from disaster.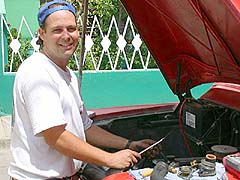 Here's what I carry in my Mexican Auto Travel Tool Kit (in order of importance):
1. Drinking Water and a Little Spare Change:

Always think about safety first, and, in Mexico, with its hot, dry climate, not-always-potable potable water, and long highways, my water bottle is my most important emergency tool. Wherever your car breaks down, you'll probably need something to drink and some spare change, even if it's only to buy a snack while you think about how to get your jalopy going again.

2. Patience:

This tool also comes in handy in almost any situation here. I keep it within arms reach from dawn to dusk and sleep with it under my pillow.

3. Basic Understanding of Vehicle Mechanics and Repair:

I've built this tool over the years, and it looks a little different every time I open the tool box.

4. Humility:

Ask for help when you can't do it yourself. This one cost me a fortune.

5. A Sense of Adventure:

Hey, you're stuck baking in the sun on a 100 km stretch of hilly Juniper grasslands between Parral, Chihuahua and Los Nieves, Durango and you have to roll a tire to the nearest decent sized town to find a "desponchador". Don't fret now; you should have done that back at the border when you could have checked your spare in the shade. Put on your sombrero, grab your canteen and your camera, and take advantage of the opportunity to photograph some wildflowers or scenery.

6. A Vehicle I Can Deal With:

There are two philosophical schools among Mexican travelers:
The "take an old truck with a carburetor so you can fix it yourself" school.
The "take a spanking new travel machine so you won't have to fix it, and get in and out as fast as you can (and don't forget to bring a bundle of cash just in case)".school.Most of us belong to the old truck school (some by choice, others because "no les queda de otro", as my friend Ismael would put it.) The new truck club probably doesn't have as much fun as us, but they probably get more work done.

7. Basic Emergency Clothes.

Behind my truck seat, I always carry a cotton long-sleeved shirt (sun protection), comfortable boots (if they're not already on my feet), and a few rags (they're for cleaning up, but they've saved the back of my neck from sunburn after long bouts of bent-over vehicle repair), a wool shirt for cool nights, and a fold up rain poncho. The rim of my sombrero always rests between the seat and the back window, just in case I have to walk through Mexican afternoon sun.

8. And, of course, My Tool Box.

My tool box contains a basic assortment of most of the same stuff that always floated around under the seats of my dad's old truck. Take a look at my "Vehicle Emergency Repair Checklist" for ideas on the basic tools and materials you might need in the case of a vehicle breakdown. Also, when going way out back, consider a second spare tire and some of the major problem pieces, like a spare water pump, in your Mexican Vehicle Tool Kit. Of course, now a member of the Sierra Madre Mechanic's Guild, I took Ismael's comment to heart, and if you dig around under the seat of my truck or somewhere in the back, surely you'll find . . . " ¡un alambre y unas pinzas!"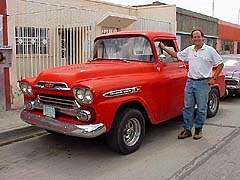 More Information
For more advice on driving in Mexico and vehicle maintenance, in general, see some of the following pages:
One of my favorite vehicle problem diagnosis and repair pages is Tom and Ray's Car Talk page ( https://cartalk.cars.com/). A vehicle emergency and repair kit is a must when traveling in the Mexican wilderness.
Access Mexico Connect's page, "Driving in Mexico," offers some good links to articles with tips and different perspectives on the subject. Check it out at Requirements and Safety for Driving in Mexico .
Related Article: Camping in Mexico
Published or Updated on: August 24, 2007 by Jeffrey R. Bacon © 2008