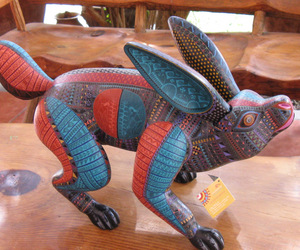 I taught this in a cooking class I gave last summer in Cuetzalan, Puebla, where I tried to incorporate two of the area's signature ingredients, allspice and wild mushrooms, with rabbit, commonly eaten in Central Mexico since pre-Hispanic times. This Mexican-style dish combines the meat with wild mushrooms and a red pipian sauce based on dried chiles, pumpkin seeds and sesame seeds.
Ingredients
For the rabbit:
1 4-pound rabbit, cut into serving pieces
1 medium white onion, chopped
3 cloves garlic, minced
¼ cup chopped fresh parsley
2 tablespoons chopped fresh thyme
1 tablespoon chopped fresh marjoram
4 tablespoons vegetable oil
1 tablespoon white wine vinegar
2 cups dry white wine
chicken stock as necessary
Place the rabbit in a non-reactive bowl. Add the onion, garlic, herbs, 2 tablespoons of the vegetable oil, and vinegar. Cover and marinate overnight.
Heat the remaining oil in a large, heavy bottomed pot, add the rabbit and any marinade left in the bowl, and cook for 5 minutes on each side. Add the white wine, bring to a boil, turn down heat and cover pot.
Simmer until the rabbit is tender, about 1 ½ hours. Check from time to time to see that there is still liquid in the pot, adding chicken stock as necessary. Remove the rabbit from the braising liquid. Strain liquid and refrigerate or freeze to use in cooking wild rice, mushrooms, etc. (This liquid has too strong a flavor to use in the pipián, which has distinctive flavors of its own.)
For the mushrooms:
2 pounds assorted wild mushrooms vegetable oil to coat the skillet salt to taste
Saute the mushrooms in a large skillet until they have browned and the liquid has evaporated. Season lightly with salt. Set aside.
For the pipián:
6 ancho chiles
1 tablespoon reserved seeds from the chiles (more or less to taste, these are the "heat" factor)
1 clove garlic, peeled
½ stick cinnamon
3 whole cloves
5 peppercorns
5 whole allspice
¾ cup sesame seeds
¾ cup pumpkin seeds (raw "pepitas," without shells)
3 tablespoons lard or corn oil
4 cups good quality chicken broth, preferably homemade
Lightly toast the chiles, turning once, being careful not to burn them. Remove stems, slit and remove seeds, reserving seeds. Soak chiles in boiling hot water until soft. Place in the blender with the garlic and enough stock to move the blades. Puree.
Toast the reserved chile seeds (1 tablespoon or to taste) in a dry skillet until lightly browned. Place the chile seeds in a spice grinder with the cinnamon, cloves, peppercorns and allspice. Grind to a coarse powder.
Toast the sesame seeds in a dry skillet until lightly browned, stirring frequently to avoid overbrowning. Cool and grind.
Pop the pumpkin seeds in a dry skillet until they are mostly rounded in shape, shaking or stirring to avoid browning. Cool and grind.
Heat lard or corn oil in a large, heavy bottomed pot, add the ground spices and seeds and cook, stirring, for 3 minutes. Add the chile puree and cook, stirring, for another 5 minutes.
Add the chicken broth a little at a time and cook, stirring, until the sauce reaches the consistency of heavy cream. It should coat a wooden spoon. Add the rabbit and mushrooms, heat through. This is traditionally served with rice, but baby new potatoes are good with it. Serves 6.
Link to source article
Fragrant, flavorful allspice: An essential Mexican seasoning
Published or Updated on: August 10, 2011