Chilaquiles rojos resurrect revelers and leftover tortillas
In Mexico after a long night of partying and a morning of headaches, most people seek a spicy remedy to their dreadful hangover. Chilaquiles offer a hearty and renewing experience after a few too many tequilas, and are delicious anytime. You can make the dish as mild or piquant as you wish.
Over the years, I've perfected my recipe and technique. You can add more chiles de árbol if you want a spicier experience or include more chiles guajillos for more acidity in the salsa. Fresh avocados make a great garnish, and their smooth texture and flavor help put out the fire in your mouth.
Ingredients
450 grs. tortilla chips
200 grs. tomatoes roasted in a pan until black
50 grs. chile guajillo, deveined, de-seeded and softened in warm water
8 chiles de árbol, roasted in a pan until fragrant
10 grs. white onion roasted in a pan
2 garlic cloves, roasted with husks on in a pan
Garnish
20 grs. red onion in thin half-moon slices
50 grs. queso adobera (a mild cheese that melts well), or grated Monterey jack or gouda)
Avocado slices or cubes
Jocoque is the ideal topping, but thick cream or sour cream can be substituted
This is one of the many recipes developed over the years to use yesterday's tortillas. If you fry your own, cut or tear them in pieces then let them sit uncovered overnight to toughen. This way, they don't absorb so much oil. Fry them crisp in hot oil to cover.
Alternately, you can use purchased tortilla chips, called totopos. In fact, in Mexico, some brands of totopos are marketed specially for chilaquiles.
We roast the tomato, onion and garlic in the toaster oven. It can also be done in a dry skillet on the stovetop. The charred, blackened spots enhance the flavor of the salsa.
In a blender make pure the tomato, chile guajillo, peeled garlic, onion and chile de árbol. Add salt to taste.
In a baking dish, put the tortilla chips and top with the sauce, add the cheese and red onion.
Preheat the oven at 180° C and bake the chilaquiles until the cheese melts.
Serve, garnished top with chopped onion, avocado and jocoque or cream as desired.
¡Buen provecho!
Step by step: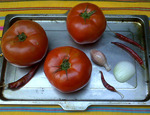 Published or Updated 2009 by Daniel Wheeler © 2009