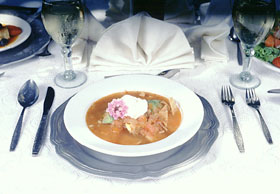 Serves 12
Ingredients:
2 cloves of finely chopped garlic
2 cups of chopped onion
4 cups of chopped tomato (pera or roma)
4 tsp. margarine
1 cup of your favorite tomato sauce
8 cups of rich chicken stock
2 tsp. Worcestershire sauce
1/2 tsp. white pepper
1 tsp. sugar
24 corn tortillas cut into 3/8 strips and fried in hot oil until crisp.
1/2 pint sour cream
6 ripe avocadoes
1/2 cup chopped onion
1 cup of white crumbly fresh mexican style cheese
Preparation:
Brown garlic, onion and tomato with margarine in a stock pot. Add tomato sauce, chicken stock, pepper, sugar and Worcestershire sauce. Simmer for 1 hour. To assemble soup put a handful of tortilla strips in a large open soup bowl, top with 4 or 5 thin avacado wedges, chopped fresh onion and Mexican ranch style crumbly cheese. Ladle in hot soup and top with a spoonful of sour cream.
Buen Provecho
Menu by The Nueva Posada's former Executive Chef – Lorraine Russo
Published or Updated on: January 1, 2006