Just South of the Medical Border
It's just a short run to the Third World. Twenty five miles in fact. That's how far it is from Deming, New Mexico to Palomas, Mexico. Deming sits quietly along Interstate 10, fifty miles from Las Cruces and about a hundred miles south of Tucson, Arizona. In fact Deming's claim to fame is that it is a great spot for snowbirds (for those of you that do not speak Travelese, Snowbirds are migratory folk who seek out warm climes in winter) to escape the frigid Minnesota winters and that Palomas, Mexico, is so close. Being close is important to travelers and residents alike.
When I first heard of inexpensive dental treatment in a little clinic in Palomas, my mind conjured pictures of a Mexican dentista in a blood stained apron yanking teeth out with waterpump pliers and no anesthetic.
As I have been an uninsured victim of the robbery that is health care in America, I decided to see for myself. My imaginary dental clinic could not have been farther off the mark.
Palomas looks like many of the lesser known border towns. It is slightly unkempt, with pot holed streets, houses that have no color, and dogs of dubious ancestry roaming around. They are, however, friendly dogs and Palomas feels Okay. There is no sense of needing to look over your shoulder that is common in so many border towns.
On my first trip, we elected to leave the General, my trusty Ford Expedition, on the American side and walk across the border. It is only two blocks to the clinic. We later found that it is perfectly safe to take your vehicle across. Just make sure that you have no firearms aboard and that you lock the car securely.
The Fierro Clinic is well known to folks who live in the bootheel of New Mexico. Dr Fierro has been practicing dentistry in Palomas for many years. He is well regarded in both the Gringo and Hispanic communities and over the last few years, his clinica has blossomed into a full fledged dental hospital, with oral surgery and full periodontal care available.
As the demand for less costly health care has grown, many Americans have looked to the South for a way to make their medical dollar go farther and the Fierro Clinic is a prime example of the quality of care that is available to those who choose to look.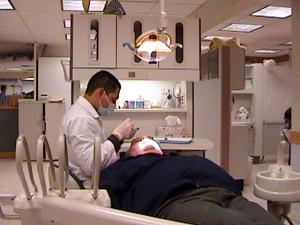 There are eleven dentists. Every one of them, all Mexican nationals, trained in dental schools in the United States, or at the internationally known University in Guadalajara. The clinic is a shining example of modern sterility, high tech equipment and sparkling cleanliness. The staff all speak some English and if one hits a linguistic snag, Vivian, the doctor's secretary is fluent in both Spanish and English and is always available to untangle the problem.
The clinic opens at 8 AM and goes all day long until 6PM. There are no appointments. It is first come, first serve, so get there early if you want to spend some part of your day playing in Palomas.
The clinic offers a full range of dental services from cleaning and deep scaling to crowns and bridges and all sorts of appliances. They also offer laser whitening which my wife found to be wonderful. The clinic accepts some insurances, but if that is an issue, call them before you make the trip. Remember that although America runs on credit cards, much of the world still uses cash, so plan your foreign travels accordingly.
If you should need a prescription for pain medication, there is a pharmacia right across the street where you can also stock up one non- prescription pharmaceuticals for about a third of what they cost in the States.
There is also a modern vision center where you can have your eyes examined by an American trained optometrist for much less than in the States and still have your glasses in two hours. I had a complete eye exam done and got a six months supply of disposable contacts for less than one hundred twenty dollars US.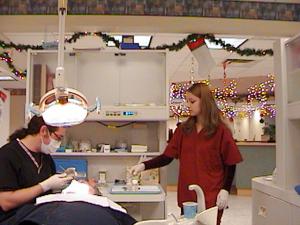 Then there is the famous "Pink House" Restaurant and Bar which is purported to have been a bordello in times gone by. Used by famed bandido Pancho Villa as his headquarters for the only foreign invasion of the United States in history, the Pink House is now a great eating spot and shopping mecca for travelers. We have been back several times now, for dental care and just to have a fun day. The margaritas are great and powerful, and the salsa is very picante. Just down the street at the Hotel Santa Cruz, the Veracruzano style seafood is special.
To give one an idea of the economic gulf that separates American dental care from that of Mexico, I give you, dear reader, this comparison. I required a full set of X-rays, a deep scaling (yuk), a thorough cleaning, a small permanent bridge, and eight crowns. The estimated cost of this project? My American dentist, a wonderful person, smiled and said ten thousand dollars. The Fierro clinics quote? Two thousand US dollars. Much more do-able on an underinsured writer's pay.
Pancho Villa State park is a good place to overnight with your RV and the little town of Columbus, on the American side has a couple of decent motels if your dental care needs more than one visit.
Dr. Fierro is in the process of building "Hotel Fierro," reminiscent of a La Quinta, right around the corner from the clinic to accommodate the needs of people whose treatment plan requires they stay overnight.
Or you could go back to Deming. I think we'll just stay another day in Palomas, Chihuahua, Mexico.
© 2005 Bruce K. Stampley,PhD
World Traveler, Pilot,Writer, Scientist, JunkYard Philospher, Lover of Boats and Beer
Published or Updated on: January 1, 2005