I've been heard to complain lately about the way a lot of books come to us laden with reviewers' glowing comments and overblown descriptions of the contents. I picked up a paperback not too long ago that had eight pages of reviews inside the covers and a bunch more on the outside covers, too. Which brings me to this particular volume which lies entirely at the other extreme – it doesn't have a single word either inside or outside, other than the title, to tell you what the book is about. And that's simply going too far. I can't imagine why someone would be dumb enough to publish a book with no description or explanation about what lies inside the package.
I presume it's the publisher's job to come up with the words that describe a book's contents, not just to assist potential buyers but also to help sell the bloody thing. Even if it's too early to have reviews on hand, the author himself or herself could surely come up with fifty or a hundred words that describe the contents. But in this particular case we're given a volume that has a title and an author's name on the front cover and a photo of the author on the back cover. Nothing more. Good luck!
What it should have is something that explains that this is a reminiscence by Ms. Dandh about how she and her husband, Ken, retired and left their home in Massachusetts and came and settled in Guadalajara. It's a month-by-month account of their first year of living in Mexico, getting to know the people and the place. That shouldn't be too difficult to describe, should it? Heaven knows there's enough ex-pats around these days contemplating doing just that and they would constitute a ready audience for such a volume.
Another caveat, while I'm in this grouchy mood….but I just couldn't find a date anywhere that gave some indication of what year this took place. All we get is: "One grey day in October, in Worcester, Massachusetts, my husband and I were on our way to work. Ken would drop me at the junior college where I labored to stave off illiteracy among the young. Then he would drive two miles farther to the huge insurance company where he did something complicated with numbers…."
But I guess the date doesn't really matter. The point is they arrived in Guadalajara and within a month had rented a house – 3 bedrooms, 2 bathrooms, big living room and kitchen – in Las Palmas for $160 a month. That amount of rental, to my way of thinking, would place the timeframe of this book about ten years ago. By an odd coincidence I happened to mention this book to a friend and he said that he used to live next door to the Dandhs in Guadalajara and that was around 1986. Anyway, like the rest of us, the Dandhs went about learning about shopping, restaurants, street markets, getting along with the neighbors, all of which is usefully described here.
I would certainly credit the author with making a greater effort to learn about Mexicans and the local customs than most ex-pats who come here. There are descriptions of visiting Mexican homes in small villages. And there's an account of the Dandhs being among the first explore an underground tomb complete with skeletons and ancient jewellry. In another incident they underwent the unsettling experience of having a gun pointed at them.
At one point Mrs Dandh comments: "In Mexico, when small talk fails, you can always fall back on stories about the servants." And, indeed, she seems to have become more involved with her servants than most. Again, her experience is more extreme than the rest of us because, in one case, she had a maid who was accused of murdering her husband. Who could resist chatting about that?
On another occasion she had a maid whose husband ran away leaving her and the children in dire straits. At one point the maid even asked if she could move in with the Dandhs. And while Mrs. Dandh is considering the request, this reader, for one, is sitting there thinking: "Don't do it!" Luckily, however, the maid's husband returned and took up his family responsibilities again.
There are some nice descriptions of various Mexican events and customs. The author gives a good account of a wedding and a quinceaños – the coming-of-age party that is customarily held for 15 year old girls – plus a thoroughgoing description of the celebration of The Day of the Dead.
The Dandh's penchant for getting involved with people even runs to their encounter with some Indian musicians (Indians from India, that is) who were performing in Guadalajara. She even invited them home for dinner where, in preparing a meal, the two cultures – Mexican and Indian – collided rather severely. But it makes for an amusing story.
In the final chapter, we find an interesting description of a trip to various centers in Southern Mexico when the Dandhs and a friend took to the road to see some parts of the country they hadn't so far visited. It made me itchy to get out and see a few new places.
In my humble O: I suspect that the various stories in this volume cover much more than a year in the life of the Dandh household, as the layout of the book attempts to suggest. But that doesn't really matter. All in all it's a useful addition to the growing library of books about coming to Mexico to live.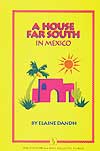 Available from Amazon Books: Paperback
MexConnect is reader-supported. Purchases made via links on our site may, at no cost to you, earn us an affiliate commission.
Learn more.
A House Far South In Mexico.
By Elaine Dandh
Perception Press, Saint Augustine, Florida
Published or Updated on: February 15, 2000