During the month of May…
May 1, 1552
A royal decree establishes four schools for natives in the province of Nueva Galicia (now Jalisco): in Guadalajara, Atoyac, Ahuacatlán and Juchipila.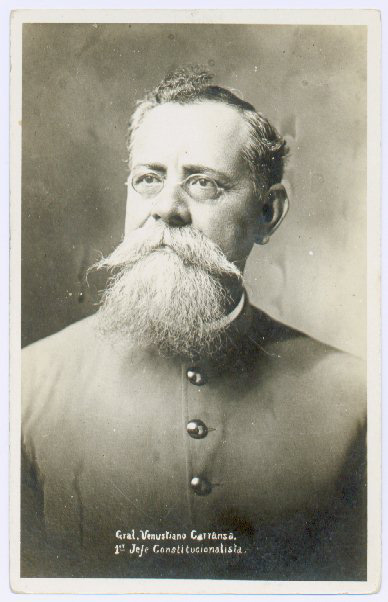 1, 1917
Venustiano Carranza begins his term as President. During his three years in office (until 1920) fighting continues in much of the country – against Villa's forces, in the north, and Zapata's forces further south.
3, 1518
The island of Cozumel is "discovered" by Captain Juan de Grijalva. He names the island Santa Cruz island, and disembarks, "taking possession", on May 5.

3, 1535
Hernán Cortés lands at the site of La Paz, on the Baja California Peninsula. According to some accounts, Cortés, complaining about the heat, exclaimed, in Latin, "Oh, callida fornax", hence the name "California".
ACAPULCO IN UNDER NINE HOURS!
3, 1928
A new speed record is set for the drive from Mexico City to Acapulco. Luis G. Armienta, a race-car driver, accompanied by a newspaper reporter, completes the 458-kilometer trip in just 8 hours and 45 minutes. Only some parts of the "highway" were paved at this time.
4, 1904
Agustín Yáñez is born. Yáñez went on to become an educator, lawyer, politician and novelist. He was Governor of Jalisco state between 1953 and 1959. His novels include Al filo del agua (The Eye of the Storm) in 1947 and Las Tierras Flacas in 1962.
5, 1804
The famous explorer, Alexander von Humboldt, traveling through the region, estimates the population of New Spain to be 6 million people.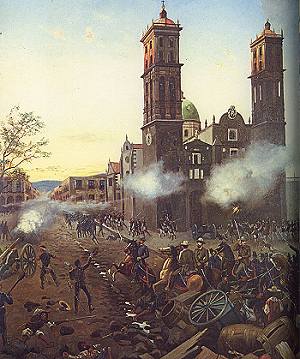 5, 1862
The Battle of Puebla. The Republican forces of President Benito Juárez defeat the French army, thought at the time to be the best in the world. The defeat caused consternation in Europe.
5, 1990
40 passengers killed when train from Oaxaca to Mexico City derails near Oaxaca city and plunges into dry riverbed.
5, 1998
19 firefighters killed in central Puebla while battling forest fire.
6, 1517
The first Mass on Mexican soil is celebrated at an improvised altar on the shore of Campeche by the sailors accompanying Juan de Grijalva.
8, 1753
Miguel Hidalgo y Costilla born on the San Vicente hacienda in Corralejo, near Pénjamo, in the state of Guanajuato. Hidalgo enters the priesthood and on September 15, 1810, while parish priest of Dolores (now Dolores Hidalgo), exhorts the people to march on nearby towns. His speech marks the beginning of the Mexican War of Independence and Hidalgo, killed in 1811, is often labelled the "Father of Mexican Independence".
9, 1983
More than 30 killed and dozens injured when fireworks and gunpowder explode during fiesta del Día de la Santa Cruz fair in Santa Cruz de Tlapacoya, State of México.
10, 1870
Dr. Angel Iglesias Domínguez, a pioneer of animal vaccination in Mexico, dies in Mexico City. A teacher of medicine, he was a member of the Mexican Commission that went to Europe to invite Maximilian to come to Mexico.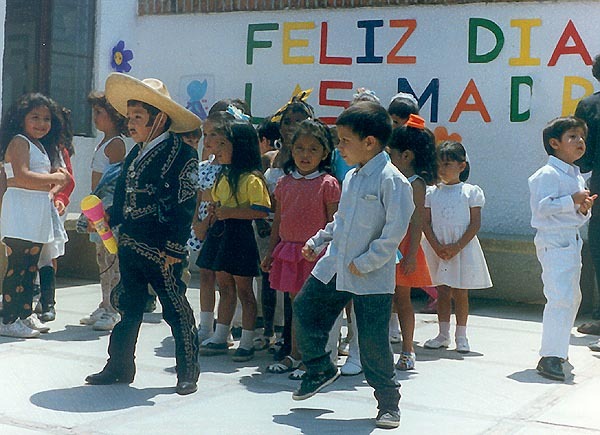 10, 1922
Mothers' Day is celebrated for the first time in Mexico. The celebration is promoted by Rafael Alducin, the then Editor of the Mexico City daily Excélsior. In the U.S., the first celebration of Mothers' Day was in 1908.

11, 1535
King Charles V of Spain decrees the founding of three Royal Mints in the New World, including one in New Spain.
WAR IS DECLARED!!
11, 1846
U.S. President James K. Polk officially declares war on Mexico. Skirmishes had broken out in the north a month earlier and U.S. troops were already on Mexican soil.
12, 1908
The musician and composer Melosio Morales dies in Mexico City. Morales composed several symphonies and operas including Romeo y Julieta (1863) and Cleopatra (1891).
13, 1942
A German submarine attacks and sinks the Mexican oil barge "Potrero de Llano" in the Gulf of Mexico. On May 28, having received no satisfactory reply to its complaint over the sinking, Mexico formally declares war on Germany and its allies Japan and Italy.
14, 1983
Miguel Alemán Valdés, president from 1946 to 1952 dies in Mexico City at the age of 79. Foreign investment boomed during his presidency, helping to finance substantial improvements to infrastructure, especially reservoirs and highways.
15, 1847
U.S. General Williams Jenkins Worth, on behalf of General Scott, takes the city of Puebla, securing the city prior to the advance on Mexico City. As a result of this war (referred to by Mexican historians as the American Intervention), the U.S. gained Texas, New Mexico and California.
15, 1918
The first celebration of Teachers' Day, celebrated annually on this date every year since.
15, 1932
Mexico joins the League of Nations.
15, 1981
In the Volkswagen plant in Puebla, the 20 millionth VW Bug rolls off the production line.

16, 1833
Antonio Lopez de Santa Anna becomes president for the first time. He goes on to serve as president no fewer than eleven times during the nineteenth century!
PRESIDENT FINALLY RESIGNS.
With the Revolution breaking out all around him, President Diaz, who has been in power almost continuously for over thirty years, announces to the nation his intention of leaving office. (May 17, 1911) Subsequently, on May 21, Diaz signs the pact of Ciudad Juarez, in which he and his vice-President resign, and his former External Affairs minister, Francisco Leon de la Barra, assumes the interim presidency. Francisco I. Madero, the Revolutionary President, also resigns (complicated times, these!) as part of the deal. The same treaty promises private persons reparations for damages suffered at the hands of revolutionary forces. After a public rally in the zócalo of Mexico City on May 24, protesting the delay in Diaz's departure from the presidential palace, Diaz formally resigns to his own ministers (May 25) and the following day leaves, with his family, for exile in France.
16, 1946
Several homes destroyed and 28 people injured when a meteorite hits the remote village of Santa Ana, Nuevo León.
17, 2011
X-ray equipment at a checkpoint in Chiapas finds 513 illegal migrants, including 32 women and 4 children, crammed into two trucks bound for the US.
19, 1816
The Spanish government reconsiders the expulsion of the Jesuits from New Spain (which took place in 1767) and permits them to return.
19, 1969
The country's highest ever temperature is recorded: 59 degrees C. (in the shade!) in Nazas, Durango.
21, 1534
Juan de Zumárraga receives royal approval to found the first library in the Americas.
21, 1895
Lázaro Cárdenas is born in Jiquilpan, Michoacan, near the south-east corner of Lake Chapala. Cárdenas becomes President in 1934 and during his presidency, which lasts until 1940, nationalizes both the railroads and the oil companies.
23, 1892
The "lnteroceanic Railway" between Mexico City and Veracruz is opened. The original plan (never realized) was to continue the line to link Acapulco to Veracruz via the capital.
24, 1939
Francisco Sarabia breaks the Mexico City-New York flying time record, making the journey, non-stop, in 10 hours, 46 minutes and 5 seconds. He dies two weeks later (June 7) when engine failure causes his plane, "El Conquistador del Cielo" to fall into the Potomac river on his return flight to the U.S.

24, 1993
Shootout between rival drug gangs in parking lot at Guadalajara International Airport kills 2 gunmen, 3 bystanders and Cardinal Juan Jesus Posadas Ocampo and his driver who were in the wrong place at the wrong time.
DRASTIC WATER SHORTAGES IN AZTEC CAPITAL.
26, 1521
As Spanish conquistador Cortés' forces continue their siege of Tenochtitlan, the Aztec capital, they deliberately break the Chapultepec aqueduct (the city's main fresh water supply) in order to force the Aztecs to surrender.
27, 1937
70 killed and dozens injured when gasoline tanks explode after a mudslide near Tlalpujahua, Michoacan, buries the El Carmen and Somosa mining villages.
28, 1784
Tsunami hits Acapulco following an earthquake; dozens dead.
28, 1864
"Emperor" Maximilian and his wife, Carlotta, arrive in Veracruz (from Europe) to take the reins of the Mexican "Empire". His reception is so cool that he has to wait another day before disembarking.
30, 1920
Bubonic plague appears in Veracruz. The outbreak is quickly brought under control by the authorities.
30, 1984
One of Mexico's top investigative journalists, Manuel Buendia, 58 years old, is assassinated in broad daylight in the middle of a tourist zone in Mexico City. Buendia had gained a worldwide reputation for straightforward, honest reporting. No-one has ever been brought to trial for his murder.
The main source for this series is Efemérides Mexicanas by Noé Solchaga Zamudio and Luisa A. Solchaga Peña, published in two volumes by Editorial Avante, Mexico City, 1983.
Published or Updated on: April 27, 2020 by Tony Burton © 2008