Many people look to Mexico as a nation rich in mineral resources, cultural antiquities and historical significance. Indeed, it is this… and much more. But many people, aware of Mexico's tumultuous past, a history full of political strife and turmoil, don't realize that – in spite of its difficult periods – Mexico has an extraordinary record of keeping diligent and detailed records of its people and their significant life events.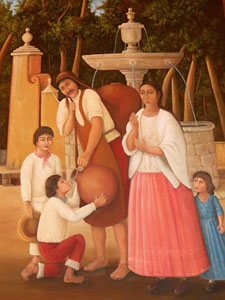 My ancestors lived in Illinois, Minnesota and New York in the 1850s and 1860s, and getting information on my ancestors from those areas for those two decades is exceedingly difficult. However, I have traced the Mexican lineages of my relatives and my friends in Zacatecas, Jalisco, Guanajuato, Aguascalientes and Chihuahua during the same two decades with extraordinary success. Many Mexican Catholic church records from the 1800s, from the 1700s and even from the 1600s are very rich in details that you would never see in most American records. (There are exceptions, of course.)
It is worth noting that most American counties did not begin keeping birth and death records until the 1900s, and the recording to marriage records was only slightly better. However, Mexico started civil registration in 1859 and this practice was in widespread practice by the 1880s, and these records, for the most part, are very detailed.
To the family history researcher, Mexico is a land whose vital records are rich in both detail and availability. Mexico's Registros Parroquiales (Parish Registers) in particular have provided many Mexican Americans with a fabulous window into their past. From one end of Mexico to another, countless church books and civil registries have chronicled the life events of ordinary laborers and slaves, alongside those of wealthy landowners. Millions of baptisms, marriages and confirmations were performed and it appears that a great number of these church records have survived to the present day. Mexico's civil registration, enacted in 1859, provides the researcher with a secondary source that is sometimes even more detailed than the church records.
To help you better appreciate this valuable resource, I would like to present a translation of the 1903 marriage record of Olayo Morales and Juana Luevano. This marriage record was performed by the Judge of the Civil Court in the small town of Cieneguilla in the state of Aguascalientes in central Mexico. The civil registry of birth, marriage and death records from Cieneguilla have been microfilmed by Genealogical Society of Utah and are now present on seventeen rolls of film.
The civil marriage record of Olayo Morales and Juana Luevano, as translated to English, tells us:
In Cieneguilla on January 18, 1903 at nine in the morning in this office and before the recording judge, appeared the citizens OLAYO MORALES and JUANA LUEVANO, who stated that they desired to be married (in a civil ceremony) in conformity with the applicable laws for which they will make their best efforts. The first party (Olayo) is single, 22 years of age, originally from Santa Maria and a resident of this place, a laborer, and the legitimate son of Eustacio Morales and Juana Salas, who are living. The second party (Juana) is 16 years old, the legitimate daughter of Tiburcio Luevano and Manuela Martinez, who are also alive. At once, and at the end of the demonstration of their legal capacity to marry, introduced as witnesses were the citizens Crispin Santana (50 years of age) and Zacarias Salinas (60 years of age), both married and adults of age, laborers and residents of this hacienda, witnesses for the first party. The second party presented as witnesses the citizens Juan Perez and Eligio Chavez, both married, adults of age, laborers, and residents of this property, who under the protest of their truthfulness, declared that they are not aware of any impediments to marriage, prior to the consent of the parents, I, the Judge, made the presentation and I decided that it will be published for the period required by law. According to the content that was read to the people present in front of me, I, the Judge, signed it. The people present did not sign it because they do not know how to write.
Signed, Pablo Valdivia
This rich detail can also be found in the following 1788 marriage in the Catholic Church of Aguascalientes which I have also translated to English:
In the Village of Aguas Calientes on the 23rd day of April, 1788, having presided over the usual preparatory steps and having read the arranged marriage banns as required by the Holy Council of Trent in the parish church on three holy days in solemn Mass on the 6th, 13th, and 20th days of the current month, and no impediment to marriage having resulted, I, Father Sir Thomas Serrano, with permission from Father Andres Martinez, the senior interim parish priest, assisted in the marriage in my presence and by these words celebrated in Holy Mass – JOSE CIPRIANO GOMES, of Spanish origin (White), originally from and a resident of this jurisdiction in Juiquinaqui, legitimate son of Antonio Gomes and Rita Quitaria de Robalcava – and MANUELA MASIAS, Spanish, originally from this jurisdiction in the Canutillo and resident of the above-mentioned Juiquinaqui, natural daughter of Ines Masias (deceased) – (joined) in Blessed Nuptials. The padrinos (sponsors) were Antonio Flores and Dolores Garcia and the witnesses, Matias Hernandez and Juan Valades – In witness thereof we signed it.
Even the marriages of slaves and Indians were recorded in detail by the parish priests, as is evident in this partial translation of a 1774 marriage record from Charcas, San Luis Potosí, which indicates the marriage between one Jacinto Ramon Rodriguez Flores, a mulato esclavo (slave mulato), and Maria Manuela Sauzeda (a mestiza from El Rancho del Sitio). The translation of this 233-year-old marriage document reads in part:
In this Parish Church of Our Lady of Charcas on the 16th of August in 1774, having presided over the usual preparatory steps as required by the Holy Council of Trent and the synod of this town,… I married JACINTO RAMON RODRIGUEZ FLORES, a mulato, originally of Aalosto, servant in this place, widower of Rita Quiteria Felicia, who was buried in the Parish a year and three months ago, legitimate son of Francisco Rodriguez and Maria Magdalena Perez, deceased mulata slave,
And MARIA MANUELA SAUZEDA, a mestiza of the Post of Animas in this jurisdiction and resident of Ranch of San Jose de Sitio, legitimate daughter of Francisco Xavier Zauzeda and Martina Xaviera Perez, and not having found any impediments, I proclaimed the banns of marriage….
Mixed marriages of couples who had various combinations of Spanish, African, and Indian blood were common throughout Mexico in the colonial period and many of those records can be viewed today, by either visiting the ancestral parish or accessing the film through the Family History Library's microfilmed resources.
Stepping back into an earlier century, I now present another translated marriage record from the parish archives in Lagos de Moreno, Jalisco from 1673:
On the 6th day of the month of July of the year 1673, I married and veiled within the church FRANCISCO DE CARDONA, a native of Saint Bartholome de la Agua, a dependent of the Bishopric of Guadalajara, legitimate son of Francisco de Cardona and Magdalena de Carbajal, with LUISA DE ROBALCABA, native of this village, legitimate daughter of Jose Gonsalez de Robalcaba and Ana Gonsalez Florida (already deceased), resident of this village, having presided over the conciliar measures as required by the Holy Council of Trent, and having published the marriage banns in Holy Mass on three holy days, on Sunday the 9th of July, Sunday the 16th of July and Saturday the 22nd of July. I continued (with the marriage), no impediments to marriage that I know of having resulted….
The evidence is clear that Mexico has another rich resource that many people, in fact, were not aware of.
Published or Updated on: March 1, 2008