During the month of June . . .
Table of Contents
ROUTE FROM PHILIPPINES BACK TO MEXICO FINALLY FOUND!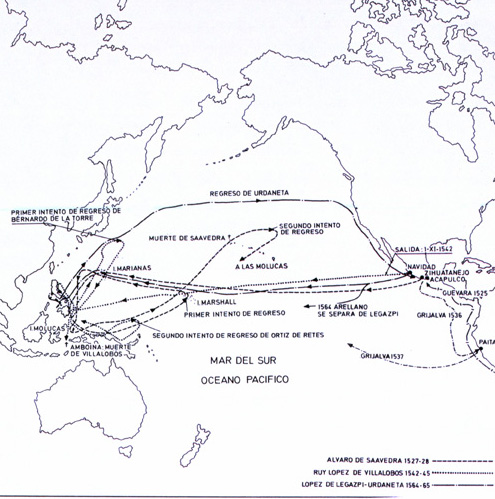 June 1, 1565. Andrés de Urdaneta sets sail from the Philippine Islands on what eventually becomes recognized as a landmark voyage in sailing history. His return to New Spain, by sailing across the Pacific Ocean from west to east, is the earliest documented successful voyage in this direction. His achievement opens up the possibility of using Mexican ports such as Acapulco and San Blas for trans-Pacific trade.
1, 1906. A general strike begins at the Cananea Copper Mine in Sonora. Workers demand improved working conditions, an 8-hour day, and salary equality with U.S. workers performing the same jobs. The mining company, Cananea Consolidated Mining Co., replies with force and 10 miners are killed in the fighting which results. The next day, state police, accompanied by U.S. Rangers, arrive to quell the violence. On June 5, the leaders are taken into custody and the strike ends.

2, 1774. By Royal Seal, King Charles III of Spain authorizes the outrageously wealthy Count of Regla, Pedro Romero de Terreros, to start a pawn-shop in Mexico City. This opens its doors in February of the following year and eventually becomes a much- loved national institution, the National Monte de Piedad.
ALGERIAN FORCES TAKE ACAPULCO.
June 3, 1864. An Algerian unit of the French army comes from the port of San Blas (Nayarit state) to attack and capture the port of Acapulco. This is one of the major incidents in the French intervention in Mexico, the pretext for which was the Mexican government's decision in 1861 to defer payments on its foreign debt. On June 7, Mexican republican forces defeat the French to retake the port.
5, 1878. The legendary revolutionary Francisco "Pancho" Villa is born in San Juan de Río, Durango. He is christened Doroteo Arango Quiñones, but adopts the name Villa and plays a particularly active role in the Mexican Revolution (1910-1920). After the Revolution, he retires to a ranch near Hidalgo del Parral, Chihuahua, but does not enjoy his retirement for long, dying when his car is struck by a hail of bullets on July 20, 1923.
6, 1555. The city of Sombrerete (today in Zacatecas state) is founded. Sombrerete quickly becomes an important mining center.
6, 1933. Mexico's first female aviator, María Marcos Cedillo, dies in an accident in San Luis Potosí.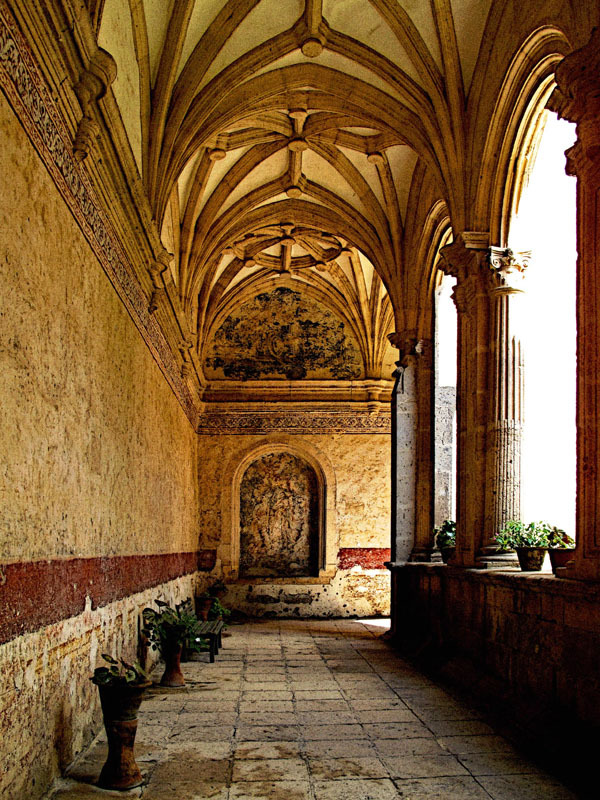 7, 1533. The first Augustine missionaries arrive in the city of Mexico. Many of their monumental early convents, including those at Acolman and Yuriria) still stand today.
8, 1692. A shortage of basic grains leads to a riot in Mexico City in which archives are burned and the Viceregal Palace is stoned.
8, 1816. Manuel Orozco y Berra is born in Mexico City. He becomes a distinguished historian, writer and politician. One of his major contributions is to make the first classification of indigenous languages.

8, 1933. The Mexican Academy of Surgery is founded.
FIRST EUROPEANS VISIT AZTEC CAPITAL
9, 1521. Hernán Cortés and his conquistadors finally reach the Great Temple at the heart of the Aztec capital, Tenochtitlan. For centuries it is assumed that the temple is completely razed by the Spanish in order to build their cathedral and palace. However, in 1978, the foundations of the Great Temple are unearthed during excavations for a new building in downtown Mexico City. Archeologists restore parts of the Great Temple and open the site to the public; artifacts they discover are displayed in an excellent museum on the site.
11, 1594. King Philip II of Spain prohibits his representatives in New Spain from jailing any indigenous person.
11, 1928. Emilio Carranza departs from Mexico City on a non-stop flight to Washington D.C. (USA). Because of bad weather, Carranza is forced to end his flight in North Carolina. On July 12, shortly after taking off for the return flight, Carranza is killed when his plane crashes in Mount Holly, New Jersey.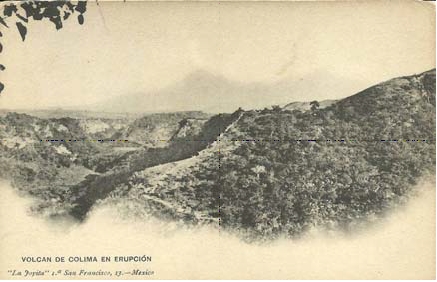 12, 1869. Colima Volcano erupts, forming a new crater.
FLOODS THREATEN MEXICO CITY
13, 1622. Tremendous floods overwhelm parts of Mexico City. The flooding results from the Spanish Viceroy Mendoza's efforts to see whether or not a drainage scheme is actually necessary for the city! The city is badly flooded several times more in the next few years. Ironically, one of the city's biggest problems today is… a lack of water!
15, 1863. A national census reveals that the country has 8,400,000 inhabitants.

16, 1785. The New Spain government agrees to construct Chapultepec Castle and the two towers of the cathedral, in Mexico City.
16, 1962. U.S. President, John F. Kennedy, and his wife, begin an official visit to Mexico for talks with Mexican counterpart, Adolfo Lopez Mateos.
DOWN WITH MOCTEZUMA!
17, 1520. In the Aztec capital, Tenochtitlan, emperor Moctezuma stands outside his palace to confront an angry mob of Aztec Indians, who are furious that the Spanish have been allowed in their city. They stone their emperor, badly wounding him. He dies on June 29.
18, 1833. Manuel M. González, President of Mexico between 1880 and 1884, is born near Matamoros. Gonzalez distinguished himself on the field of battle in the campaigns against the Americans and the French, and against the conservatives in the Reform War.
18, 1888. Many towns in the Mexican "Bajío", including Leon, Silao, Irapuato and Celaya, suffer disastrous flooding, after two days of torrential rain.

18, 1939. Alberto Alvarado, the concert violinist of Angela Peralta'a opera company, dies in Durango. In 1893 he played at the International Exhibition in Chicago, Alvarado composed many musical works, including an opera called "Mañana", much acclaimed in New York.
THE EMPEROR IS EXECUTED! LONG LIVE THE REPUBLIC!
19, 1867. Emperor Maximilian is executed by firing squad. Only days later (June 2l), the Republican triumph over Maximilian's Imperialists is sealed when general Porfirio Diaz (later to become President of Mexico for more than thirty years) takes Mexico City.
19, 1914. Battle of Zacatecas. Pancho Villa's constitutionalist forces take on Huerta's federalist forces. The main action occurs a few days later when Villa enters the city in triumph, after killing 5000 defenders and taking 6000 prisoners.
20, 1793. Mexico City's public transportation system begins with authorization being granted for a system of single-horse carriages for hire.
21, 1823. Jalisco, formerly a Province, is elevated to the status of State. The Jalisco of 1823 is considerably larger than the Jalisco of today, including regions that are today in the states of Nayarit, Colima and Zacatecas.
21, 1876. Antonio López de Santa Anna dies in Mexico City. Santa Anna had been president of Mexico on no fewer than eleven occasions!
21, 1997. The veteran labor leader, Fidel Velázquez, dies at the age of 97. He was Secretary of the CTM (Confederación de Trabajadores de México), one of Mexico's most powerful unions, from 1941 until his death.
23, 1943. The National Institute of Cardiology is founded.
25, 1530. The city of Mexico-Tenochtitlan is officially declared capital of New Spain by King Charles V of Spain.
26, 1950. The first formal television channel – XHTV – begins broadcasting from Mexico City. Mexico was the first Spanish-speaking country, and the fifth in the world, to have regular TV service.
27, 1929. The Government and the Church sign a treaty ending the conflict between them which has intensified since president Elias Calles suspended religious services in 1926. Many other religious restrictions continue to apply in Mexico until the 1990s.
28, 1907. The self-taught painter, Hermenegildo Bustos, dies in Guanajuato. Bustos is best known for his excellent, character-revealing portraits.
The main source for this series is Efemérides Mexicanas by Noé Solchaga Zamudio and Luisa A. Solchaga Peña, published in two volumes by Editorial Avante, Mexico City, 1983.
Published or Updated on: May 24, 2020