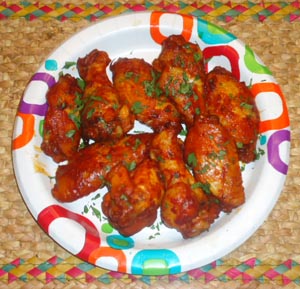 Wings have landed everywhere. There are endless varieties of these once humble chicken parts, and numerous restaurants are dedicated to serving them. Mexico is no exception to the wing craze, but the many establishments offering these tasty nibbles seem to focus on American style preparations.
There are versions of American barbeque wings, hot wings, honey mustard wings, garlic and parmesan wings and the ubiquitous Buffalo wings, with a variety of sauces, including ranch, hot sauce, and some quasi-Asian sauces. Places that serve these also include hamburgers, fries, onion rings, and a selection of north-of-the border desserts, like New York cheesecake and lemon meringue pie, on their menus.
These eateries, serving the culinary version of American pop culture, evidently have a large audience in Mexico. But the flavors that characterize the cuisines of Puebla, Yucatan, and other regions are not to be overlooked when it comes to serving this popular food. Home cooks can create versions of wings that incorporate their favorite Mexican flavors. The chiles, adobos, pibil marinades, and even tequila and lime make terrific versions of wings, great for parties large and small, baked in cool weather and grilled in warmer months. And the upcoming holidays provide plenty of opportunity for serving them.
Thinking of ways to prepare wings with Mexican ingredients and regional flavors gets the wheels turning and the mouth watering. There are so many different seasonings that can be adapted to wing preparation, not to mention an endless variety of salsas that can be served with them.
Are you a fan of Central Mexico's rich moles? Do you crave the flavor of chipotle chiles in adobo? What would you think of wings that incorporate the seductive taste of a margarita? Or the irresistible flavor of tacos al pastor? Close your eyes and imagine your favorite Mexican flavor, and chances are you can feature it in a batch of chicken wings.
These recipes give some ideas on how to do this. Modify them to your own taste, or create new ones using Mexican flavors as a starting point. I personally love tacos al pastor, and it was fun using its signature flavors of smoky chile and sweet pineapple to make a "winged" version of this popular street food.
Make things easier by freezing some of your favorite Mexican sauces. Mole freezes well, and even a small container of leftover mole sauce goes far when it comes to wings. The same goes for achiote marinades for pibil, or for sauces like raspberry-chipotle.
Each recipe below uses three pounds of wings. Snip off the wing tips and save them for stock. Cut the wings in half at the joint. One half of a wing, without the tip, weighs about an ounce, so three pounds will give you about 42 of these tasty tidbits.
In the US, these are called "drumettes" and "flats," and known collectively as wingettes. I've never heard them called anything but alitas in Mexico. Prepare a few different versions and invite your friends for a Mexican wing-tasting party, with plenty of Mexican beer, margaritas or fruit aguas.
Published or Updated on: November 29, 2014