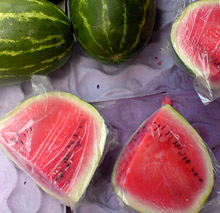 A favorite with kids, this drink is similar in preparation to the one made with cantaloupe. However, because of the consistency of the fruit, the proportions are different. It requires longer blending time than other aguas, in order to break up the seeds, which are then allowed to settle to the bottom before being transferred to a serving pitcher. Since the seeds are spread throughout the fruit, rather than in a seed sac, this is a much easier method than trying to seed watermelon.
If the melon is a very sweet one, taste before adding sugar; it may not need much, if any.
Ingredients:
1½ cups diced watermelon, without rind
5 cups water
1/4 cup sugar
Preparation:
Put the diced watermelon in the blender with 2 cups of the water.
Blend until the black seeds break up (about 1-2 minutes.)
Let the ground seeds settle to the bottom, then pour the liquid into a pitcher, leaving the seeds in the blender to be discarded.
You will not need to use a strainer.
Add the rest of the water and the sweetener.
Photograph © Daniel Wheeler, 2009
Published or Updated on: July 1, 1999