Frida Kahlo was a captivating artist and an intriguing, seductive woman. If we hadn't figured that out from the many books written about her, we would certainly have gotten the point from the motion picture, "Frida."
We also know she loved her family, and Diego Rivera, and maybe even Leon Trotsky.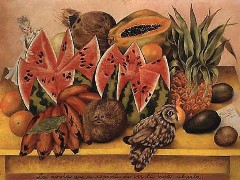 But her passionate love of cooking was totally missing from the film. We can see it in her work: "The Bride Frightened at Seeing Life Opened" (1943), "Pitahayas" (1938), "Still Life" (1942), "Naturaleza Viva" (1952), and many others. The sensuousness of an inspired and perfectly prepared Mexican meal can be more desirable than almost any other sensation, since, if you stop and think about it, it encompasses all five senses: touch, smell, sight, sound, and taste.
Imagine the feel of the ingredients as they passed through Frida's hands, the cool of the countertop tiles as her hand brushed across them, the heat of the fire, the textures of her green pressed glass bowls from Puebla, in which she served Chiles Stuffed with Picadillo to Diego Riviera at their wedding fiesta. Diego preferred the use of ordinary blue enameled metal spoons instead of silverware which he thought bourgeois, but most of the food had to be eaten using only tortillas. Just think how that would feel.
The scents from her cocina would likely have caused overworked salivary glands in every soul fortunate to be near enough to enjoy them. The blending of succulent smells must have been so seductive as to render the recipient nearly comatose with anticipation of the culinary delights to come.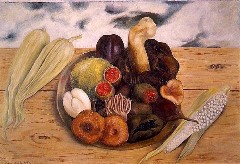 Picture the sight of her Dead Man's Bread and calaveras for the Day of the Dead, for which she annually cooked Red Mole, Chicken in Pipián Sauce, and Tamales in Banana Leaves, all of which were laid out in Talavera bowls from Puebla on a table scattered with cempazúchitl flowers so that "when the little angels return they will be greeted by the brilliance and shining colors of these flowers, the color of the sun."
Think of the wonderful sounds which must have emanated from Frida's busy cocina, the wooden bowls as they were set down upon her yellow and blue tile countertop, the sharp sounds of chopping the ingredients, the soft shoosh-shoosh-shoosh as the hand-carved wooden spoon scraped back and forth across the rounded bottom of her bowls mixing the famous black mole from Oaxaca.
I don't have to imagine the mind-altering tastes, for my wonderful Josefina has often recreated many of Frida Kahlo's original recipes. Frida inherited Nuevo Cocinero Mexicano, the cookbook which belonged to her mother, Mrs. Matilde Calderón de Kahlo, and it is recipes from this book on which many of Frida's creations were based.
There is nothing to make a woman feel more like a woman than the appreciation of her family and guests, when she follows Frida's example and creates meals which appeal to all five senses.
(The following recipes are from Frida's Fiestas: Recipes and Reminiscences of Life With Frida Kahlo by Guadalupe Rivera Marin, published by Clarkson Potter 1994, and available from Amazon
Chiles stuffed with picadillo
16 poblano chiles, roasted, peeled, seeded, and deveined
Flour
5 eggs, separated
Corn oil or lard
Tomato Broth
Stuff the chiles with the picadillo, then dust them with flour. Beat the egg whites until stuff. Beat the yolks lightly with a pinch of salt and gently fold together with the whites to make a batter. Dip the chiles into the batter and fry in hot oil until golden. Drain on brown paper. To serve, place the chiles in the tomato broth.
Picadillo
3 pounds/1,500g ground pork
1 large onion, halved
3 garlic cloves, chopped
Salt and pepper
6 tablespoons lard
1 small onion, finely chopped
1 pound/400g tomatoes, chopped
1 cup/75g shredded cabbage
three quarters cup/100g blanched almonds, chopped
half cup/60g raisins
Cook the pork with the onion halves, garlic, and salt and pepper to taste for about 20 minutes. Drain the liquid and discard onion. Heat the lard in another pan and sauté the chopped onion, carrots, and zucchini until the onion is translucent. Add the tomato, cabbage, almonds, raisins, pork and salt and pepper to taste. Simmer for about 20 minutes, or until the mixture has darkened and the tomato is cooked through.
Tomato broth
3 tbsp olive oil
1 onion, thinly sliced
2 carrots, peeled and thinly sliced
10 medium tomatoes, roasted, peeled, seeded, and chopped
half cup/125 ml vinegar
3 tbsp sugar
Salt and pepper
2 tsp dried oregano
Black mole from Oaxaca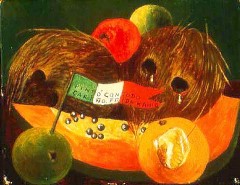 1 pound/500g chiacle chiles
one quarter pound/250g mulato chiles, seeded and deveined, seeds reserved
half pound/250g pasilla chiles, seeded and deveined, seeds reserved
three quarters pound/375g lard
2 large onions, roasted
1 head garlic, roasted
3 stale tortillas
2 slices egg bread
three quarters cup/100g blanched almonds
half cup/75g shelled peanuts
1 cinnamon stick
half cup/70g sesame seeds
half cup/60g pumpkin seeds
Pinch of anise seeds
1 tsp cumin seeds
1 tsp dried thyme
1 tsp dried marjoram
2 tsp dried oregano
10 corriander seeds
10 black peppercorns
8 cloves
three quarters cup/100g raisins
3 large bars Mexican chocolate (or semisweet chocolate)
4 pounds/2k ripe tomatoes, roasted and peeled
1 pound/500g small green tomatoes
8 tbsp lard
Sugar and Salt
2 guajolotes (small turkeys) or 4 large chickens cut into pieces and cooked in a strong broth with carrots, onions and herbs.
Quickly fry the chiles in hot lard, being careful not to let them burn. Place the fried chiles in a large saucepan in hot water to cover. Bring to a boil, then simmer until soft.
In the same hot lard, sauté the onions and garlic until translucent. Add the tortillas, bread, almonds, peanuts, cinnamon, reserved chilé seeds, sesame seeds, pumpkin seeds, anise seeds, cumin seeds, thyme, marjoram, oregano, coriander seeds, peppercorns, cloves, raisins and chocolate. Sauté for a few minutes. Puree this mixture with the tomatoes and the chiles.
Strain the puree and cook in 8 tablespoons lard. Stir in sugar and salt to taste and 2 cups/500 ml of the turkey broth. Simmer for 20 minutes.
Add the turkey, and simmer for 20 to 25 minutes to blend flavors. If the mixture is too thick, add more turkey broth as needed.
NOTE: Chihuacles are special chiles from Oaxaca; you can substitute cascabel chiles.
Dead man's bread
7 1/2 cups/1k flour, sifted
3 cups/400g sugar, plus additional for dusting
1 cup plus 2 tbsp/250g vegetable shortening or butter
2 packages active dry yeast dissolved in 5 tbsp warm milk
12 small eggs
1 tbsp lard
2 tsp ground cinnamon
2 tsp vanilla extract
half cup/125 ml milk
Mound the flour on the counter or in a bowl and make a well in the center.
Place the sugar, shortening, yeast, eggs, lard, cinnamon, vanilla and milk in the well. Work into a dough and knead until the dough pulls away from the counter. If the dough is too soft, knead in more flour. Shape into a ball, grease and flour it lightly, and place in a greased bowl. Let stand in a warm place for 2 and a half hours, or until doubled. Cover with towel and refrigerate overnight.
Shape the dough into balls the size of a peach. Decorate the tops with strips of dough to look like bones. Place the rolls on greased baking sheets and let rise in a warm place for about one and a half hours, or until the bottoms sound hollow when tapped.
Published or Updated on: November 1, 2003