Photo Gallery: Puerto Escondido: Mexico's hidden Oaxacan beach - Part A
Photo Gallery: Puerto Escondido: Mexico's hidden Oaxacan beach - Part B
Photo Gallery: Puerto Escondido, Oaxacan in photos - Part C
In December 2000, I watched the sleepy fishing village of Puerto Escondido wake up from its summer slumber. When I arrived during the first week of the month, this beach town south of Oaxaca city hadn't even begun to yawn and stretch from its months' long, low-season nap.
You could shoot a cannon down the Adoquin (ah-do-KEEN) without hitting anything except a stray mosquito or two. (The Adoquin is the main tourist street, closed to vehicular traffic at night and lined with restaurants, bars and stalls of stuff.)
As the month wore on, a few more backpackers, street vendors and sun-hatted tourists wandered in and strolled aimlessly about… until a few days before Christmas. From then until I left on New Years' Day, the beaches looked like an overgrown garden of multicolored umbrellas and beach chairs. In seaside restaurants, sweaty waiters scampered feverishly to serve hordes of hungry and demanding vacationers. Puerto Escondido was wide-awake, day and night.
At the beginning of the month, the usual scattering of indigenous craftsmen sprawled their handmade products on blankets along the walkway leading from the Adoquin to the Mayflower Hotel, waiting patiently for an occasional passerby. After Christmas, these sidewalk sellers were jammed thumb-to-wrist, while elbow-to-elbow buyers jockeyed for their turn to bargain for a hand-woven shawl or brightly painted urn.
"I haven't seen anything like it before," said Gina, who staffs the one-person tourist booth. "Yesterday, 150 people stopped here. That's a record." Gina has been dishing out "normal nice" information to tourists since she came to Puerto Escondido from Cancun eight years ago. "Is this a trend," I asked her? Is Oaxaca's hidden port being discovered and plundered by pirating tourists, I wondered? She doesn't think so. She thinks the record-breaking day was a fluke, a combination of factors, which flooded the town with busloads of people, without reservations.
"I turned away at least 60 people," said Paul Mader, new owner of Hotel Flor de Maria. Mader and his wife, Joanne, have been coming to Puerto for years. They have now joined the roll of innkeepers who know that this off-the-beaten path beach town has been clawing its way into resort consciousness for decades. Even though its tiny airport now boasts international status, group tours from the U.S. and Canada, heading to the Oaxacan coast, still book mainly to Bahias de Huatulco. For the most part, except during Christmas and Easter, Puerto Escondido lives up to its name – the hidden port.
Of course, that's the way the locals (at least those not in business) like it. Also, frequent visitors, like myself, aren't pushing for an increase in the high-rise condo crowd or rich visitors that all-inclusive resorts draw. We don't want our beach town on cruise ship maps. The eclectic mix of tattooed fishermen, aging flower people, dropouts from corporate boardrooms, and disenchanted nine-to-five'ers suit us just fine, thank you.
Even Gina in the tourist information kiosk agrees. As Puerto Escondido's most prominent promoter of tourism, she likes to share behind-the-scenes stories about the town, its people and history. On guided walks she conducts on Wednesdays and Saturdays, Gina will lead you into the inner town, to an herb shop, a tortilla maker, a tamale kitchen, and the farmer's market. Along the way, she'll point out landmarks and tell you about native flowers, fruits and trees.
She's somewhat miffed by the fact that visitors think Puerto is a new place, which took root and sprouted in the 1920s, when owners of coffee plantations needed a port for export. Cutting their way with machetes, they hauled their coffee beans to town on burros and loaded them on boats. Although that's true about how modern Puerto Escondido began, Gina points out that people have been living here for thousands of years. Although miniscule, compared to Monte Alban and Mitla, recently unearthed ruins prove that ancient peoples called this crescent-shaped cove home.
While Navidad traditions weren't as numerous or grand as in the city of Oaxaca, there were various files, fiestas and fireworks throughout the month. My favorite occurred on December 18. At about 3 p.m., a parade of the faithful exited the main church, accompanied by a band.
They carried the statue of the Virgin of La Soledad (the state's patron saint) through the streets down to the harbor. Here, amid a crowd of tourists, residents, and parishioners, this life-size statue was placed on a decorated fishing boat, headed out to sea to bless the fish. Dozens of other small boats, festooned with banners and flowers, followed, demonstrating the importance of the sea and fishing to Puerto Escondido. This Salida al Mar, unique on the Pacific Coast, lasted about an hour, with ceremony and prayers held afterwards on a platform in the new commercial area at the north end of Playa Principal. This new harbor project was under construction — the future site of boating activity. Upon completion, lanchas and fishing boats from Playa Principal will move here.
On December 12, Guadalupe Day, children dressed in Juan Diego costumes, complete with mustaches, paraded to the church.
Spending a leisurely month in Puerto Escondido gave me a chance to discover new places to eat and drink. My favorite beach is still Playa Carizzalillo at the north end of the shoreline and I believe fish grilled on open fires in the palapas in this sheltered cove tastes better than anywhere in the world. At the other end of town, at the far end of the road along Playa Zicatela, Rafaela serves chili-flavored lobster on shaded beachfront tables. Any time of day, you're bound to find a friendly mix of locals and tourists in her open-air restaurant/campsite.
Although I didn't eat there, I met a tourist who claims Steve, owner of Hotel Ben-Zaa, is the best cook in town. In contrast to Rafaela's funky place and Steve and Maria's homey backyard grill, several large, modern hotels and restaurants have sprung up, especially along Playa Zicatela. New palapas serving food, music and touristy times have replaced vagabond vans of yesteryear. The surfers are still here and the surf's almost always up, but the area has been spiffed up with tendered landscaping and new eateries.
For Happy Hour, watch the sunset from the upstairs bar at hotel Arco Iris. Two drinks for 20 pesos is hard to beat. Bananas is a good happy hour bet on the Adoquin. Along with your two drinks, you get spicy veggies, peanuts and popcorn. Happy Hour two-fers are served all day at the Wipe Out, high above the Adoquinuin. Late nighters drink and dance to live music at El Son y La Rumba and disco the night away at Tequila Sunrise. Next door upstairs, Blue Note, a new early hours bar features live jazz in a casual atmosphere, overlooking the ocean. Charly and Carolina cater to locals and tourists who don't want to wait until 10 or 11 at night to start partying. Live music, ocean breezes, snacks, and board games are the high notes of Blue Note, Puerto's newest place to be.
Most of the hotels were fully occupied between Christmas and New Year's, which didn't affect me, since I had rented an apartment for the month. Good sleep bets include:
Hotel Ines on Zicatela, where you can choose from hammocks ($10 a night) to deluxe suites ($70). Pool, sauna, game room.
Web site: https://www.hotel-ines.com
Tel/Fax (019) 5820792.
El Rincon del Pacifico hotel remains popular as the in-town moderately priced choice. Tel/Fax: (019) 582-0101 For those who prefer quieter quarters with lush landscaping, pool, and restaurant, I suggest its companion hotel, the Barlovento–a bit off-the-beaten track but not far from the Adoquin. Both are about $30.00 US for a double.
Email: [email protected]
Tel/Fax (019) 5820220.
Backpackers and budget travelers love The Mayflower, in the heart of Adoquin activity, offering dormitories and also private rooms. Social life centers in the new, spacious, breezy rooftop bar, featuring pizza. Happy Hour 6 to 10.
Tel: (019) 58-20367
Campers can sack out right on the beach at Roberto's Trailer Park Palmas de Cortes.
Tel (019) 58-22917 Fax (019) 58-20209.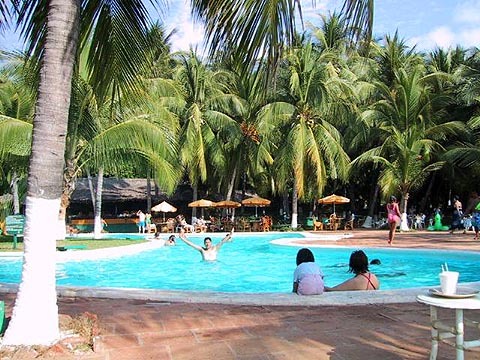 My favorite daytime poolside place is Coco's Beach Club in the Hotel Posada Real in Bacocho, a $3 taxi ride from town. The 25-peso admission is waived when you buy food and drink. Rooms here, as in most hotels in Puerto Escondido, come with highseason/low-season price tags. Figure around $60 to $75 high.
Tel: (019) 58-20237.
The Santa Fe remains the deluxe close-to-town hotel with all amenities.
The Romantic Santa Fe hotel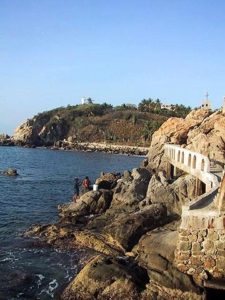 New owners of Flor de Maria seem eager to please. Rates for a double range from $35 to $40.
They have email. [email protected] Phone: (019)58-20536.
Hotel Ben-Zaa's no-frill rooms, with rooftop pool and terrific view, is a good value at $30 high season. The smell of Steve's cooking draws guests to the open-air restaurant at sunset.
Tel: 958-20523 Fax 958 -20572.
---
Published or Updated on: September 15, 2007