Photo gallery: Evoking the ancient Maya: murals by Otoniel Baruck Sala
To conjure the world of the ancient Maya, all Otoniel Baruck Sala needs is a paintbrush and his imagination. This 31-year-old artist has spent more than half his life living on the Yucatán Peninsula, where his mind has long been steeped in Maya culture.
"Since I was young, the Maya culture and civilization have always attracted my attention," says Sala, who currently resides in Cancún, Quintana Roo. "I have memories from when I was a young boy of going on excursions with my parents and siblings to different archeological zones. And on the outskirts of where we lived, there were vestiges of ruins that had not yet been explored."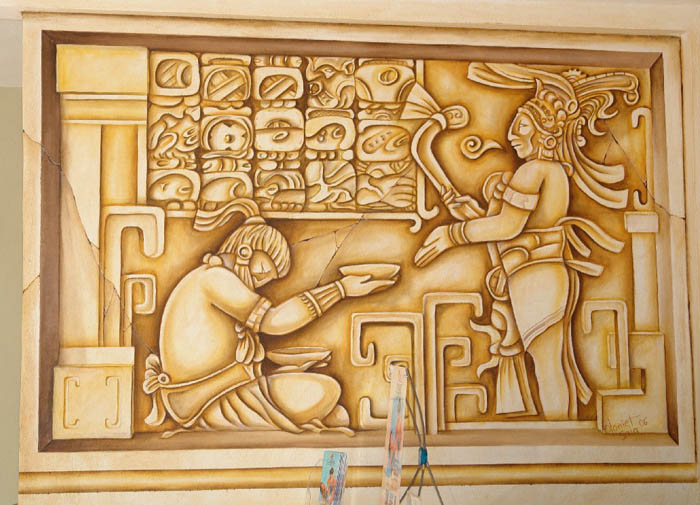 This early exposure to the Maya culture prompted Sala to dig deeper into the history of this civilization, as he recalls. "Little by little, I began studying about that culture and it started appearing more frequently in my artistic themes."
This same thirst for knowledge has helped Sala develop as an artist, since he is largely self-taught in his profession. Having been painting since he was a toddler, Sala has always been drawn to art, although he has never formally studied it. Among his earliest influences were his two uncles – one on his father's side and one on his mother's side – who are both artists. In fact, some of Sala's earliest memories of art involve observing one of his uncles painting or drawing.
And although Sala's parents could not afford to send him to art school, they did buy him books, paints and brushes. They also sent him to learn from whoever was willing to teach him the basics of painting.
"I remember that when I was around nine or eleven years old, I was working with a man who painted clay plates with scenes of Maya motifs," Sala recalls. Thus, the young artist began practicing with a paper and pencil everyday, everyplace that he could.
Over the years, Sala remained committed to his art, but kept a day job for the security that a stable paycheck provides. That is, until the day six years ago when he decided to pursue his passion full-time and carve an artistic career out of his talent for painting.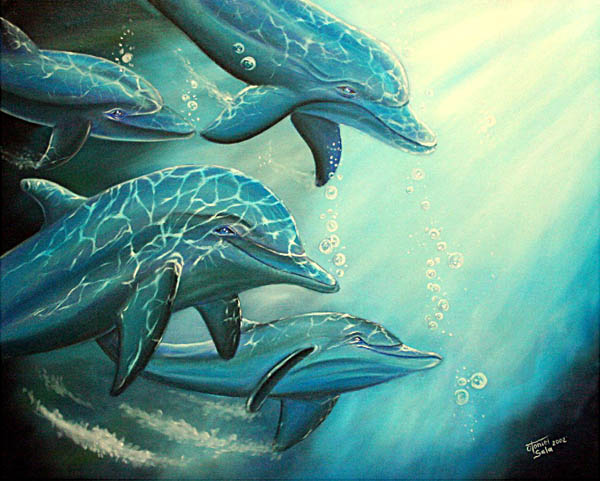 "One day, I left my job and a steady salary for my true dream," Sala recounts. It was not easy for the artist in the beginning, but through his efforts and focus, he started to build a name for himself. The process continues to this day, as the artist notes. "Day by day, I am always learning something new," he says.
Sala has transformed this knowledge, along with his imagination, into painted illusions that are infused with Maya culture. These murals fit in well with the Maya-themed resorts that dot the Yucatán Peninsula, as evidenced by the various hotels that are decorated with Sala's work. Among them are the Hacienda Vista Real Resort & Spa in Playa del Carmen and the Hotel Xbalamqué Resort & Spa in Cancún.
Entering into the lobby and wandering through the main hallway of the Xbalamqué is like being transported into an alternative realm – one in which the ancient Maya civilization is still flourishing in all its glory. Thanks to the skillful brushstrokes of Sala and collaborator Ricardo Almeida (who headed up the project), the hotel's formerly plain white walls and ceiling have metamorphosed into an ornate and dramatic interior that gives one the sense of walking through a Maya ruin as it would have looked at the height of this civilization.
These Maya-themed murals, which fuse shards of this ancient culture with elements of fantasy, are the current focus of Sala's artistic work. "I try to unite these two subjects to create that world, which is part reality/history/mysticism and part fantasy/hyperrealism," the artist notes.
Sala bases his work on real Maya images that have been uncovered in archeological sites throughout the Yucatán Peninsula. But once his imagination begins playing with these concepts, they are transmuted into something that becomes entirely the artist's own.
For example, Sala's mural Bin Kiin (Dusk) that he created for the Carmen Inn hotel in Playa del Carmen depicts a Maya priest performing a ritual at sundown. And although the scene is based on texts and images that the artist researched, it was envisioned by Sala alone. "That work is clearly fantasy," says the artist. But as he points out, it also contains a certain element of reality, since a scene like this one could have actually taken place in ancient times.
Murals like Bin Kiin have occupied Sala's artistic energies for the past six years, as he finds their large-scale format appealing. "Having a bigger space, you can put more out there and give greater detail to the theme that is being realized," the artist says.
The creation process can take anywhere from three days to more than four months for Sala, depending on the size and complexity of the mural. First, the artist comes up with an idea and then captures it on paper. The next step is transferring the concept to the wall or area where Sala has chosen to work. Finally, the painting process begins, with primarily acrylic, oil and mineral paints used in the creation of the murals.
Once finished, Sala's murals become an enduring part of the buildings on whose walls they appear. "The work that is realized remains permanently displayed and mostly in public places," Sala notes. Thus, with each new mural commission that Sala receives, the potential to reach a wider audience grows.
That audience grew exponentially this past August, when Sala was chosen to participate in the Delfín Es Arte (Dolphin is Art) exhibit that is currently on tour in Cancún. Comprised of 40 fiberglass dolphin sculptures that have been painted by several dozen artists, the show will be traveling around Cancún until late 2007. Sala received special notoriety when he was selected by the exhibit's official sponsor, Dolphinus, to paint its dolphin for the show. Sala's winning design is characteristic of his signature style, as Maya symbols have been reimagined to form the very skin of the dolphin that leaps out from a frothy blue wave.
"The dolphin represents everything that is the Mexican Caribbean and the Maya culture," Sala says. It is called Luum Ha, which means earth/water. So the element of water that is the Caribbean is combined with the earth, which is the peninsula and the Maya culture."
A fantastical creature, this Maya-inspired dolphin seems to have sprung forth straight from the artist's dreams. It is exactly this union of the real with the unreal that is at the heart of Sala's work. "It is what I am looking for everyday, in order to unite my fantasies with the culture that surrounds me," the artist explains.
For Sala, art gives him the satisfaction of creating something with his hands and through his dreams that would not otherwise exist outside his imagination. As he points out, "the mind is the place where we have total freedom to create what we want, and what better way (to express it) than through paint?"
Published or Updated on: March 1, 2007