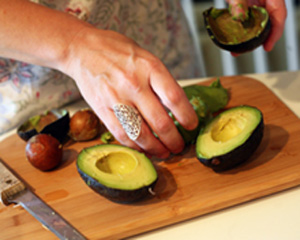 The mousse may be made in a six-cup ring mold or individual molds. It is frequently served in Mexico with camarón pacotillo – small cooked cocktail shrimp – in the center of the ring or as a garnish on individual molds.
Ingredients:
2 envelopes unflavored gelatin
1 ½ cups chicken or shrimp broth
1 tablespoon freshly squeezed lime juice
1/3 cup finely chopped green onion or scallion
1 fresh roma or plum tomato, peeled, seeded and chopped
1 serrano chile, seeded and chopped
½ tablespoon finely chopped cilantro
2 large, soft avocados, or enough to make 2 cups puree
1 ½ teaspoons salt, or to taste
1 ½ cups heavy cream, whipped
1 pound small, cooked shrimp (optional)
Preparation:
In a small saucepan, sprinkle the gelatin on the broth and heat until dissolved. Remove from the heat and add the lime juice, green onion, tomato, serrano chile and cilantro. Place in refrigerator until the mixture is cool but not set.
Mash the avocados with a fork until they form a smooth puree. Add the avocados and salt to the gelatin mixture, stirring to combine, then fold in the whipped cream. Pour the mixture into a non-stick or lightly greased ring mold or individual molds. Chill until set. Before serving, garnish with shrimp if desired.
Serves 6 as a first course.
Published or Updated on: February 1, 2005