Photo Gallery: Dr. Atl and the revolution in Mexico's Art
At the start of the Mexican Revolution (1910) painting in Mexico had reached an all-time low. The then President, Porfirio Diaz had been in power for more than 30 years and in the words of famous American art critic, Mackinley Helm, "nowhere else in the world, not even in Victorian England, had bad taste in art and decoration been ever so carefully nurtured as in Mexico during the dictatorship of Porfirio Diaz". Few signs if any had been shown by 1910 of the far- reaching revolution in Mexican art which came to include such figures as Diego Rivera, Jose Clemente Orozco and David Alfaro Siqueiros, the three greatest of Mexico's world-renowned muralists. One of the key figures in this artistic revolution which more or less coincided in time with the country's political revolution was Dr. Atl, born in Guadalajara.
CHANGED NAME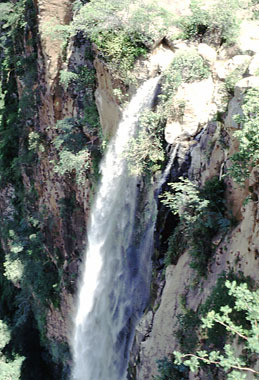 Atl (christened Gerardo Murillo) even changed his name in his search for a genuinely Mexican identity. Born in 1875, he studied in the Guadalajara Boys High School, then located in the building presently occupied by the city's Regional Museum. This building is in Liceo street, the name of which recalls the former Boys School. After studying briefly in the Fine Arts Academy of Mexico City, Atl went to Europe. This trip was made possible in part by a gift of 1000 dollars from President Diaz himself, to whom Atl had been introduced in 1896. During his stay in Europe, Atl, among other achievements, walked from Rome to Paris and later from Paris to Madrid, won a silver medal in the Salon de Paris for a self-portrait and was profoundly influenced by the impressionist and Post-impressionist movements then in vogue in Europe. Art in Mexico at the time was almost exclusively limited to imitations of Old Masters, especially of their religious themes. Creativity was stifled.
Atl returned to Mexico, to Guadalajara, in 1903 full of anti-academic sentiments and convinced that Mexican art needed a revolution. He held a surprisingly successful exhibition in Tlaquepaque and another larger one in the garden of San Francisco church in downtown Guadalajara. His revolutionary beliefs did not however endear him to calm, provincial Tapatios and he soon moved back to Mexico City where he became great friends of Joaquin Clausell, later to become Mexico's best known Impressionist painter. At the same time, Atl became infatuated with Clausell's 14 year old niece who, probably fortunately, never reciprocated this feeling!
THE FIRST MODERN MURAL
In 1910, only months before the Mexican Revolution began, Atl painted the first modern mural in Mexico – scenes of female nudes – using Atlcolor, a substance he himself had invented for use on a wide variety of surfaces including plaster, fabric and board. Atlcolors are still manufactured today and enjoy widespread popularity for the relative ease with which they can be used. After another trip to Europe, Atl returned to Mexico only days before the outbreak of the First World War.
His return to the political confusion that followed the deposing of President Diaz, now always referred to as the Mexican Revolution, was on the side of Carranza, an underdog in the power struggle at that time. Atl arrived in the uniform of an Italian Air Force Officer, calling himself Gregorio Stello. When then tide turned and Carranza assumed power, Atl was made Director of the Fine Arts Academy, an institution which he promptly closed! He founded various pro-Carranza newspapers, on one of which both Siqueiros and Orozco worked. During the Revolution, Atl had several very narrow escapes from death, short periods of imprisonment and in general led a full and adventurous life!
VOLCANIC ROMANCE AND PARICUTÍN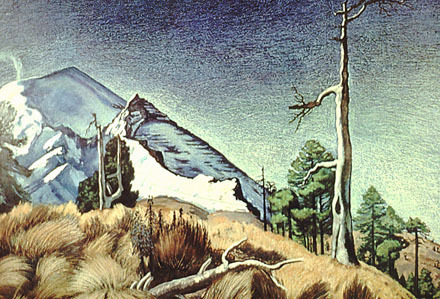 By 1921, Atl, busy painting murals, writing a landmark book about Mexican Popular Art, in which Tonala ceramics received great acclaim, had begun a wild, passionate but short-lived romance with Carmen Mondragon (otherwise known as Nahui Olin), an intense relationship punctuated by violent incidents and outbursts. Even Atl eventually conceded that Nahui Olin, in reality a nymphomaniac, was amongst other things, a "green-eyed serpent".
Atl's contribution to the Mexican art revolution had already been considerable; he had encouraged, aided and in several cases taught many major artists of the next generation including Orozco, Siqueiros, Clausell, Zaraga, Galvan and others, including a then unknown Diego Rivera. Atl had pressured his wealthier friends to buy all the works of a Rivera exhibition held to fund Rivera's first trip to Europe. He had invented Atlcolors, painted several murals, though none have stood the test of time, overseen the rebirth of mural art in Mexico, helped in the transformation of art education throughout the country and made respectable the popular art forms of Mexico such as toys and handicrafts.
The eruption of the Paricutín volcano in 1943 gave Atl the opportunity to live on its ever changing slopes for a year and paint, draw and write to his heart's content. His landscapes took on a distinctive look, much imitated since but never seen before, characterized by bold, heavy lines, simple forms, stark colours and undeniably Mexican in style. Late in his life, with the aid of borrowed Pemex helicopters, Atl pioneered another entirely new school of landscape painting, the "aerial" landscapes, painting vast tracts of Central Mexico as though seen from an aeroplane.
MATERNITY HOSPITAL
The statue of Atl in the Illustrious Men Park, the small plaza in front of the Regional Museum in Guadalajara, to one side of the Cathedral, shows Atl at this late stage of his life, bearded distinguished and with only one leg. His right leg was amputated in 1949 as a result of circulation problems and in a maternity hospital of all places. In his own words, "I thought I was going to have a baby, but no, they cut off my leg and I left the hospital without a baby and without a leg". His friends attributed his problems to his habit of not changing his shoes or socks for months on end, but the truth is probably that hereditary circulation problems were compounded by exposure to the heat and fumes of Paricutín volcano.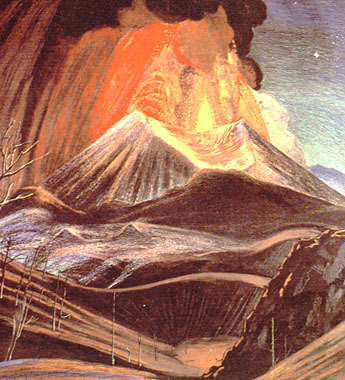 A larger than life character, even the leg amputation didn't slow him down. Continuing to explore the countryside on mules, he wrote hundreds of pamphlets and continued to pursue his eventually fruitless dream of a super-city for the intellectual and artistic elite. One of several sites earmarked for this project was in the Oblatos Canyon, to the north of his native Guadalajara and today a small beautifully kept park offering an awe-inspiring view of the Horsetail Waterfall, which Atl had drawn and painted, has been established in his honour.
Atl died in 1964 after 89 years full of intrigue, interest, scandal, notoriety, adventure and eccentricity, and in the middle of a self-imposed programme to learn Chinese. Atl's most viewed design is undoubtedly the Tiffany-made glass curtain of the Bellas Artes opera house in Mexico City. No single artist influenced in quite so many different ways the Mexican art revolution of this century and to quote Rivera, Atl "was one of the most curious people ever born on the entire American continent".
This article is the basis for Chapter 24 in the author's Mexican Kaleidoscope: myths, mysteries and mystique (Sombrero Books, 2016).
Published or Updated on: September 1, 1998