Visitors – even those who come regularly – will always find something they haven't seen before by taking long strolls in Guadalajara's mansion area. Hungry? That's where the best restaurants are.
Blossoming out in bright yellows, whites, greens and even a few blues, the area sparkles monthly with recent changes. Old homes suddenly become visible in places where the public forgot there was anything but dingy, somewhat dilapidated structures better not to be looked at closely.
The area is a half-mile square and is in the vicinity of the U.S. Consulate. But more than just being an area of historical preservation, it s an area of important architecture that the city is determined to preserve. There are 2000 touch-at-your-peril structures that PRODEUR – the city agency in charge – has put on their list of "must preserve" in this relatively small area.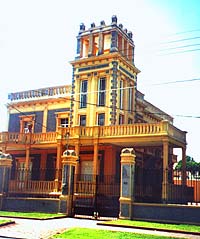 Rich merchants built "porfiriate" and "afrancesada" – frenchified – mansions here in the 1800's. Later, Rafael Urzua did a few magnificent works in Art Deco, then slipped off to live in a pueblo where customers didn't try to tell him how to design. Diaz Morales, who gave downtown a complete make over in the 50s, designed here. Some fifteen major architectural styles can be identified in the area and in the 50s movie stars from Mexico City bought houses here.
But the greatest of modern Mexican architects, Luis Barragan, also started here with the Gonzalez Luna home in 1928 – which is now under careful restoration. Barragan did about eight homes in this area before moving on to work internationally.
Composed of architects, historians and urban planners, PRODEUR has slowly gained the confidence of the public and the business community. Those who have complied with PRODEUR S requirements in restoring their properties have seen their investments prosper. The area every day takes on more of its original charm. Some owners become so enthusiastic about their properties they repair more than PRODEUR requires. And there are businesses which have spent a small fortune in rehabilitations and then have not even put out an advertising sign.
Owners are always responsible for their properties. If an owner rents to a scofflaw who violates PRODEUR's dictates and later vanishes, the owner must pay restoration costs. PRODEUR rules supreme in this area. It will dictate the choice of colors and all repairs, major or minor. It will dictate the type of tenant, be it family, or business. Rarely do they permit more than one occupant to a structure. A property wrapped with a long yellow ribbon of the type police use to cordon off a crime scene means that the owner has not followed PRODEUR s wishes and has had to halt his constructions or repairs.
Twenty, at least, of Guadalajara s finest restaurants have made the area their home; it is "the" place to dine. There are fashion shops and hair dressers. However, most of the area is so quietly commercial that pedestrians get the impression that it s still completely residential.
I live in this area in one of the few apartment buildings that were built in the pre-PRODEUR days. The population density is lower here than in many parts of what I call the "suburbs" to the west and southwest of me and there s many more big trees to enjoy. To walk downtown I have to pass these fine mansions and thus get another chance to admire them. It's not the worst place to live.
Published or Updated on: October 9, 2008