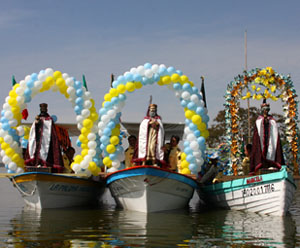 In Mexico, Christmas decorations stay up though January 6. The holiday celebrates Epiphany, when the Three Kings or Wise Men visited the baby Jesus with precious gifts of gold, frankincense and myrrh. El Día de los Santos Reyes is celebrated throughout Mexico. Yet nowhere is Three Kings Day more festive than in Cajititlan de Los Reyes, just 6.2 miles from Ajijic, Jalisco off the airport road.
Epiphany is when gifts are received. The night before, families enjoy a special bread known as Rosca de Reyes — Three Kings Bread. Inside the bread there are tiny dolls that represent baby Jesus. The person who gets a doll in his or her piece of bread a is considered a godparent to the child and must pay for tamales for everyone sharing the rosca on Candlemas, February 2. Children in traditional families leave a shoe under the Christmas tree or beside the nativity scene for the Three Kings who bring their presents while everyone is asleep.
Cajititlan and its Three Kings
Cajititlan is known for its lakshore charm and deeply held traditions. Here, celebrations begin on December 30 and culminate nine days later. The images of the Three Kings leave their home in the beautiful 18th century church around 10 a.m. Accompanied by authocthonous dancers, they are carried through the streets of the town in a colorful parade with musicians, floats, children wearing golden crowns and "kings" in velvet capes on horseback.
Upon arriving at the shore, each image has his own cheerfully-decorated motorboat. The Three Kings tour the lake to bless the waters and assure a good catch for fishermen in the upcoming year before they are returned to the parish church on the town plaza.
At 9 p.m., there is a traditional dance in the plaza and you can enjoy spectacular fireworks at 10:30 at night.
Due to the size of this charming town and the number of people attending, the procession isn't necessarily celebrated on January 6.
So much to do!
Religious processions take place throughout the nine days leading up to January 6, while daring riders mount bulls and charros show off their horsemanship skills in the Cayetano Rodriguez Plaza de Toros.
The malecón, or lakeside promenade has been recently remodeled, and informal restaurants along the shore serve up a variety of seafood, such as shrimp and prawns grilled on a skewer, fish fillets, cocktails and tostadas heaped with ceviche. Itinerant musicians serenade diners there.
This year, the parade and Three Kings boat ride take place on January 7 at 10 a.m. — get there early! Some 1,200,000 people are expected to visit over the ten days of festivities.
Published or Updated on: January 4, 2012