Being a typical Northern California paraholic, the winter season just drives me crazy! Sure there's a little bit of flying here and there but there are very few thermals to hook on to and more often than not the flight is a short sled ride…Not that I mind. "A sled ride is better than no ride" I always say. It's just that I want to thermal and soar and get low and climb out and follow a ridge and all those other things that make thermalling and cross country flying so fulfilling. I long for spring when the flying is good and you can thermal for hours on end. So, naturally, I look forward to going to Mexico mid winter to do some real flying.
I had been to Valle De Bravo once before and while the flying was consistently good, I grew a bit bored with the morning at El Pinon and the evening at La Torre. Talking with some other west coast pilots in November regarding Mexico flying, I became convinced that there might be some more exciting stuff further west in the Mexican State of Jalisco.
So, I made some calls and set up a trip for a small group to the Lake Chapala area. Lake Chapala is the largest lake in all of Mexico and is approximately 60 miles east-west and 15 or so north-south. There are numerous villages on its shores and the area is known for its mild climate due to its 5,200 feet MSL (Mean Sea Level). As such it boasts one of the largest expatriate populations in all of Mexico, mostly Americans and Canadians.
The physical geography of the area consists of typical Mexican high desert with scrub or pine forested mountain ranges and plateaus running in various directions as well as some volcanoes here and there boasting elevations of 15,000 feet MSL. The floors of the main valleys are between 4,500 and 5,500 and the ranges are typically 7,000 to 10,000. The lengths of the ranges varied considerably but most are well over 20 miles long. Needless to say, the combination provides for some interesting flying. .
We arrived January 29, at around 3:00 and were met at the airport by our driver, Russ, an American who has been living in Mexico for 30 years. Upon our sunset arrival at a very nice bed and breakfast in the town of Jocotepec, we looked up and saw a local pilot soaring the 1,500 AGL (Above Ground Level) mountain directly behind us!! It was late and starting to get dark so, after unknowingly providing us with 20 minutes of entertainment, he headed towards the lake to land on its shores. Being excited to see a pilot, we immediately drove after him to query him about his flight, conditions etc. Lo and behold, it was the local with whom I had been corresponding!! It turned out he had launched about an hour earlier, had climbed to 12,000 feet, flown downwind over the back, crossed a substantial valley and flown down another range to his present location, a flight of approximately 10-15 miles.
Not bad for an evening flight!!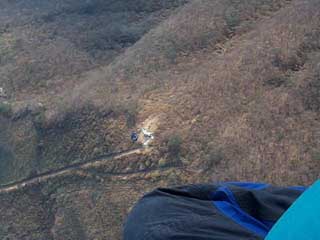 The next morning we headed up to the San Marcos despegue (launch) a drive of about 30 minutes, to have our first flight. San Marcos is a west facing launch so it usually doesn't work till late morning. The launch is near the northern end of a very big range that runs north-south, then turns east. Some of its southerly peaks are near 8,000 MSL but launch is at 6,200 MSL. Over the back, it's about 1,000 AGL, and in front it's about 2,000 AGL. When we arrived, there was a group of Seattle pilots on launch waiting for the cycles to start coming up the hill. Mondie Beier was the first to launch and she hooked a big one after 5 minutes of hunting and immediately took it to 11,500. Soon there were 10 or so wings in the air soaring about as people started climbing out and heading out. After about an hour or so it started really heating up and one pilot took two collapses in short order, got an unrecoverable cravatte and went into a spin. After losing about 3,000 feet spinning, and doing his best to stop the spin his laundry (parachute) came out and he landed safely. A couple of us went to retrieve the pilot as he sounded a bit shaken up. Quite a few pilots did some nice triangles and landed within walking distance of their hotel. The mid day flying certainly requires some experience.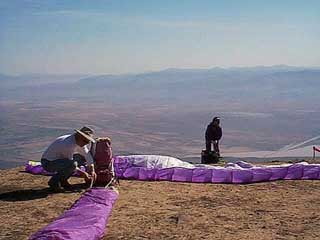 The next day, we drove one hour to the Tapalpa launch, the site of the 1998 Mexican Nationals. This is a beautiful launch on the edge of a 7,500 MSL pine forested plateau affording breathtaking views of Volcan de Colima (active volcano) as well as Nevado de Colima (inactive and flyable) and a huge partially irrigated 40 mile long valley. This site is about 2,500 AGL and faces east. Again, great flying was had by all, although this day no great elevation gains were to be had and only a few short xc's (Cross-country) were obtained. After flying at this site we went to San Marcos for an evening "glass off" with Paul Shenton and Chris Reid flying over the back for a few miles, a first for both.
SAN MARCOS RIDGE
The following day we decided to try to locate another site, the Jocotepec launch, but after much driving and talking to local residents we failed. So we flew a glass off at San Marcos to 10,000 feet over the back and across the valley towards Jocotepec. Reportedly this day was spectacular at Tapalpa with cloudbase at 15,000 MSL. and pilots scattered all over the countryside – one flying over 35 miles to the town of Chapala. This day turned out to be one of the better days as it became inverted for a day or two. Thursday we had an early morning sled ride from Tapalpa. We wanted to visit the town of Amacueca so we didn't go back up the hill. After a bit of looking at sites, we went to San Marcos where it was light over the back. So a late afternoon, high altitude, downwind launch got me airborne but I was unable to catch any of the light lift and proceeded promptly to the LZ (Landing Zone). When we got back to Jocotepec, there were a couple of the Seattle group enjoying cold beers on the Plaza. They reported that they had just flown in from Tapalpa!! We all kicked ourselves for not going back up for a second flight that morning!!.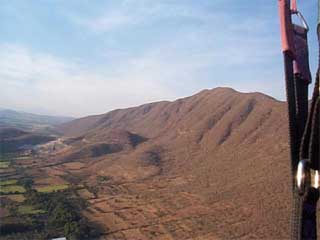 In retrospect, this area is a wonderful flying destination. The winter flying is great and provides for many options for pilots at all levels of experience. Nice morning and evening flights for the less experienced pilots and strong thermal flying for those so inclined. There are five plus sites within a few hours drive and, according to locals, it is consistently flyable in the winter. The locals are very helpful and friendly, the food is inexpensive and delicious, the lodging is clean and the scenery is beautiful. The most our group spent on a dinner meal for five, including all the beer and tequila we could drink, was about $25.00 US!! We stayed at the Los Dos bed and breakfast in a very clean and spacious two bedroom suite with a full kitchen for next to nothing!
Since our flight out of Guadalajara Airport departed at 5:00 P.M., we spent our last day along the Independencia of Tlaquepaque shopping and eating excellent food to our hearts content and spending only a few dollars.
A few of my flying friends are in Mexico now for 10 days and I'm sure they are having a good time…I almost went with them but work would not permit it. I'm already thinking and planning next years trip though. Only this time, I'm going for at least a whole month!!! I'll see you there!
Published or Updated on: March 1, 1999