Photo gallery: Diego Rivera and Frida Kahlo at Frida Kahlo Museum
For an offbeat travel experience in the Mexico City area, consider a visit to the Museo Frida Kahlo in Coyoacan. Hidden behind high cobalt blue walls at the corner of Londres and Allende in this charming southwestern suburb, the museo is where the surrealist artist Frida Kahlo was born, grew up and later lived with her muralist husband Diego Rivera, from 1941 until her death at age 47 in 1954. Fascinating not only for the collections and personal effects of the two great artists it contains, the museum also affords a window on the lifestyles of affluent Mexican bohemians during the first half of this century.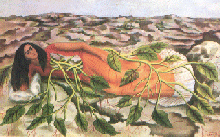 The colonial-style house, a.k.a. the Casa Azul, forms a U-shape around a verdant central courtyard. This cheerful space populated by pre-Columbian idols and luxuriant tropical plantings, is where Frida romped as a child and later as an adult worked on her paintings and held art classes for her "Los Fridos" students. Off the courtyard, the first room one enters is the formal living room, a place where the Riveras entertained their international and eclectic set of friends, including Sergei Eisenstein, Nelson Rockefeller, George Gershwin, the Russian emigre Leon Trotsky, caricaturist Miguel Covarrubias and actresses Dolores del Rio and Maria Felix. Now it's a gallery where some of Kahlo's paintings can be seen, including paintings of her family and her last work, Viva la Vida, a vibrant still life of watermelons.
Other rooms contain her colorful Tehuana costumes and pre-Columbian jewelry, her diary, masks, more idols, and giant papier-mache Judas figures, monsters traditionally filled with firecrackers and exploded on Sabado de Gloria, the Saturday before Easter. Also on display are paintings by Rivera, Paul Klee, Jose Maria Velasco and the couple's friends Marcel Duchamp and Yves Tanguy.
A strikingly handsome woman, the diminutive, dark-haired Frida was known to stop traffic in San Francisco, New York and Paris in her long fiestalike dresses. "Where's the circus?" children purportedly asked as they followed her down New York City streets. Frida maintained this affectation throughout her adult life, partly to please Rivera who liked seeing her in her native costumes, but also to hide a shorter right leg caused by childhood polio. Additionally, when she was 18 an horrific bus and streetcar accident left her with multiple spinal injuries, necessitating many operations. The physical pain she endured along with the traumas of her stormy 25-year marriage to Rivera are reflected in some of her paintings. A large black and white reproduction of "The Two Fridas," painted during the Riveras' short-lived divorce in 1939 (they remarried a year later) can be seen in the house. (The original is in the Museo de Arte Moderne in Chapultepec Park, Mexico City.)
The Casa's sparkling dining room and kitchen are pure Mexicanista. Its floors painted a bright insect-repellent yellow, the dining room sports papier-mache Judas skeletons hanging from its ceiling, a long yellow table and cutout yellow dressers holding ceramic animals and traditional green and brown Mexican dishes. Here luncheon guests might find themselves in the company of one or more household pets–Fulang Chang, a beloved spider monkey, or Bonito the parrot, who'd perform tricks at the table for rewards of pats of butter.
But it was the vibrant kitchen that was clearly Frida's bailiwick, for it was here that Rivera's daughter Lupe has recalled finding Frida when she and her sister Ruth came to live at the Casa Azul in 1942. In this prototypical Mexicanidad kitchen, huge earthenware pots stand guard on blue and yellow tiled countertops and walls are affixed with tiny clay pots spelling the names "Frida" and "Diego" next to a pair of doves tying a lover's knot.
Conveniently for the 300-lb. Rivera, who possessed a gargantuan appetite, the master bedroom was located off the dining room. His hat, jacket and work clothes still hang from a wall rack. Upstairs in a separate wing Rivera later built for Frida are her bedroom, a library, and her studio. A painted plaster corset she was forced to wear to support her deteriorating spine presides over her bed, and under the canopy is a mirror which enabled her to paint her many self portraits.
Above the headboard is a painting of a dead child (Frida was unable to bear children) and at the foot of the bed a photo assemblage of Stalin, Lenin, Marx, Engels and Mao (both Riveras flirted with communism). Always the sentimentalist, and fearful that she just might not be remembered, Frida's embroidered pillow reads, "Do not forget me, my love." In her airy studio overlooking the garden, her wheelchair is drawn up to an unfinished sketch of Stalin at an easel purportedly given her by Nelson Rockefeller.
One of the most whimsical touches at the Casa Azul is a small pink stepped pyramid Rivera built in the garden displaying more pre-Columbian idols. At Frida's death in 1954, he gave the Casa Azul and its contents to the Mexican people; it opened as a museum four years later. Closed for a time in the early 1990s, the Casa reopened in 1993 with the addition of a gift-tea shop at the back of the property.
Little known beyond the art world until about 10 years ago, Frida has in recent years become a cult icon. In fact, an entire cottage industry has grown up around her–one can now find her penetrating image on coffee mugs, tee shirts, playing cards, key chains and computer mousepads, in addition to the post cards and posters. Her paintings presently command the highest prices of any artist, living or dead, in this hemisphere–the last major sale of one of her works was in 1995 when her 1942 "Self-Portrait with Monkey and Parrot" sold at Sotheby's for $3.2 million.
There have been numerous publications on Frida, and she has been the subject of at least three documentaries and one feature film. Madonna, an avid Frida Kahlo collector, still promises her Frida film, as does La Bamba director Luis Valdez. But the Hollywood rumormill has it that Mexican actress Salma Hayeck's Trimark production in which she will star as Frida is more of a sure thing. Frida speaks to many people–the physically handicapped, indigenous peoples, Chicanos, feminists, leftists.
The Frida Kahlo Museum, at 247 Londres, at Allende in Coyoacan, is open Tues. through Sun. from 10-6; admission is $2 (phone: 525-658-8732). The best way to reach the Casa is to take a cab or drive from downtown Mexico City; or take Metro line 3 to the Coyoacan Viveros stop, from which you can take a cab or pesero bus, or walk to the museum.
Two other fascinating, related museums worth visiting are the bunkerlike Leon Trotsky Museum, two blocks away at 410 Churubusco, where the Trotskys lived in exile and he was assassinated in 1940 (Frida is said to have had a liaison with Trotsky); and the Diego Rivera Studio Museum in adjoining Juan O'Gorman-designed cubistic houses where the Riveras lived in the 1930s (Diego Rivera at Altavista, across the street from the San Angel Inn restaurant) in neighboring San Angel.
You will probably also want to visit the new Dolores Olmedo Museum at Hacienda La Noria (5843 Av. Mexico) in the Xochimilco district of the city. This sprawling museum-house set among verdant grounds in a 16th century monastery, contains Olmedo's private collection of 25 Kahlo paintings, including "Luther Burbank," "The Broken Column," and "Henry Ford Hospital." Also on view are her collection of 137 works by Rivera and an extensive folk art collection.
Rivera's wonderful murals, featuring Frida and himself, their friends and various members of their families can be viewed at Mexico City's National Palace, the Secretariat of Public Education, the Museo de la Alameda, and the Palace of Fine Arts.
For background on Frida Kahlo, read:
"Frida: A Biography of Frida Kahlo" (Harper & Row, 1983) and
"Frida Kahlo: The Paintings" (HarperCollins, 1991), both by Hayden Herrera.
Another excellent source is "Frida's Fiestas: Recipes and Reminiscences of Life with Frida Kahlo" by Guadalupe Rivera and Marie-Pierre Colle (Clarkson Potter, 1994).
(All available from Amazon Books)
Other recommended readings:
The Diary of Frida Kahlo : An Intimate Self-Portrait
by Carlos Fuentes, Sarah M. Lowe
Abradale Press; 1998
Available from Amazon Books: Hardcover
Frida Kahlo : The Camera Seduced
By Elena Poniatowska, Carla Stellweg
Chronicle Books; 1992
Available from Amazon Books: Hardcover

Frida Kahlo
by Robyn Montana Turner
Little Brown and Company; 1993
Available from Amazon Books: Hardcover
Related
See all other Frida Kahlo related content on MexConnect.
Published or Updated on: August 1, 1998