Traditional Food Festival in Morelia
Run, don't walk to the next Michoacan Traditional Food Festival (Cocineras Tradicionales) at the Convention Center in Morelia. The entrance is a stairway to heaven and you are about to eat food fit for gods and goddesses.
The name "Traditional" only partially describes the Festival because it is traditional woman, in traditional clothing, cooking traditional recipes, with traditional utensils. However, in many ways, it is more cutting-edge than traditional. The word SPECTACULAR should be somewhere in the title.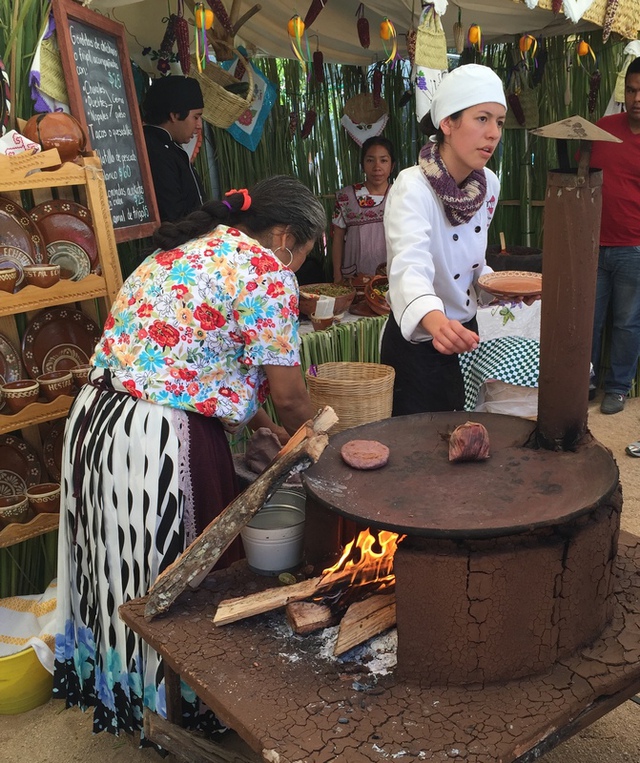 The cocina booths proudly displayed the name of each cook and the village where she lives. Mexican food blogger Cristina Potters commented, "Not one of the fifty participating traditional cooks is a chef – they are proud of their humbler (and at the same time more exalted) status, Cocineras tradicionales."
Each booth had a list of the five or so dishes offered and the price. I was honored to watch the cooking of Benedicta Alejo Vargas, from San Lorenzo, the Maestra Cocinera del mundo. She cooked for the Pope on his recent visit to Mexico, which is nearly cooking for the gods.
There are several booths to purchase tickets for the food. Buy as many as you can, since they gladly offer refunds for tickets not used.
The entire event was a sensory overload. The color of the food was candy for the eyes. Not only were blue corn tortillas served everywhere, but several booths had woman grinding and cooking tri-colored tortillas, using white, blue and yellow corn. The aromas were intoxicating from the roasted lamb, seared bistec, steamed corundas, fried charale fish, bubbling atole, creamed champiñones, simmering pozole, molten mole, grilled gorditas and melted sugar on hot buñuelos.
Flavors ran the gamut from Mole Michoacano, to Caldo de Trucha, to Huitlacoche con Elote, to Uchepos con Crema y Salsa. Flavored Mezcal samples were abundant. Finally, the best sensory overload of all, the feeling of a full and satisfied tummy.
I entered this Food Fantasy with the intention of eating everything. Pack in the food; there always is room for one more bite. That didn't last long, but I gave it the good old college-try. These were my favorites:
Maestra Cocinera Esperanza from Zacán had the best corundas at the Festival. The Rellenas de Verdura were mixed with finely chopped vegetables, producing a confetti of colors and flavors. I had not been a fan of corundas, because if I wanted to eat dough, I would eat Ben and Jerry's Cookie Dough Ice-cream. But these were different. The masa was feverishly whipped into light, airy pillows of delight. The corundas were pulled steaming from a caldron, unwrapped from the green corn husks, covered with shredded cheese, drizzled with cream, and dolloped with guacamole. I was eating food for the gods.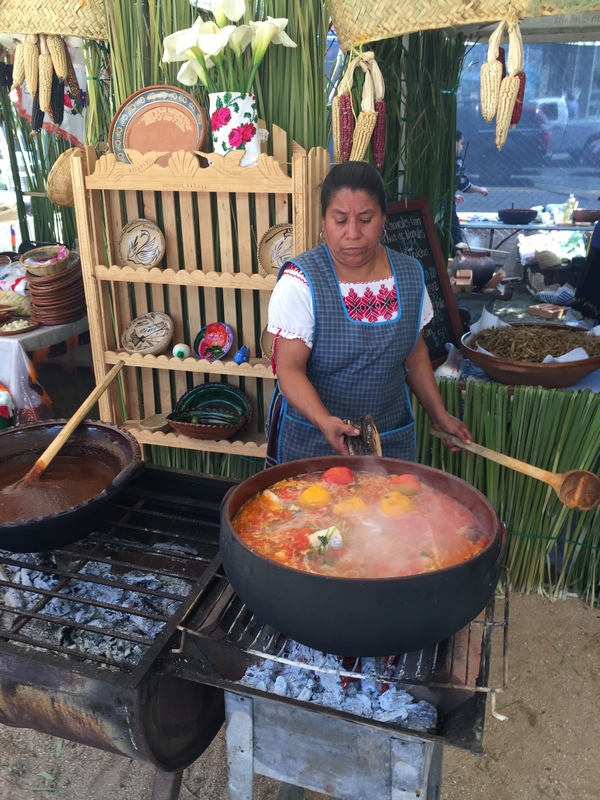 There were about eight of us at the table and we each had our own forks and taste buds. Sample bites were offered and we tasted every morsel others had found.
Suddenly, a friend from Canada returned to the table with Toquera con Minguiche from Apatzingan. You might want to think about going to this food booth first. I had neither seen, nor tasted anything like it before. The plate of three consisted of corn husks, covered with a layer of heaven and grilled. It was the "heaven" part we couldn't decipher. We are fairly sure it might have been a creamed polenta, mixed with cheese and grilled. At one point, I found myself eating part of the grilled corn husk, since the flavor had impregnated itself into everything. Yes, eat that first.
Each of our friends found many treats that pleased us. There were several Aguas Frescas booths and the hands-down favorite was alfalfa with lime. Don't ask questions, just drink it.
There was a little moaning in the group. One kept lamenting, "Where are the paletas? They are not here this year." There was no consoling him, until a friend screamed "ice cream! I've found them." Paletas Naturales from Urani are the dessert of the gods. Try the Macadamia first; then eat the Espresso paleta; next the guava; the next one is eater's choice. That's you!
Regrets! I've had a few! This time, it was the Caldo de Iguana, from Zitácuaro. I was tempted to take the 2-hour bus ride from Erongaricuaro to Morelia the next day, just to try this soup. I have heard iguana tastes like chicken. (That was a joke!)
Cocineras Tradicionales is the epitome of organization, presentation and efficiency. Food booths line both sides of the tent, with zillions of tables and chairs in the middle. All food is served on handmade, glazed, terra cotta plates. Grab your food and go to the center tables to eat with napkins and real utensils. No plastic here. When the plates are empty, cute attendants whisk away the eating debris and everything is spotless.
Stand up and go back for more. Eat until it hurts! You only regret the things you don't eat.
We waddled-out, having achieved nirvana. We had climbed the stairway to heaven and were happy puppies. The gods and goddesses were good and bestowed upon us their delicacies.
Next year, it will be your turn.
Buen Provecho!
Related post, with additional images:
Published or Updated on: May 18, 2015