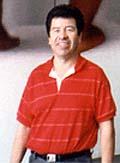 This month's cover proudly displays the work of Ajijic native, Javier Zaragoza. The Artist was discovered by Niell James, an author and pioneer in this area. She also was the founder of the LCS (Lake Chapala Society) and upon her death, willed her estate to the organization.
In those days, Ms. James would supply art materials to the interested, talented children. Then she would sell their works to foreigners, giving them all of the proceeds. Christmas cards were a peso then, a painting could go for up to 50 pesos. Javier tells me it was great money, as general workers had to put in eight hours of hard labor for 25 pesos. Zaragoza was only seven at the time, already knew he wanted to be an artist. By the age of 13, Ms. James had acquired a five-year scholarship for him at the Instituto in San Miguel de Allende. After two years, Javier decided to return to Lakeside, where he painted murals for the next three years.
The most memorable is a series of six 12 by 20-foot murals in the church located in the village of Ixtlahuacan. The subject is St. James, the town's patron saint. "Although I was young and my was art immature, I am still proud of that work. I did all the painting myself. It felt like I was Michaelangelo. Because my father was a fisherman, he was able to tie the special knots needed to keep the primitive scaffolding balanced. My biggest fear was dropping a bucket of that vinyl paint.
Never before or since, have I felt as inspired, my heart and soul went into every brushstroke. Looking back, I still don't know how I managed to work with that household paint, standing on those eight-inch boards!"
The murals still decorate the church in the nearby town, if anyone cares to have a peek. The other murals are no longer visible in Ajijic. One was in what was once a library at the six corners. Although the building is now a private home, the mural is still present near the entrance.
Off to the US at the age of 18, Zaragoza soon found out the streets were not paved in gold for a mural painter with no English, so he enrolled at the LA Technical College and then at the Pasadena Art Center. The training in commercial art resulted in two great jobs. Gannet Outdoor hired Javier to paint billboards and later at Warner Brothers he rendered backdrops and movie sets.
"I can paint anything big, a four-foot eye on a twenty-foot face, now am I learning to paint small. As soon as the computers were able to create billboard size drawings, it was no longer cost necessary to use artists."
In 1999, Zaragoza and his wife, Gloria returned to Ajijic for good. He vowed not to pick up a brush for at least eight months, because he was so discouraged with the job scene in California. After two months, he began to paint again, opening his gallery only nine months later in December of the same year.
"It's a dream come true. I do what I love and I love what I do."
"My painting now is about not just painting faces, but capturing an individual's expression or a personal gesture. There are so many things I want to try. I'm painting all the time, when I go for a walk or to a restaurant all I see is paintings. I think it's why God put me here."
Happiness and joy exudes from the man. He is thankful to return to his roots, his people and is ready to take on any challenge, "the harder the better".
"It is a privilege to paint every day. Although I have 40 years experience painting, I feel like a child in art, because I have so many crazy ideas to paint and can't wait to do them all.
Presently, there is a mural hanging over the gallery at Constitution #50 in Ajijic. It depicts a traditional, Jalisco fisherman. Zaragoza says he will replace the mural with a new one every six months. In addition, the Painter conducts art classes every Monday; arrangements can be made by calling 766-0573 (Home) or 766-2857 (Gallery). Javier also works as a volunteer at the Wilkes Center teaching art to children from 7 to 15.
"My wife helps and supports me no matter what I choose to do. To me, my wife is 95% of my life and the rest of the world is 5%. If she is with me, the 5% can't possibly hurt me, but if she is against me, the rest of the world doesn't matter."
Hey guys, how about that one!
This article appears courtesy of the Chapala Review, a monthly Newspaper published in Ajijic, Jalisco, Mexico. The focus is the Lake Chapala area. The goal is to provide quality information about the area, its stories, events, history, culture and people.
Published or Updated on: January 7, 2007