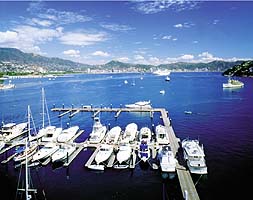 Acapulco is world-renowned for its lovely beaches and year-round sunshine. It is the most popular tourist resort on the west coast of Mexico. For sure, more celebrities visit this charming city than any other in Mexico. Its reputation is well deserved. But today, a first-time visitor to this Mexican "Jewel" might well pose the question, "Which Acapulco?" since it is apparent that the city is quietly dividing into two distinct entities.
The original Acapulco overlooks the "C" shaped bay, as viewed from Punta Diamante. It features a charming zocolo and malecon, surrounded by modern but quaint Mexican-style hotels, and is serviced by update discotheques and restaurants, many within walking distance. Along the way you will get a chance to meet the delightful Mexican residents whose ancestors started this town; their hospitality is unmatched anywhere.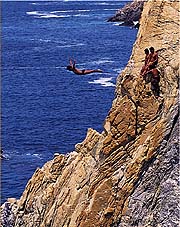 The new Acapulco is currently growing towards the airport starting at Punta Diamente towards Puerto Marques and all the way to the "La Barra Vieja" where the Papagayo River meets the Pacific Ocean and is close to one of the world's most exclusive Golf Clubs, Tres Vidas, where a single membership costs over 25,000 U.S. dollars. Nobody walks around here. Travel is by private or rental car, limousine or golf cart. This mountainous section is also Acapulco (no one pays any attention to the city limits, which end at Puerto Marques). Many jet-set visitors actually never see the charming Old Section of the city. They are content to spend their time in the sun at the luxurious hotels and clubs some miles from the city proper.
In my opinion, to know and understand the enduring charm and appeal of Acapulco as a whole, one must spend time there, and make sure one experiences everything she has to offer.
I arrived here fifty-eight years ago when this sleepy village of some 4,000 to 5,000 residents grew very slowly, because the hotelmen would not build more hotels until they were convinced that the transportation facilities could bring enough tourists to fill them. Conversely, the airlines would not fly to Acapulco unless it had the hotels to accommodate its passengers. Therefore, years went by without the two ever getting together. But that finally did happen, to the point that some six years ago the town became overbuilt. However, reservations booked for the winter seasons are making these huge investments worthwhile.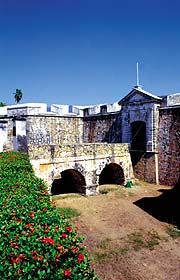 In the early years, Acapulco already had its hero in Apolonio Castillo, who every morning practiced his swimming at Caleta Beach, and so it became known as the Morning Beach; and later every afternoon, he would swim at Hornos beach and the town's people then called it, and still do, the Afternoon Beach. Apolonio became a national hero as he went on to the Olympics and won a Gold medal.
A big attraction is sail fishing; the smallest so far registered at 89 pounds while the heaviest weighed in at 201 pounds. Sailfish are so plentiful that some more enterprising boat captains will make a bet with the customer that if he doesn't catch a sailfish or a Marlin, he won't have to pay for the trip and the passenger invariably loses.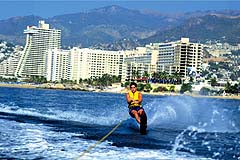 According to "Fishing and Hunting" magazine, there are more hunters in the world than fishermen and the hills of Acapulco are full of wild life: tigers, panthers, deer, rabbits, and ponds full of ducks. I once took movie star Gary Cooper hunting and in fifteen minutes he had fifteen ducks hanging around his neck. The same holds true for Maurice Stans of the Watergate Scandal. However this sport has never been promoted in Acapulco.
All attire, including that for formal occasions, is casual. Since the temperature is never lower than 78 degrees and never higher than 98 degrees all year around, wearing a necktie or jacket is very uncomfortable.
Six months a year – from November to April – luxury liners pull in daily, sometimes two at a time, such as the Queen Elizabeth II, the Rotterdam, all the Princess ships, Crystal Harmony and several other around-the-world cruise lines. Celebrities frequent Acapulco so often, no one pays attention to them — on one corner you might see Luis Miguel or at another, Placido Domingo, both Acapulco residents.
I recall many funny incidents during my almost 60 years of residence. I remember when the law required that women could wear only one-piece bathing suits. One day, I was sitting with John Wayne, Johnny Weissmuller, and Fred MacMurray, when a very beautiful girl named Dusty Miller peeled off her bathrobe on the beach to reveal a most gorgeous bikini. As the shore patrol approached her, Bö Roos, the stars´ business manager, looked at me and said, "You better get out there Mike and help Dusty with the authorities." When I got there, the policemen told me to explain to the lady that only one-piece bathing suits were allowed. I did so, and Dusty put on her beautiful smile and said, "Fine, which piece do I take off?" Since that day the bikini has been bienvenido.
Many of the one and a half million residents of modern Acapulco do not realize that the Aztecs also called the area "Acapulco," which meant "place of dense reeds" in their Nahuatl language. But it was an old place long before being discovered by the Aztecs. Recently discovered artifacts indicate some 2,500 years of human occupation. In 1528 Hernán Cortés, the Spanish conqueror of Mexico, occupied Acapulco for the purpose of building ships there with which to find a route to China. Eventually, many voyages of discovery set sail from Acapulco for Peru, the Gulf of California and to Asia, but none returned from across the Pacific until Father Andrés Urdanenta, in his ship loaded with Chinese treasures, reached Acapulco in 1565.
From 1565 on, for more than 200 years, a special yearly trading ship, the Manila Galleon (called by English and Dutch privateers the Black Ship), set sail from Acapulco to the Orient. Many a Manila Galleon limped into Acapulco with only half the original crew still alive …but what a fiesta followed! The return of the Manila Galleon sparked an annual merchant fair, swelling Acapulco's population with traders jostling to bargain for the shiny trove of silks, porcelain, ivory and lacquer ware.
These yearly treasures soon attracted marauders to Acapulco, so the Spaniards fortified their seacoast bastion. A Dutch fleet invaded Acapulco in 1615 and destroyed the Fort and much of the town, before being driven off. In 1617 the Spanish rebuilt their fort, which they christened Fuerte San Diego. Destroyed by an earthquake in 1776, the fort was rebuilt, and the massive five-pointed maze of moats, walls and battlements was completed in 1783. Fort San Diego still sits atop its bayside hill. Mexico's War of Independence (1819-21) stopped the Black Ship forever, sending Acapulco into a century-long slumber.
While it is certainly true that Acapulco was an ancient dowager, having experienced over four hundred years of "civilized" habitation by 1943, by modern standards she was still in the infant stage. Acapulco at that time had a population of only four or five thousand natives, and many still lived much as their forefathers had centuries earlier. It was time for a change. There were those who argued against it, but at least four people had the vision to see the place as a leading resort: Wolf Schoenborn (a real estate wizard who had the foresight to purchase vast amounts of local underdeveloped land); Al Polin (who divided his chicken coop into five rooms that eventually became the Las Americas Hotel); Carlos Barnard (who with his wife inaugurated the world-famous Hotel El Mirador at the site of the La Quebrada cliff divers); and my mother, Audrey (who started Acapulco's first English-language newspaper, the Acapulco News). As a result, Acapulco offers visitors two distinct ambiances, the original and the new. Together, they create The Sunniest Acapulco.
As a reporter for the Acapulco News for 40 years, and correspondent for UPI, I interviewed many hundreds of famous visitors to Acapulco. For those stories, you can order my book, "Mike Oliver's Acapulco." [email protected] and online at https://www.amazon.com, https://www.barnesandnoble.com, or https://www.reedwriting.com.
Reed Writing is pleased to announce the publication of a new book by Mike Oliver and William Reed, with assistance by W. Craig Reed. The book is titled: Mike Oliver´s Acapulco, and has just been released by iUniverse.
For you convenience and ease of ordering from iUniverse, click on the below address, which will take your directly to the ordering page for Mike Oliver´s Acapulco:
https://www.iuniverse.com/marketplace/bookstore/book_detail.asp?isbn=0%2D595%2D15892%2D7
OR: You can order this book from https://www.iuniverse.com under Bookstore. Simply type ACAPULCO in Book Search block and click Go.
Published or Updated on: January 1, 2001