Blue can be compelling as the neon flash of a bird's wing, or quiet as a cloud, but it is never unnerving, always drawing the viewer to relax and witness its timeless grace.
In music, blues are associated with longing, unfortunate choices, and heartbreak. Fortunately, the color blue often alludes to much more positive things – calmness, infinity, and peace. In the refuge of the garden, you can bring the tranquility of the sky and the sea to the space just outside the door, by simply introducing the color blue, whether in random splashes or in fields and sweeps of serene color.
So appealing is this prospect that, for years, gardeners and scientists alike have sought to increase the choices of blue-flowering plants. Particularly, the search for the perfect blue rose has been intense, and that treasure now seems within reach. While not yet commercially available, the world's first blue rose is just around the corner. Japanese and Australian scientists have been working to suppress the production of red, open the door to the production of blue and, by importing certain crucial elements from petunias, allow truly blue roses to blossom. It's been a long and frantic search, with gardeners, scientists, and plant enthusiasts from around the globe watching.
Why the widespread interest in blue roses? I believe it's a part of the larger search for viable blue garden specimens of all types, ones that will thrive in different climates and contribute their unique beauty and mood to the garden. Blue can be compelling as the neon flash of a bird's wing, or quiet as a cloud, but it is never unnerving, always drawing the viewer to relax and witness its timeless grace.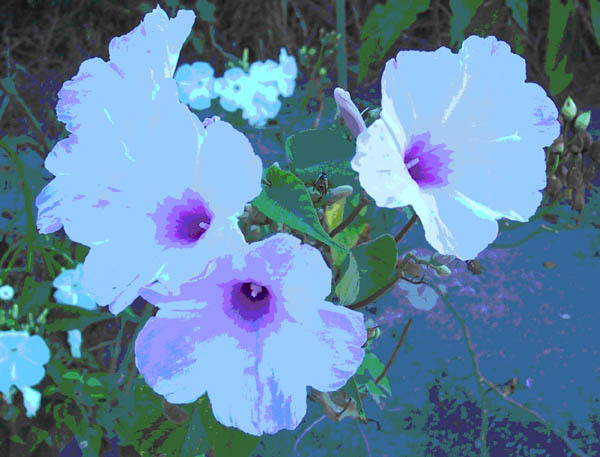 Fortunately, we don't have to wait for the blue rose to arrive at the neighborhood nursery. There are ample choices available now, many lovely specimens in blue tones from the quietest whisper to a startling streak, all for the planting. There are blue flowering trees, blue ground covers, and blues in every flower size and shape in between. Here is a sampling to consider as you think about filling your garden with the tranquility of blue. These are primarily subtropical and tropical specimens, but many thrive further north as well. In addition, there are temperate climate substitutes, annuals that bring the beauty of blue to the northern summer garden.
One of the most beautiful and interesting trees with blue flowers is the Lignum vitae (Guaiacum officinale), known for its abundant blooms and the copious yellow-orange fruit that follows, as well as for its exceptionally heavy, dense wood. A Caribbean native, it is widely cultivated in the tropics, but does not do as well in subtropical zones. Happily, there is a lovely alternate, another lavender blue-flowering tree found over a wider range, the Jacaranda ( Jacaranda mimosifolia). A native Argentine, it grows throughout tropical and subtropical climes, reaching 50 feet in height with a graceful full spread, and covering the ground with a carpet of blue when the blooms drop. It flowers most profusely in areas with a dry season. The photo shows flowers from a California specimen in a home garden, but public parks and streets often boast this lovely, prolifically blooming tree.
A little smaller is the Hibiscus syriacus, often called the Rose of Sharon, flowering abundantly in temperate to subtropical climates. While there are many lovely shrub Hibiscus, this variety, originating in China, can have single or double blue flowers and grows to 13 feet in height. Another tropical shrub, Clerodendrum myricoides, or Clerodendrum ugandense, is often referred to as the "blue butterfly bush" because its light and dark blue flowers have four protruding stamens, and look for all the world like elegant butterflies alighting on the deep green leaves of the shrub. In tropical America, there is yet another lovely blue-flowered shrub, Brunfelsia, which shows a variety of shades as the flowers fade. It may do well as a potted plant in warm temperate climates, sheltered in a shady area.
One of the most effective uses of color is vertical area coverage. If you have trellises, or a wall to cover, you might want to add blue to your garden with climbing vines. Among the choices are Petrea, Clitoria, Ipomoea, Thunbergia, and Solanum. The familiar morning glory, Ipomoea, has varieties with huge lavender-blue flowers, sure to give a casual, wildflower look to the garden. The less well-known Clitoria has darker, more truly blue flowers, and is found in shrub and herb forms as well as climbing vines throughout the tropics. Solanum, sometimes called Brazilian nightshade, is related to the potato vine that grows readily in temperate climates, producing a wealth of blue-purple flowers.
For sheer exuberance, it would be difficult to outdo the beautiful Petrea, which covers itself with blue and lavender star-shaped flowers. Sometimes called sandpaper vine, or queen's wreath, it is native from Panama to Mexico, and cultivated further north as well. And for sheer loveliness, perhaps the vine of choice should be the beautiful Thunbergia. Its clusters of large, pale to brilliant blue flowers are truly a wonder, and can be artfully combined with other touches of blue for a truly stunning effect.
Smaller plants with blue flowers can line paths, create massed effects, shelter under trees, or fill patio pots for spots of emphasis. The choices are many, from the stately Agapanthus to the common small wildflower, Lantana, which offers a lavender blue variety suitable for cultivation in a broad range of climates. Hydrangea produces pale blue flowers in acid soil, and grows easily in temperate climates. Its soft rounded shape is in stark contrast to the sharp, spiky leaves of the Agapanthus, but both have their place in the contemporary garden, and both bring a welcome touch of blue. Another choice for pots and borders is Plumbago, which can even with a little coaxing perform as a short-distance climber. Pruned heavily, it will produce an abundance of pastel blue flowers.
Neomarica, from Africa and tropical America, has iris-like leaves and three blue to lavender petals. In zones too far north for this beauty, the common iris is an easy substitute, and there are several varieties that produce brilliant blue flowers with great reliability. While the lovely blue ginger, Dichorisandra thrysiflora, is limited in range to the tropics, such alternates as blue asters are widely available and easily grown further north.
There is even a blue-flowered ground cover, Heliotropium amplexicaule, widely cultivated in the subtropics and tropics for its delicate, tiny, blue-violet flowers. To round out the choices, look into the lavender to blue varieties of Nymphaea capensis, water lilies, with some varieties boasting blue petals. To deepen the effect, edge your water feature with Pickerel rush – Pontederia cordata – with its broad leaves and spikes of blue flowers. For drama, the deep blue-purple varieties of caladium, grown exclusively for their ornamental leaves, will complement the blue-flowering plants beautifully throughout the garden. Artful combinations of these and other dark-leafed plants set the brighter blue flowers off wonderfully.
Contrast, of course, is one design element not to be overlooked. When placing your blue-flowering plants, shrubs, and trees, decide whether to emphasize pastels in contrasting plantings, or to go toward the darker tones for a more dramatic look. A little experimentation will yield your own version of the deeply satisfying garden of blues.
By Linda Abbott Trapp © Linda Abbott Trapp 2007