Now that Jocotepec's major annual festival, The Lord of the Mountain, is history once again, my thoughts turn to the next important holiday, Valentine's Day, when we celebrate sweethearts and lovers. Here in Mexico February 14th is also known as Dia de la Amistad (Day of Friendship). What a typically warm and Latin addition to the theme, adding our friends to that special day!
Valentine's Day has an extra meaning for me, because my own particular sweetheart and friend of over 40 years, also celebrates his birthday on February 14. Georg's mother claimed that he was born at 12:00 noon, and that all the wonderful church bells of Salzburg chimed, rang and boomed to welcome her new baby to the world.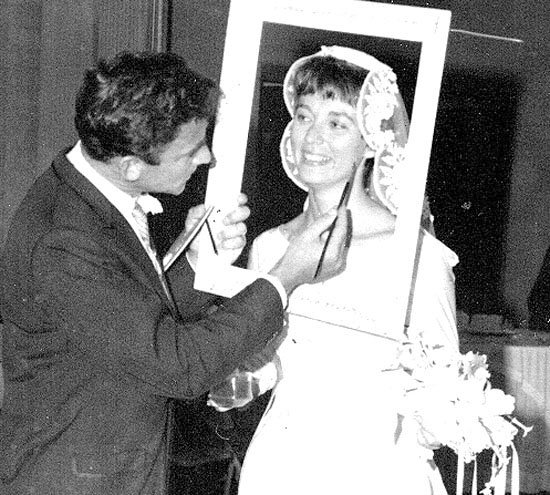 Someday I'd like to tell you the story of how we met in Vienna, quite a few years later, but since Salzburg plays a special role in our wedding story, this is my Valentine gift to my readers.
After falling in love in Europe with a dashing Austrian artist, I returned home to wait an interminable nine months for his arrival in the United States. Letters from overseas took forever to arrive, and making transatlantic phone calls wasn't even a consideration. During that period of waiting, the movie, The Sound of Music, was released. In the darkened Ohio theater I watched the romance unfold between another handsome blue blood Austrian named Georg, and a virginal young girl called Maria. I, too, had breathed that heady alpine air and held hands with my own Georg, as we strolled the narrow streets of Salzburg. The love story of Maria and the Baron Von Trapp was almost as thrilling as my own.
In the spring, when my Georg's ship hove into New York Harbor, of course I was there at the dock to meet him. What's more, one of his art collectors was there too, not just to welcome him, but also to offer a free apartment in one of his buildings, on 2nd Avenue and 72nd Street. The apartment was tiny and minimally furnished, but in a good neighborhood and an unexpected bonus for beginning our new life together.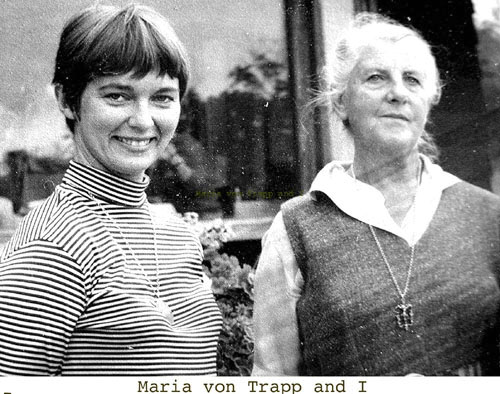 Once we were settled in, I couldn't wait for Georg to accompany me to see The Sound of Music. Most likely I was expecting that he would notice all the wonderful parallels I had discovered between the Von Trapps and ourselves. When we left the theater, though, I didn't get the reaction I'd been expecting.
"But that's impossible," he practically sputtered, "there's no way Maria could go out the front door of her cloister and be in the hills in just a few minutes! And anyway, those aren't even the mountains around Salzburg. The entire thing is just a trumped up Hollywood lie."
Okay, I was crestfallen for a few minutes at least, but I knew he was probably correct. After all, he was the Austrian, right?
Every few nights my mother would phone our New York apartment from Ohio. At the end of our conversation, she would always ask whether I was returning that night to the YWCA, where I had stayed a few nights before Georg's arrival. Guiltily I always answered "Yes."
Finally it became just too much, and I replied, "No Mother, I'm not going back to the Y."
"Thank goodness," she said, "I'm so relieved. I was terribly worried about your having to take the subway back alone every night."
Another call from Ohio brought some unexpected news. "Oh honey," my mother said, "you'll never believe what I found. They were having a summer sale at Strouss-Hirshberg's on wedding gowns, and I happened to see one that I knew you would love. It was even just your size. And the most amazing thing, it cost only ten dollars! I know you don't need it right now, but it's sure to come in handy some day."
I hung up and told Georg, laughing at my mother's transparent ploy. What would she think of next? It wasn't the most romantic proposal in the world, when he said, "Well, we've got the dress now, why don't we go ahead and do it?"
Later, when I had seen and tried on the dress, I knew I couldn't have found one I'd have preferred to that ten-dollar bargain, even had I searched for weeks. The gown was blessed with simple flowing lines, a tiny chapel train, and not a hint anywhere of lace trimming, pearls or brocade.
Mother's next idea was to ask our long time minister, Pastor Philip Sinner (yes, that was his name) to perform the service in German. He had grown up speaking German, and though he hadn't had much practice in recent years, he agreed to her request. I suspect she wanted to be certain that her daughter's unexpected choice, an older man, a foreigner, an artist with curly black locks speaking very little English, really knew what he was promising to do.
My Uncle Jack was a barber, and kindly offered to give Georg his pre-nuptial haircut. What can he have been thinking? I almost cried when I saw Georg's glorious black curls lying all over the floor and my romantic Austrian practically scalped.
The events of the follow day were strange enough, though, to take our minds off the haircut. Pastor Sinner did his best, but it was clear to the two of us, standing in front of him, that he was definitely nervous. At one point, he switched the word geluebt to geliebte, so that instead of asking us to lay our vows upon the altar, he was asking Georg to lay his sweetheart thereon! Next he ordered us to live not in bunde der Ehe i.e. the bonds of holy matrimony, but in bunte Ehe – in Technicolor marriage. When he switched the wedding rings, it was all we could do not to burst into laughter and fall onto the altar as he had earlier suggested.
The residents of Girard, Ohio, friends, relatives and neighbors, were quite mystified by all these proceedings, claiming afterwards that the only word they had understood was gesundheit, even though they hadn't noticed anyone sneezing.
In the church basement, the aunts had done their best for the reception, decorating the table not just with a multi-tiered cake and flowers, but also with books, palette, paints and brushes to symbolize the librarian bride and artist groom. Mother quickly organized us into a receiving line. As the first woman came up to Georg, he raised her hand to his lips in a classic, Viennese handkuss. We had to hold back the giggles once again as we saw the long line of waiting women, each already holding her hand in the air in happy anticipation.
The wedding present from my parents was an airplane ticket for Georg's cousin, Marianne. If I hadn't first met her for five minutes in an Athens, Greece youth hostel, I would never have encountered Georg seven months later. What else other than fate could have induced her to leave her name and address in Vienna on the hostel bulletin board? Still more amazing, after months of travel and working in Berlin, I hadn't misplaced that tiny scrap of paper. When I wrote asking if I could stop by to see her in Vienna, she had actually replied that she had been waiting to hear from me.
After the wedding and a brief cabin honeymoon at Mosquito Lake, the four of us: Georg, Marianne my mother and I departed for Canada. My mother was the only one permitted to drive the family car across the US/Canadian border, and Georg had been assigned the commission of making a major sculpture for the Austrian Pavilion at the Montreal World Expo. I loved the cliche of a honeymoon that just happened to include a stop at Niagara Falls.
After an inspection of the Austrian Pavilion, we headed south through Vermont on our way back to New York. Armed, as usual, with a AAA guidebook, I suddenly discovered that we would be passing through Stow, Vermont, where Maria Von Trapp had her skiing lodge. It was unthinkable I could pass up such an opportunity. We were already seated in the little coffee shop when, all of a sudden; I knew it could be no one else; Maria entered. Wearing a green loden coat, and looking neither to left nor right, Maria had a cool, stern presence that definitely didn't seem to welcome strangers. As the Baroness von Trapp swept past our table, Georg stood up, performed a little Viennese bow, and introduced himself as a fellow Austrian, one who had been born, moreover, in Salzburg.
The frosty Maria melted before my eyes into the picture of warmth and hospitality. She led us on a private tour of the grounds and shared private details of her life, such as the fact that she had never received a penny from the wildly successful Sound of Music. As we stood on a wooden balcony, gazing at the lovely autumn Vermont landscape, Georg asked her, "Do you ever get homesick for Austria?"
Maria answered, "No, I simply look out to those mountains, and imagine that the other ones, the Alps, are lying just behind.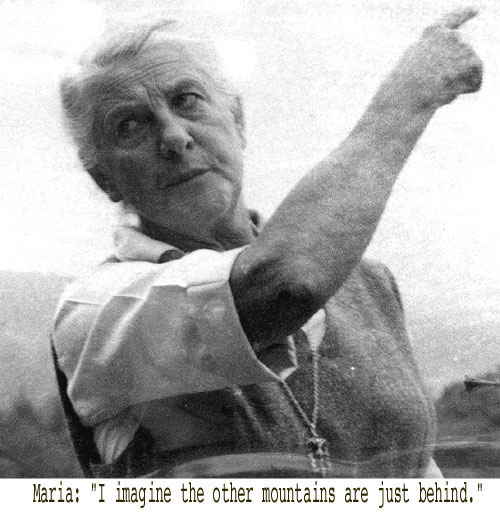 I couldn't stop beaming as we drove away. Even though Georg had been less than impressed with The Sound of Music, only he could have brought about my meeting with the real Maria and made it as magical as it was.
No, it certainly wasn't your usual wedding and honeymoon, but those September days, filled with laughter, magic and surprises were the perfect prologue for our life together, foretelling just a bit of all that was to come.
Published or Updated on: January 1, 2006