Interactive Map of Veracruz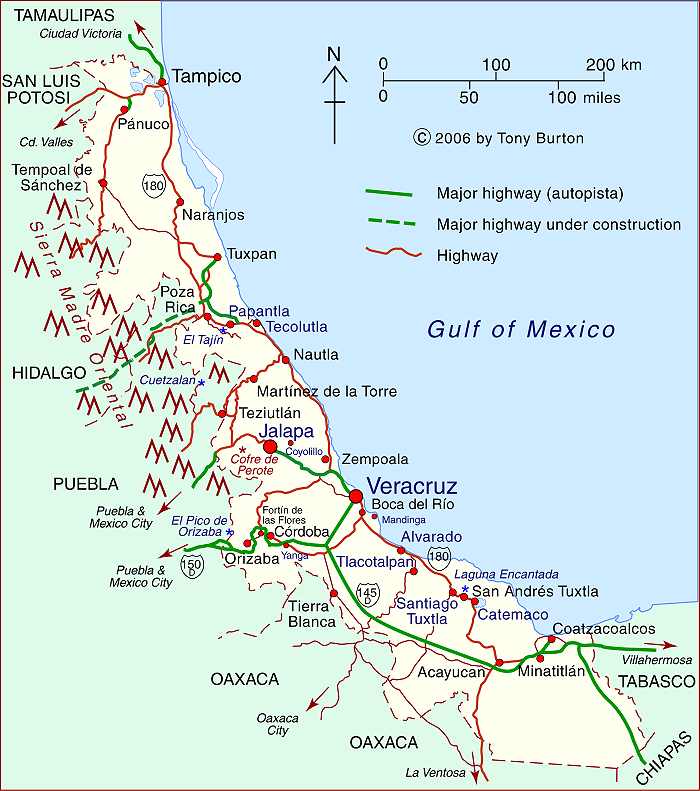 The state of Veracruz is in Mexico's Gulf Coast Region, along with Tamaulipas and Tabasco. Veracruz occupies a relatively narrow strip of land stretching for 650 kilometers (over 400 miles) along the Gulf of Mexico, with topography ranging from its narrow coastal plain to very high mountains on its western border that include Mt. Orizaba, Mexico's highest peak at 5,610 meters (18,406 ft.).
The state's varied climates and ecosystems have given it enormous biodiversity, including numerous species of insects, birds and plants that exist nowhere else on earth. These species are protected in 31 protected areas including three national parks and the Las Tuxtlas Biosphere Reserve.
The state of Veracruz has a total area of about 71,800 square kilometers and a population of 8.2 million (2017). The state capital is the colonial city of Xalapa (900,,000). Other major cities include the industrial twin cities of Coatzacoalcos (250,000) and Minatitlán (360,000) in the extreme south, and the port city of Veracruz (750,000) in the center.
The state is home to numerous indigenous groups including the Nahuas, Huastecos, Otomis and Totonacs. It has numerous archeological sites, including Zempoala and El Tajín, a UNESCO-designated World Heritage site.
The state is also important for its oil industry. Most of the oil production is in northern Veracruz while the southern cities of Coatzacoalcos and Minatitlán are noted for their refining, chemical and petrochemical industries.
Veracruz is significant historically as the landing place of conquistador Hernán Cortés and his men on their way to conquering and subduing all of what later became known as Mexico.
The annual Carnival staged in Veracruz is one of the most spectacular in all of Mexico. The Danza de los Voladores (Dance of the Flyers) in Papantla is a major tourist attraction for Mexicans and foreigners alike.
Veracruz has its own distinctive music and cuisine, enhancing its regional identity.
Clickable interactive map by Tony Burton
Interactive Map of Veracruz