Interactive Map of Campeche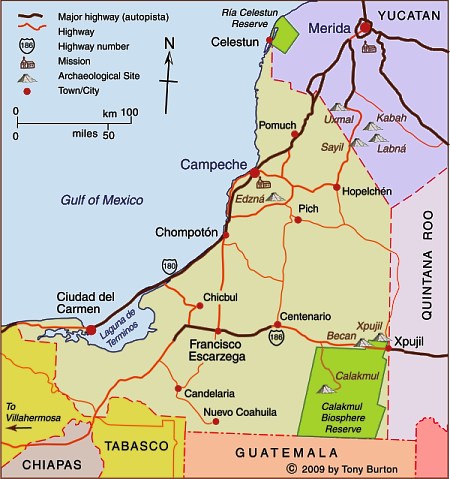 Interactive map of Campeche, Mexico
The state of Campeche is part of Mexico's Yucatán Peninsula, along with the states of Yucatán and Quintana Roo. This region is the ancestral home of the Maya. The state has an area of 57,925 square kilometers and a population of 608,535 (2010 estimate).
The state's capital city  is Campeche, a colonial city which still preserves some of its ancient city walls and has UNESCO World Heritage status. The most important city in the state economically is Ciudad del Carmen "the pearl of the Gulf", center of the state's involvement in Mexico's oil industry, and an important base for offshore drilling.
The state shares Ría Celestún – a coastal region of important wetlands and a drowned river valley (ría) with diverse fauna and flora, including flamingos – with the state of Yucatán.
In the interior, the biosphere reserve of Calakmul has become an important tourist attraction.
Published or Updated on May 17, 2009
by Tony Burton.