We try to travel to Mexico twice a year, for a week or two at a time, packing just one carry-on bag each. This limitation is absolutely necessary when our two kids go along, because more than four carry-ons won't fit in a taxi. We head directly to a bus station, and take off for less populated areas. I always do extensive research before a trip, and have lists of budget hotels compiled from numerous guidebooks and websites. Then I feel compelled to personally check out each hotel on my list (which drives my husband crazy). We don't make advance reservations because walk-in prices are often cheaper. However, during Christmas and Easter holidays reservations are a must.
For a brief stay rock-bottom prices are not really necessary, but we neither desire or can afford luxury hotels. We usually choose a 3-star property located in the downtown area, where we can soak up lots of local color. Those on a tight budget who can forgo TV and AC will be satisfied in a 1 or 2-star hotel. Many of the 4-star hotels listed seem expensive, but cost much less than the 5 and 6-star hotels in the hotel zone. And during the low season even the 4-star hotels can be surprisingly affordable. (Check out the Hotel Conchas Chinas – especially if you're going for a honeymoon).
Low season is roughly Sept.–early December and April–early June, when prices are low, often lower than shown on the websites. Always try to bargain, or ask for special promotions, or the 4th night free. If a special has been advertised, specifically ask for it. Don't assume you'll automatically receive it.
Most of the following hotels are located in downtown Puerto Vallarta, south of the Rio Cuale, where the ambiance is at its best and the beach, restaurants, shopping, and nightlife are within walking distance. In front of all phone numbers add 52 (322) and from US, dial 011 first. Many hotels, even those in the 2-star category, now have websites with pictures, current rates and on-line reservations. When available, I listed current prices, or high/low season prices. Information following web address came from that website. Many of these links are temperamental and don't always work.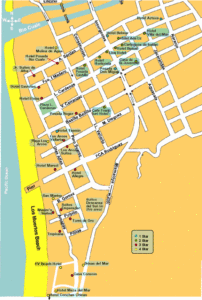 A special thanks to Bernardo at pvconnect.com for allowing me to use their hotel database as a starting point. And for information junkies, I recommend Lonely Planet and Moon's Pacific Handbook or Puerto Vallarta Handbook for more detailed descriptions on some of the hotels listed.
One Star – Two Star – Three Star – Four Star
Puerto Vallarta Web Sites of Note
PLEASE NOTE: If calling from inside Mexico, The Puerto Vallarta area code is 322. If calling from outside Mexico dial 011 – 52 – 322 then the telephone number.
One Star
– These hotels are inexpensive
Bernal Hotel – Francisco I. Madero 423. Tel: 222-3605.

34 rooms.

Cartagena de Indias Hotel – 428 Madero. Tel: 222-6914.

Pretty Mexican hotel. 27 spacious, clean rooms with ceiling fans, desk and chair.

Casa de la Juventud – Aquacate 302-A. Tel: 222-2108.

Youth Hostel (as in Europe). Clean and safe. For men and women

Frankfurt Hotel – Basilio Badillo #300. Tel: 222-3403, Fax: 222-2071

Older hotel, 12 rooms including standard rooms, cabanas, and 1 and 2 bedroom apts. Kitchenettes, coffee shop, restaurant, pool, garden and friendly family atmosphere. Enclosed parking. Some cable TV available.

Hotel Ana Liz – 429 Madero. Tel: 222-1757

Small, nice typical Mexican hotel. Clean rooms with ceiling fans, desk and chair.

Hotel Escuela CECATUR. – Corner of Hidalgo and Guerrero 222-49-10, fax 223-02-94. North of Rio Cuale.

This "School Hotel" trains students in hotel management. Large rooms with fans, TV, large bathrooms.

Hotel Hortencia – 336 Madero at Insurgentes. Tel: 222-2484.

Large rooms, all with ceiling fans, desk and chair. Worth a little more than the rock bottom choices. Some rooms have TV or fridge. Also TV in the lobby.

Hotel Posada Castillo – Madero 272 at Constitución (223-14-38).

Very basic.

Hotel Villa del Mar – Fco I. Madero 440. Tel: 222-0785.

49 rooms in two wings upstairs from street level lobby, some with kitchens and/or plant-filled balconies. Check room first since not are all the same. Patio on roof with view of town. From bulletin board: It's not too touristy and has great prices.

Janitzio Hotel – Prol. Colombia #1637, Col. Lazaro Cardenas Tel: 222-2656. North of Rio Cuale.

19 rooms.

Lina Hotel – Francisco I. Madero #376. Col. Emiliano Zapata . Tel: 222-1661

23 well furnished, clean but somewhat gloomy rooms, central courtyard. Visa & Mastercard accepted. Good rooftop views. Seems to have space when everywhere else is full.
Two Star
Azteca Hotel – Madero 463. Tel: 222-2750

47 units, some with kitchenette. Ceiling fans, spotlessly clean, pleasant, simple, sparsely furnished.

Hotel Belmar – Insurgentes #161 and Serdan. Tel: 222-0572, Fax: 222-0572.

29 clean, comfortable rooms, tile floors, TV, some with balconies. Some AC available. https://puerto-vallarta.com/hbelmar/ – Comfort – Central location – Fair price! TV, Private bath. Just a few steps from the Rio Cuale, moments away from Playa Los Muertos, 3 blocks from Restaurant Row, 5 minute walk to the Malecon and the Central Plaza.

Hotel Rio – Morelos #170 at corner of Agustin Rguez, just north of Rio Cuale. Tel: 222-0366, Fax: 222-3235

45 rooms with phone, bathroom, balcony with ocean view. Restaurant, pool, some AC and TV. https://hotelrio.com.mx/ – Just across the street from the beach, downtown Vallarta within a walking distance. On-site are the Restaurant Rancho Grande serving international food, and the romantic and bohemian Piano-Bar El Navegante, with live music every night.

Hotel Yazmin – 168 Basilio Badillo. Tel: 222-0087.

Wonderful courtyard and gardens, clean rooms which vary in size considerably, so ask to see several. Next door to Las Ollas Restaurant. One block from the beach.
Email comment spring/99: "My kids thought overlooking the elementary school was a little noisy but I liked it although it was fairly basic. I'd recommend a top floor room with a balcony. It has a real international feeling as a wide range of low budget international types stay there."

Posada Don Miguel – Insurgentes #322 Tel: 222-4540, Fax: 222-6115

50 rooms.
Three Star
– refer to websites for pictures and more information.
Casa Corazon – Amapas 326 (PO Box 66) Tel/Fax: 22213-17

14 tile and brick rooms, Bed & Breakfast. On beachfront overlooking Playa de Los Muertos, hillside, open-air restaurant, gardens, no TV or AC. Some with beachview patios.

Eloisa Hotel – Lazaro Cardenas #179. Tel: 222-6465, fax 222-02-86.

75 rooms, some with AC and cable TV. Restaurant and rooftop terrace. https://www.hoteleloisa.com/ – ½ block from "Playa los Muertos," with a spectacular view of Banderas Bay. Sunbathe on our rooftop terrace, or have a refreshing dip in our immaculate swimming pool. 75 spacious and comfortable room with AC and satellite color TV. Fine dining at our restaurant/bar, "Azul Tequila". On line reservations.

Encino Hotel – Juarez #122 Tel: 222-0051, Fax: 222-2573

75 rooms. Phone, restaurant, pool, some AC and TV, some ocean views. North of the Rio Cuale.
Comfortable Mexican atmosphere at low rates, 75 rooms and 24 suites (Suites Plaza del Rio – one or two beds) with kitchenette, AC , satellite color TV, phone, ocean view and balcony.
[email protected] Two years ago, I stayed at the Hotel Encino. My balcony had an incredible view of the town and mountains, and I spent every evening mesmerized by the lights of the city. The rooftop restaurant serves okay food but the view of the ocean is incomparable! The rooftop pool is also lovely. Be sure to ask to see several rooms so you can choose a good view. I would gladly stay here again.

Gaviota Vallarta – Fracisco I. Madero 154. Tel: 222-1500

80 rooms. Restaurant, bar, pool, some TV and AC, elevator. Very Mexican ambiance.
I stayed at this hotel in Oct. 1998 and would definitely return. Just 2 blocks south of the Rio Cuale and ½ block from the ocean, the 8-story hotel is built in a U-shape facing the ocean. The ground floor lobby contains a small pool. Rooms on the 6th or 7th floor have TV and AC, and cost more than those without. Our large room had a big window, tile floor, dark wood furnishings, large bathroom, and ocean view from open-air corridor outside room. The restaurant/bar was closed at this time, but a beach-front palapa restaurant was right around the corner.

Hotel Mocali – Nicaragua 286, Col 5 de Diciembre, Tel/Fax 222-4201.

Cable TV, AC, 2 blocks from the beach, terrace. North of Rio Cuale near Hidalgo Park. https://www.go2vallarta.com/mocali/index.html – 36 rooms with 2 dbl beds, satellite color TV and AC. 4 suites w/fridge & microwave. Some w/balcony. Buffet breakfast included!
Email comment: We liked it, comfortable double room with everything you need for a good nights sleep. They will do laundry, change money, and have a nice little restaurant. Not noisy as its 2 blocks off the main drag, 3 blks to beach, about 6 blocks from Hotel Pescador. [email protected]

Hotel Suites Emperador – Rodolfo Gomez y Amapas 115, Col. Emiliana Zapata. Tel/Fax: 222-3329.

21 Suites with kitchenettes, dining area, balcony, and AC. Roof-top terrace with Jacuzzi. A few steps from Los Muertos Beach. Check out the website map and great pics.

Hotel Suites La Siesta – J.O.Dominguez y Miramar. Tel: 222-1818. North of Rio Cuale.

Studios and one and two bedroom suites with kitchen.
Our Hotel is set high on a hillside, 200 mts from beach. Each Suite looks down on the "old town" PV and has breath-taking view of ocean. Dine with us at internationally renowned El Panorama Restaurant. Look for unbelievable offseason bargains!

Jr. Suites de Alba – Aquiles Serdan 194, Col. Emiliano Zapata. Tel: 222-29-59/222-35-76/222-30-66, Fax: 222-37-38.

Cable TV, kitchen, private terrace. 1/2 block from the "Olas Altas Beach" near "Los Muertos Beach", 6 blks fm Malecon. 7 Jr. Suites with king size bed, maid service, cable TV, equipped kitchenette with stove, refrigerator, coffee maker. Bathroom with shower and towel service, chest of drawers and a couch. Private terrace with spectacular views.

Los Arcos Vallarta Hotel – Manuel M. Dieguez 171. Tel: 222-1712, Fax: 222-2418

Los Arcos has 3 properties, the lower priced Los Arcos Vallarta Hotel, the pricier Los Arcos Suites, and the 4 star Playa Los Arcos
40 suites; junior suites w/kitchenettes, restaurant, pool, AC, cable TV and beach club.
Mexican colonial styled hotel, 40 newly remodeled rooms with color TV, AC, fridge, phone, private bathroom w/shower. Terrace garden solarium w/panoramic view, roof-top pool, elevator. Access to Beach Club, restaurants and bar facilities of the Playa Los Arcos Hotel ½ block away.

Los Arcos Suites – MF. Rodriguez 168. Tel: 222-0700, Fax: 222-2418

43 suites, kitchenettes, restaurant, AC, cable TV, and pool.
43 one bedroom suites with 1 king bed and 1 king sofa bed, kitchen, living room, AC, phone, cable color TV, private balcony and bathroom. All spotless in contemporary Mexican decor. Room service, swimming pool, solarium, safe deposit boxes. Access to Beach Club, restaurants and bar facilities of the Playa Los Arcos Hotel ½ block away.

Los Cuatro Vientos Hotel – Matamoros #520. Tel: 222-0161, Fax: 222-2831. North of Rio Cuale.

16 rooms & suites (up to 6 people) ; fans only, restaurant, small pool and central patio.
A charming small hotel located high above town, behind Guadalupe church. Complimentary breakfast in an intimate book-and-plant-lined courtyard. The gracious owner, Gloria Whiting, ensures visitors quickly feel at home. The comfortable rooms and suites have arched ceilings and colorful flower-stenciled walls and are charmingly decorated with Mexican handicrafts. Amenities include a refreshingly cool deep pool, the El Nido (The Nest) rooftop bar, the town's best-loved venue for super sized margaritas and spectacular sunsets, and the romantic and inviting Chez Elena Restaurant.

Marsol Hotel – Francisca Rodriguez #103, Playa de los Muertos, 222-13-65 Fax 222-08-65

160 rooms. Kitchenettes, restaurant, pool. Right on the beach, but somewhat rundown.
E-mail comment: Suites with 1 or 2 bedrooms and kitchenettes. Great location beside the New Pier. Hotel needs renovation. Has nice pool and two great beach-side restaurants/bars with live entertainment nightly in front.

Maxim's Suites – Amapas 114. Tel: 222-5143.

52 rooms. AC, TV, Restaurant, bar, Ocean view. No beach or pool, but shares Tropicana's.

Plaza del Rio – Located at Hidalgo 116. Tel: 222-0051, Fax: 222-2573. North of Rio Cuale.

24 suites, one or two bedrooms, kitchenettes.

Posada Rio Cuale Hotel – Aquilles Serdan 242. Tel: 222-0914, Fax: 222-1148

25 rooms on 2 stories, some with AC. No TV. Gourmet restaurant, terrace bar, pool patio.
A colonial-style hotel with arched brick windows and wooden shutters, an excellent gourmet restaurant, terrace bar, swimming pool and attentive service. Excellent location downtown, just over the bridge. For a quiet room avoid Av. Vallarta side.
I checked this place out, through we didn't stay there. It is on the top of my list for our next trip. The pool area was very nice, a great place for the kids to get away from us on their own for a while.

Posada de Roger Hotel – Basilio Badillo 237 Col. Emiliano Zapata. Tel: 222-0836, Fax: 223-0482.

50 rooms. TV, AC, Pool, restaurant, bar. Friendly, clean, secure, rather drab rooms, 3 blocks from beach, ask for discounts, international crowd, rooftop pool\patio with good city views.
We stayed here! Our room was somewhat depressing, very small, shower was just a stream of water, but location is great. We heard all rooms were redecorated after we left. A wide variety of room sizes available. Only a short walk to beach and lots of restaurants. If you want TV, AC, and pool, this is one of the cheapest places for all three. I loved the patio area on the roof in the evening, where I watched the local activity below as people came home from work.

Rosita Hotel – Paseo Diaz Ordaz #901. (Same website as Hotel Pescador) Tel:222-1033, Fax: 222-2171.

112 rooms, all w/balconies, 64 w/ocean views. Phone, AC or fan. Color TV optional. On the beach, restaurant, pool. North of Rio Cuale. North of Rio Cuale near the malecon, by beach, popular older hotel, beachside pool, restaurant & bar. Rooms on street side are air conditioned, but also noisy. Some rooms carpeted, some tiled.

Tropicana Hotel – Amapas 214 Col. Emiliano Zapata. Tel: 222-0912, Fax: 222-6737.

160 air-conditioned rooms, restaurant, pool, sundeck, beachfront. No TV. Some private balconies with ocean view.
https://www.htropicana.com/ – Each of our 160 rooms has a spectacular ocean view, a private balcony, AC and phone.
I stopped in here 10/98 – Very nice, right on beach, no TV. Toward south end of town. Entrance is through stairway which goes down from sidewalk.
Four Star
Although these hotels cannot be considered budget hotels, they are less expensive alternatives to luxury properties in the hotel zone, and have the advantage of being closer to the old town.
Club Meza del Mar Suites – Amapas #380 Tel: 222-4888, Fax: 222-2308

High rise on beach. 128 suites. Kitchenettes, coffee shop, restaurant, tennis court, gym, pool. All inclusive.

Buenaventura – Av. Mexico 1301. North of Rio Cuale. On beach between Calles San Salvador and Nicaragua. Tel. 222-3737. Fax 222-3546. . Rep. (800) 223-6764.

AC, pool, 225 Rooms, 7 Junior Suites with jacuzzi, 4 Suites, TV at additional charge On the beach, a five minute walk from town. A first-class 5-story hotel with a tropical look. Spacious lobby with archaeological exhibit. Palapa restaurant, lobby bar, beach club bar, large pool, meeting room
Lobby area under a 5 story spectacular atrium. Giant jacuzzi and gym on the sea shore.

Hacienda Buenaventura – Blvd. Ascencio 2699. Rep. (800) 223-6764. Tel. 224-6667. Fax 224-6400. North of Rio Cuale.

TV, pool, AC, restaurant. Located in northern hotel zone.
A charming Mexican colonial-style hotel in the northern hotel zone, close to the marina pier and the beach, with excellent service and a relaxed atmosphere. Most of the 155 rooms have a balcony and overlook beautiful gardens and a large pool. Some have satellite TV, at an extra charge. Meeting room, restaurant, bar.

Hotel Brisas del Mar Condo/Hotel – Privada Abedul #10 Col. Emiliano Zapata. Tel: 222-1821.

High rise, built into hillside, AC, pool, balcony, restaurant/bar, beachfront, kitchennette.
36 standard rooms, 13 suites and 1 Penthouse, each with air conditioning, fan, private balcony, and fully equipped kitchen. A pool and a child's wading pool is on our terrace, with spectacular view of the Bay of Banderas. No online reservations

Hotel Conchas Chinas – PO Box 346, Km. 2.5, Barra de Navidad Hwy., south of town, on Playa Conchas Chinas. Rep. (800) 876-5278. Tel. 221-5770. Fax 221-5763.

A/C, Phone, kitchenettes, T.V (Check out websites for good pictures)
South of town, on Conchas Chinas Beach. Charming hotel with 31 rooms and 8 suites (6 have their own jacuzzi) on a hillside with terraces and a great ocean view. Known for its great sunset views. "El Set" restaurant.
All rooms have full bathroom with tub, kitchenette with refrigerator, balcony with ocean view, A/C, Phone & TV.
We ate dinner here and enjoyed the gorgeous view. One meal of steak and enchiladas was great, another of fish not so great. Excellent, friendly service.

Hotel Molino de Agua – Ignacio L. Vallarta 130 at A Serdan, Tel: 222 1957 & 222 1907 Fax : 222 6056.

beach/ riverfront, 2 pools, AC, restaurant. Different accommodations at different prices: Cabins: one queen bed, small terrace. Doubles: 2 double beds, private outside terrace, side view of the ocean. Suites: 2 queen beds, small living room, ocean front terrace. Jr Suites: Ocean front, terrace with a full bay view, 2 double beds, AC, balcony.
Stopped by here 10/98, it was more than we wanted to spend. However, this was a beautiful property, located right at the Rio Cuale bridge.

Hotel San Marino Plaza – Rudolfo Gomez 111, Tel. 222-1555, 2-3050. Fax 222-2431

Modern building with 160 air-conditioned rooms and suites with balconies, some with ocean views. Palapa restaurant/patio, ocean-view pool, gym, 2 bars, AC, on Playa del Sol (Playa del Muertos).

Hotel Suites del Sol – Located at Francia #100, Col. Versalles. Tel: 4-2213. North of Rio Cuale by Playa Las Glorias.

87 suites. Restaurant, pool.
A small hotel with personal touch. Comfortable and spacious lobby, lobby bar viewing the pool. All rooms have bathroom, AC and ceiling fan.

Playa Los Arcos Hotel & Suites Beach Hotel – Olas Atlas 380. Tel: 222-1583, Fax: 222-2418

180 hotel rooms, 5 master suites. AC, cable TV, phone. Pool, tennis courts, restaurant, bar. Located on Los Muertos beach.

Puerto Vallarta Beach Hotel – Calle Malecón y Almendro #4, Playa de los Muertos, 222-5040 and 223-1604 Fax : 222-2176.

Kitchenettes, restaurant, pool. Cable TV and AC, no phones 5-story structure located on Los Muertos beach, tile & stucco kitchenette apartments, queen-size bed, sea-view balcony, restaurant, rooftop pool-sundeck with panoramic beach and bay view.
20 studios with kitchenettes and 20 standard rooms, all with phone, AC, ceiling fan, color TV, private balcony, background music, bathroom and shower and a glorious view.

Suites Descanso del Sol – Pino Suarez #583 Col. Emiliano Zapata Tel: 223-0277

22 suites; gym.

Torre de Oro – Pulpito 138. Tel: 222-4488, Fax: 223-1396

58 rooms and 2 suites, all air-conditioned. Pool, restaurant, bar.
Published or Updated on: December 1, 1999