Ahhhh. Oohhh. Awww. Mmmmmm." These are the sounds most often heard as bathers first step into a warm mineral pool. More and more North Americans are discovering the pleasures and benefits of soaking in mineral baths, as they seek cures for rheumatism, arthritis, and a multitude of other ailments. But the Mexicans have known the pleasures of "taking the waters" for centuries.
Most mineral waters contain a mixture of sulfate of soda, sulfate of lime, carbonate of lime, sodium chloride, magnesium and some sulfuric acid. While this may not sound appetizing – and they certainly don't often look appetizing (the mineral waters are usually a murky brown color) – for most people the waters feel good and are amazingly soothing.
Moctezuma, the 16th-century Aztec emperor, was one of Mexico's earliest spa enthusiasts.
Attracted to what's now Cuernavaca, south of Mexico City, he ordered extensive gardens planted near Cocoyoc and had royal baths constructed so that he could go there to escape from state affairs and relax in the sun and peaceful atmosphere. In fact, three of the mineral baths he visited – Tenochtitlan, Ixtapan de la Sal, and Oaxtepec – are still in use today.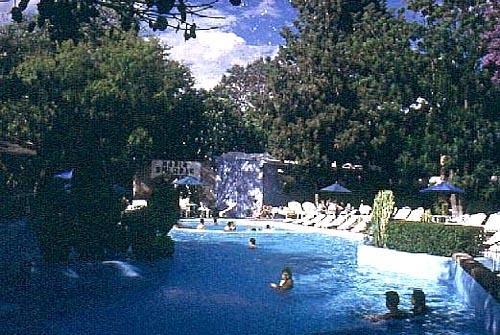 The Aztec ruling class loved pleasure gardens and had them built in and around mineral pools. These gardens had many trees and sweet-scented flowers. Sometimes, an orchard was planted around a mineral pool. The pool, itself, was well constructed with sides of handsome masonry and steps leading down to the bottom, surrounded by a paved tile walk often wide enough for four persons to walk abreast.
The word 'spa' probably comes from salutme per aquam, meaning "health through water." The ancient Greeks and Romans recognized the healing properties of warm mineral waters.
Thermal waters were considered an important part of traditional and natural medicine treatments by the native peoples of the world, including those who lived in Mexico. To them a spa was simply a healthy place by the water.
The Mexican people have been visiting balnearios (pronounced bal-knee-air-rios) or hot springs since before they were called Mexicans. But, unlike in ancient times, balnearios vary widely in quality. Traditional ones feature public swimming pools filled with warm to hot mineral waters. Small hotels may be located nearby but only a handful are first class and none offer the what are traditionally known as "spa" facilities. These are natural spas in the purist sense. One rule does apply to all: No nudity. To do so may result in spending a night in the local jail.
At last count, there are 576 known warm water mineral springs in Mexico in the states of Aquascalientes, Guanajuato, Michoacan, Mexico, Morelos, Puebla, Queretaro, Hidalgo and San Luis Potosi.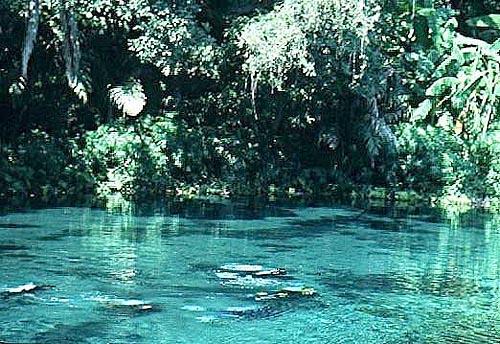 What most balnearios offer warm to hot mineral waters, pleasant, though sometime rustic accommodations and peace and quiet – during the week. On weekends, they're filled with Mexican families and their children, who come from nearby cities for a quick inexpensive getaway.
For those who want to learn more about the Mexican people, a visit to a balneario offers a great opportunity. Most have a restaurant which serves the main meal of the day in the afternoon and a lighter meal in the early evening.
A few balnearios are true resorts, with swimming pools, horseback riding and hiking available. Their natural sulphurous mineral waters are ideal for "taking the waters," either outside in natural mineral springs or inside in spring-fed pools. One of the best and most luxurious is Hacienda Taboada five miles outside San Miguel de Allende, two hours north of Mexico City.
Taboada, a modern spa resort, offers 70 rooms with a balcony or open patio in a two-story hacienda-style hotel surrounded by 15 acres of beautifully manicured grounds. Guests dine on gourmet cuisine daily and there's a magnificent Sunday afternoon buffet. When not soaking, guests can go horseback riding, play tennis or golf.
Taboada's Olympic-sized pool of hot mineral water has the same chemical composition as Baden-Baden in Germany–bicarbonate of soda. Its hot(112′ F./45′ C.) waters are said to retard aging. A smaller round pool is actually a few degrees hotter. Both pools are open 24 hours. According to "Mexico" Mike Nelson, author of Spas and Hot Springs of Mexico, "there's nothing like soaking in a steaming pool gazing at a crystal-clear ski filled with millions of twinkling stars, while the steam wraps everything in a surreal softness."
Unlike Taboada, the town of Ixtapan (pronounced Ish ta paan) de la Sal has been known for centuries as one of Mexico's premier spa areas because of its hot mineral waters. One and a half kilometers north of the town, the crater of an extinct volcano forms a lake of salty and sulphured water with a geyser that throws out carbonated gas from the "green lagoon," where the waters originate. Since pre-Hispanic times, salt has been extracted from these waters for healing purposes.
The thermal waters of Ixtapan are purportedly capable of curing a host of diseases. Although that's debatable, there's no argument about their recreational appeal. The Aztecs were the earliest swimmers here, followed by the Spanish, then the Mexicans. After a bout in the thermal pools, visitors often hire a horse-drawn carriage for a relaxing tour about town.
The Ixtapan Resort and Spa sprawls amidst manicured gardens and exquisitely landscaped grounds that are terraced to heighten the drama and supplemented with fountains, interesting arches and neoclassical statuary. Two hundred fifty rooms and suites, some with balconies, serve the guests well when they retire from their daily submergence in the thermal waters. This resort has a mineral water pool, sauna, whirlpool, steam room, gym with free weights, treadmills, stair climbers. It also features a full service bar with entertainment, dining room, and a nightclub, plus golf and tennis. Four thermal pools (two of them indoor), a freshwater pool, private pools, and a large beauty clinic add to the facilities. The hotel also offers spa packages designed to enhance the beauty of men and women. In addition to the Ixtapan Resort, there are two public baths in town – the Balneario Municipal and the Balneario Nuevo Ixtapan.
The latter, located next to the Ixtapan Resort, offers 20 private rooms with whirlpools that can be rented for an hour at a time. Mineral waters are piped into the marble whirlpool tubs set into decadently elegant rooms with Italian statues, while classical music plays over loudspeakers. Visitors may also soak in two large pools, one of which is covered.
The Hotel El Relox, while not as complete as Ixtapan, is more like Taboada. Located in the picturesque town of Tequisquiapan, in the State of Queretaro, north of Mexico City, it offers its guests the convenience of soaking amid tropical gardens in the middle of town. Four large pools (27′ C) accommodate families who stay in its 110 motel-style rooms and suites, all arranged around quiet courtyards. There are also several restaurants, bars and snack bars, and a gymnasium, as well as 17 private indoor pools ranging in temperature from 27′ – 40′ C.
Before the time of the Spanish conquistadores, the area now occupied by what is now the town of Tequisquiapan was commonly known as "Tequesquiatlapan", meaning "River with water of Tequesquite" (carbonated water.) According to the local chronicler, Jesus Landaverde Chavez, the great Nahua and Chichimeca chieftains frequented the natural springs and fountains of Tequisquiapan only during very special occasions. Upon arriving, they would take a bath in the thermal waters of one of its numerous springs, during which they would deal with affairs of state and other matters of importance, or settle mild disputes among themselves.
Tequisquiapan's waters seep underground in remote places forming subterranean rivers that flow through a series of geological faults known as the Falla de Tequisquiapan. According to Landaverde Chavez, the heat generated by the friction of the water in its passing through the fault accounts for the variation in temperatures from 20 – 40′ C.
Not far from Tequisquiapan in the State of Hidalgo lies Tecotzautla. Located just over the border from Queretaro, it's known for its geyser, spouting 95′ C. water, which is then diverted into pools nearby. Unfortunately, it's only good for a day excursion, as there are no accommodations.
While some visitors frequent the hot springs for their curative powers, others visit places of natural beauty to relieve stress and become one with the environment. One such place is Las Estacas, Tlaltizapan, in the State of Morelos not far from Cuernavaca. The main attraction in this bit of paradise is floating down the crystal clear river in inflatable inner tubes through a serene, if somewhat manicured, jungle habitat starting from where a spring bubbles out of the ground into a large pool at 8,000 liters a second. Originally the grounds of the old Hacienda Tempila, it has been used as a location to shoot such movies as Tarzan and Firewalker. An excellent hotel with new cabin suites and a restaurant stands in a shaded area. Guests can also go horseback riding and play miniature golf.
The Mexicans still visit traditional balnearios like Aqua Hedionda and Termas de Atotonilco, both in the State of Morelos. However, today these balnearios offer much more than a warm spring sprouting from a hole in the ground.
Aqua Hedionda, which means "stinky" water, consists of a vast complex of swimming pools – including the largest swimming pool in Mexico, equal to six Olympic-size ones – water slides, hydro pools and waterfalls filled with warm (27′ c. (81′ F.) mineral water, a sparkling clean multi-level area lined with mosaic murals, changing rooms and cafes, plus eight private pools with garages, bath and changing rooms. Once inside, the aroma of sulphur fills the air. These waters are said to cure arthritis, rheumatism, nervous disorders, circulation problems, stomach ailments, psoriasis and just about everything else.
Water rushes through the pools at 850 liters per second, on its way from the volcanoes of Popocatepetl and Ixtazluatl. Several large pools plus eight private pools with garages, bath and changing rooms. Hedionda's main claim to curative powers is its waters' high concentration of chlorosulfates. The owners are proud that their waters have the second highest concentration of radioactivity of any other spa in the world except for Brembach, Germany. And all this for only about $2 per adult.
Termas de Atotonilco, on the other hand, is more of a sprawling park filled with free-form swimming pools of various sizes set amid terraces of blossoming hibiscus. One of the larger pools is deep enough for diving. Another, resembling a small lake, offers a huge concrete water slide. Waters here are 37'C (99′ F) and are said to be good for the same ailments as Hedionda and far less radioactive. The Gran Hotel Las Termas on a hill overlooking the pools has its own pool and a restaurant. All this costs just $3 for a full day of fun. Both areas become packed on weekends when hordes of Mexico City residents descend on the region.
Aquascalientes means hot waters. While they're not as hot as they used to be, those in the city of Aquascalientes, capital of the state of the same name, are pleasant enough. Visitors will find the three public mineral pools at Balneario Ojocaliente, as well as 11 cabanas with private pools, changing facilities, steam baths and a restaurant.
The Balneario de Valladolid, set out in the country on the road to Zacatecas, offers an Olympic-sized pool filled with odorless, colorless 38-40′ C. (100-104′ F.) water set in a carpet of soft grass surrounded by old, towering leafy green trees. Unfortunately, there aren't any services except changing rooms and a snack bar.
The old Spa Penafiel has closed, but the waters in the three pools of the Balneario San Lorenzo Teotipilco, Tehuacan, Puebla, have the same mineral content as the best bottled waters in Mexico – San Lorenzo and Penafiel. According to Nelson, they're noted for their high lithium content, which is supposed to have a calming effect and are especially good for kidney and liver disorders.
One final note: Most Mexican balnearios are closed on Mondays or Tuesdays to drain and clean the pools, since none have any sort of water filtration system.
To purchase Spas and Hot Springs of Mexico by "Mexico" Mike Nelson go to: www.mexicomike.com
Published or Updated on: November 1, 2001