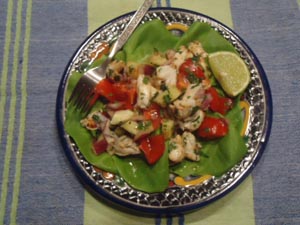 The warm season in Mexico is not summer, but spring, especially right around Semana Santa, which is probably why many people try for an Easter vacation near water. Whether heading for the beach or the local balneario (usually a huge outdoor pool) most have two things on their minds. One is a dunk in the water. The other is seafood.
This is the best time of year to enjoy the bounty of the ocean, when nearly all seafood is in season. My trusty Larousse de la Cocina Mexicana cookbook tells me that shrimp, crab, lobster, clams, mussels, oysters and scallops are all readily available. This, coupled with the Lenten and Holy week meatless meal traditions, makes it almost de rigueur to eat seafood now. And seafood salads are a cool, delicious way to beat the heat.
There is a wide choice available from the fish and seafood vendors in the mercados, where long lines can form at this time of year. And in many markets, an informal seafood restaurant is located nearby, offering both shrimp and seafood cocktails.
These cocktails are often sold at balnearios and at beaches along the coasts. The mixed seafood cocktail — sometimes called a campechana — is a popular item, with various combinations of shrimp, squid, clams, oysters, and crab, depending upon what is fresh and local. In Veracruz, this cocktail is called vuelve a la vida, or "return to life," a popular hangover cure in a town where hangovers are common.
Probably the most ubiquitous element in Mexican seafood salads is shrimp, a versatile ingredient that goes equally well with fruit, such as papaya, mango, avocado, and even jicama, which is actually a root vegetable. Shrimp can also be dressed with a variety of sauces and dressings, from tomato-based to oil and vinegar, as well as citrus dressings and herb dressings.
Cilantro is the usual herb of choice in Mexican seafood salads, and red onion frequently replaces white. Lime juice is almost always present, eliminating the need for a lot of added salt. (Lime juice can also "cook" raw fish and seafood, as in ceviches, which are a whole topic in themselves.)
In addition to flavor, most of the seafood used in these salads has significant nutritional value. Low in calories and high in protein, shrimp provides over 20% of an adult's daily Vitamin B12 requirement and is high in antioxidants and Omega 3 fatty acids. And oysters have a whopping 338% of the required amount of B12, as well as impressive levels of zinc and selenium.
Outdoing even oysters, clams have an astounding 1870% percent of the daily B12 requirement, which makes them the perfect hangover food, since alcohol severely depletes the body's supply of this vitamin. So the people of Veracruz have been onto something all along, and vuelve a la vida is not such a bad idea.
Buying and storing seafood requires more vigilance than dealing with most other foods. When shopping in the market, always look for seafood that is on ice. Follow your nose and stay away from anything with an "off" smell, either acrid or ammonia-like. Be flexible in your selection, since different kinds of seafood are often interchangeable in salads, but be picky about texture, avoiding anything mushy or dried out.
And of course, keep seafood cold. Fresh seafood should be kept in the refrigerator and used within two days of purchase. In Mexico, most people buy seafood on the day it is to be consumed.
Whether mixing an array of different kinds of seafood, or just a couple, as in the familiar shrimp and crab combination, these salads are often served in avocado halves or else garnished with avocado. Other garnishes can include tomato, cucumber, pickled red onion or pickled jalapeños. No matter which kind you choose to serve, freshness is the key to successful seafood dishes, and keeping them cold is important to seafood salads.
Published or Updated on: April 6, 2014