Wildlife of the Yucatan Peninsula: The Explorer Family's Guide and Journal
By David Nuñez and Adriana Zepeda
Mawacos, 2011
Available from Amazon Books: Paperback
MexConnect is reader-supported. Purchases made via links on our site may, at no cost to you, earn us an affiliate commission.
Learn more.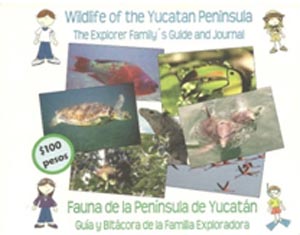 This little book is just the right size to tuck into your glove compartment or even into a large shirt pocket. Wildlife of the Yucatan Peninsula: The Explorer Family's Guide and Journal is a collection, divided into three color-coded sections, of fifty photos of marine life, mammal life, and bird life that you may encounter in the Yucatan Peninsula.
Each photo appears on the left-hand side of the open book and is accompanied by a journal page on the right-hand side in which you can record "Seen by:" "At:" "Date" and "Notes:" making it a nice little pocket companion for the amateur naturalist or for a family to have fun together as they search for species to "check off their list."
Incidentally, a check-off list is provided in the final pages, with challenges as well. If you see "25 or less" your family ranks as "Tourists" and you are invited to "come back and try again." If you see 36-45, you family ranks as "Explorers," and you are "Very impressive."
The back cover lists some of the animals worth looking for:
The largest fish on the planet.
A monkey with no thumbs.
A bird that spends days in flight.
The fastest lizard in the world.
A bird that uses tools.
A lizard without eyelids.
And more!
In the book itself you discover that "The Green Heron uses lures and bait to catch fish," the reddish beak of the white ibis "gets darker, even black, during the mating season," and the "roar of the howler monkey can be heard for miles around."
Another benefit is that Wildlife of the Yucatan Peninsula is totally bilingual, so that you and your family can practice rather simple Spanish.
For example, that back cover list I included above becomes in Spanish:
El pez más grande del planeta.
Un mono sin pulgares.
Un ave que pasa días en vuelo.
Un lagartija más rápida del planeta.
Un pájaro que usa herramientas.
Una lagartija sin párpados.
¡Y más!
The first entry is the Angelfish, and the comment "Angelfishes mate for life" in Spanish reads "Los Peces Angeles forman parejas de por vida." In English we call them angelfish, in Spanish peces ángeles.
This is a sweet little book for any traveler to the Yucatan.
Published or Updated on: October 28, 2013