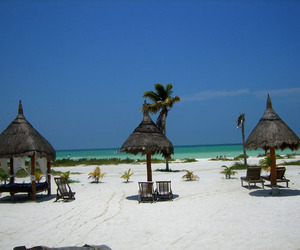 Start with an endless array of fabulous dishes from the greatest chefs in the Americas. Add a lavish serving of wines born in regions from Napa Valley to the fields of Chile. Sprinkle with warm, sun-splashed days, beckoning beaches and spirited nightlife. The result: The tempting event called the Cancun-Riviera Maya Wine & Food Festival, staged in Quintana Roo, Mexico.
Held along Cancun's Zona Hotelera over four days in mid-March, the first-ever unfolding of this soon-to-be legendary fest attracted thousands of guests from all over the world. The culinary aficionados were lured by an irresistible mix of sumptuous nibbles, world-class wines, cooking demonstrations, gala wine dinners and tastings, and mouth-watering strolls through an "international gourmet tasting village" sprawling along the Iberostar Hotel beachfront.
The Cancun-Riviera Maya Wine & Food Festival is the crowning glory of festival founder David Amar, a recently-retired, internationally-expert corporate consultant. The Montreal-based Amar spent much of the past 20 years traveling in Europe. There, business deals with high-ranking corporate CEOs were often inked at premier restaurants from Northern Spain to the Tuscan coast.
Meantime, his frequent reunions with family were invariably savored in Mexico, where he fell in love with the country's spectacularly diverse regions, and marveled at its unique ingredients and richly varied cuisines.
His appreciation of food and wine, exquisitely honed in Europe, came to full flower in Mexico. It was, he says, only natural that he would found a festival to salute his love of the culinary arts in a country that practices them so well.
Among highlights of the festival's 32 events was a Universidad del Caribe panel on the "Future of Cuisine," featuring chefs Enrique Olvera of Mexico, Normand Larpise of Canada, Mara Salles of Brazil, Jacques Pepin of the U.S., and most memorably, the acclaimed Ferran Adria of Spain, whose innovation helped propel his El Bulli to renown as the world's greatest restaurant.
That evening, guests attending the "Tribute to Mexico" gala dinner on the Sunset Terrace of the Fiesta Americana Grand Coral Beach Hotel seized the opportunity to sip spectacular wines from prize-winning North and South American sommeliers, while feasting on tantalizing tapas prepared by two dozen star chefs, using exclusively indigenous Mexican ingredients.
Later in the festival's run, at the aforementioned Gourmet Tasting Village hosted by American Express at the Iberostar, fest-goers indulged on signature treats from some of the region's top restaurants, while savoring live music, lining up for book signings and availing themselves of photo ops with celebrity chefs.
The tented event was staged steps from Cancun's trademark white sand beaches fronting the Caribbean's famous turquoise blue waters.
For many of us, the most engrossing presentations were the celebrity chef cooking demonstrations. More than simple displays of culinary artistry, the demos immersed rapt audiences in captivating details about the history of the ingredients and cooking methods used in regions represented by each chef.
An insightful example was the presentation of Guillermo Gonzalez Beristain, owner of Monterrey's Pangea. When he left Mexico City to open a Monterrey eatery with a group of friends, Beristain couldn't have imagined he'd end up famously transforming the northern Mexican city's gastronomic traditions.
Mexican cooking is a melting pot, he told the audience, while preparing one of his best-loved dishes, centered around the delicacy of kid goat, or cabrito, for which the region is justifiably famous. Over its history, Monterrey benefited from waves of Jewish, Arabian and other immigrants who immensely enhanced the city's culture and folkways, and profoundly influenced its cuisine.
One of those early immigrant influences helped make cabrito the favorito número uno among upscale Monterrey gourmands.
"Goat thrives well in the region, much better than the lamb brought by Jewish immigrants, and that is why kid goat is popular in Monterrey," he said.
Other ingredients served alongside the cabrito in Monterrey restaurants, among them flour tortillas, figs, dates and beer, had equally fascinating lineages.
"The popular flour tortillas of Monterrey are the result of Middle Eastern immigrants reproducing flour breads of their homelands," Beristain says.
"Fig and lime trees were planted by these immigrants to provide much needed shade, and ended up becoming important ingredients. In Monterrey there are also many beers. Beer vinegar is another ingredient."
Subsequent cooking demos would insightfully explore culinary hot spots from Santiago to San Diego. These showcases wowed attendees throughout the fest's final two days, serving them educations in the culinary arts of the Americas they couldn't have absorbed as quickly or as enjoyably anywhere else.
That evening, Cancun's finest restaurants presented special menus and wine selections supervised by the festival's expert team.
For us, it meant dinner at the sumptuous Le Blanc, where we began our meal with Anjou pear supreme in muscat confit, with glazed spring onions. Cocoa caramelized sea scallops and wild mushrooms sealed in virgin olive oil followed. After a palate-cleansing saffron and black pepper sorbet, we supped on Lyon's white beans and tender sprouts, with green basil oil drops, followed by crawfish sautéed over beef steak and Boudeax demi glace. The finishing touch was a dessert of chocolate and mint spherical delice, with green dust and coffee drops.
When it was over, the festival had rolled up some impressive numbers for an inaugural event. They included attendance by 5,266 delighted guests; participation by 33 top chefs from Canada, the U.S., Mexico, Chile, Argentina and Brazil; involvement from four universities, 68 sponsors and partners and more than 200 volunteers; and more than 120 million media impacts.
The 2013 edition promises to be bigger and better, providing a showcase for Riviera Maya's luxurious and magical venues. Brand new will be Family Fun Cooking Classes, where kids will get to prepare dishes alongside celebrity chefs. The American Express Gourmet Tasting Village will feature more than 20 wineries, European Star Chef and guest of honor Massimo Bottura will share both ideas and a five-course dinner, and the closing ceremony will serve up a fete of Mayan culture and Mexican cuisine, along with music and fireworks.
We urge you to "Taste the New World" at 2013's Cancun-Riviera Maya Wine & Food Festival, to be held from March 14 through 17, 2013.
Published or Updated on: November 14, 2012